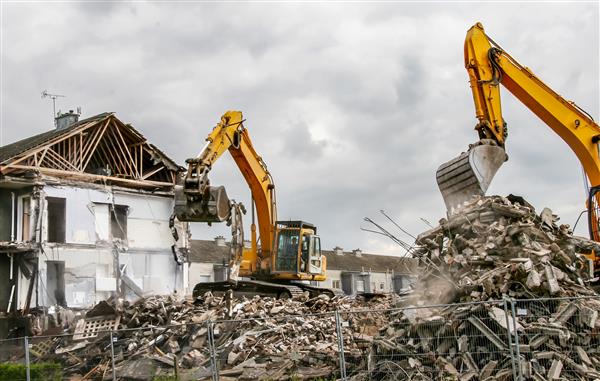 Omni Demolition: The #1 Residential House Demolition Company
Dangerous building cave-ins require quick attention from a seasoned house demolition expert in Palatine, IL. Consequently, it is always important that you hire only professional house demolition companies backed by many years of experience. Omni Demolition has some of the best residential demolition contractors in the area and we have been helping thousands of homeowners tear down their properties the right way. Our team of experts can handle a wide range of projects. Whether you call us for a full-scale mansion demolition or an easy mobile home demolition, rest assured you will receive our best services. We use top-notch and state-of-the-art tools and equipment to get the job done.
How We Provide Our Palatine, IL Home Demolition Service
Three things separate us from other companies in the city, and these are timely delivery, quality results, and solid work ethics. We recognize the urgency of every house demolition request. Our experts use several demolition techniques depending on the situation. We make sure to check every possible defect to help us identify where we need to start. Our experienced residential demolition contractors operate heavy equipment to carry out a demolition project. When choosing among the residential demolition companies in the area, you need to be very cautious with hiring the right company, as a team with little experience can turn a simple routine job into a large costly mess. An inexperienced amateur demolition company can turn a simple mobile home demolition project into a large costly disaster. We will give you a fixed timeline for the project and discuss the entire procedure before we proceed.
Home Demolition Estimates in Palatine, IL
House demolitions in Palatine, IL need a proper plan of action. With that said, we make sure that home demolition projects are completed on time and within budget. It is very important that homeowners hire a professional demolition contractor to move ahead with their demolition project. Some home demolition companies also have high rates because there are instances where they need to do additional tasks other than demolition. Apart from the expenses incurred when hiring home residential demolition contractors, you also need to keep in mind that you need to budget some money to secure your items such as furnishings, appliances and more. Rest assured that our affordable mobile home demolition package includes everything you need to get a flawless finish. Upon your request, we can provide a full breakdown of the fees you will need to pay. In general, the size of the project, the type of demolition, plus the magnitude of the property damage determines the total cost of the service. Other factors considered are the availability of equipment and the size of the team you need.
What Residential Demolition Paperwork in Palatine, IL Should I Secure?
Apart from safety issues, you will also need to secure all required permits from local authority. For more information about the application process and the requirements needed to start a mobile home demolition project or larger, you can readily consult with our specialists. The requirements vary depending on the state you live in. Some of the reports you will need to secure include dust control clearance and asbestos inspection. If you ever encounter problems along the permit application process or you have questions about the permit itself, our staff will be willing to help.Preparing for a Residential Demolition in Palatine, ILOur contractors have all the equipment needed to carry out any kind of home demolition project in Palatine, IL. Inspect your home for any hazardous materials. The structure must be cleared; all of the utilities such as electricity, water, and gas including the elimination of any risky materials must be dealt with, and any biodegradable materials must be taken away. Getting a timeline is vital because all demolition projects, even mobile home demolitions, leave a huge mess, and a timeline will give you an idea when the demolition will actually take place and how long the entire process will be. It may be more efficient to transport a mobile home to a local landfill by truck and have the demolition take place at the landfill to save time and money.
Reasons for a Residential Demolition in Palatine, IL
If you think you only need to apply a few layers of cement here and there to reinforce the walls or the foundation of your home, then you ought to think again. Depending on the severity of the situation, you can hire a team to renovate the damaged sections of the house or take down the structure so you can build a new one. More often it costs less to rebuild than to repair. Whatever reasons you have, you can get a quote on residential demolition costs in Palatine, IL from us. You can rebuild your home or parts of it to ensure that it is safe for you and your loved ones.
Equipment and Tools Used for Residential Demolition in Palatine, IL
Our residential demolition contractors only use top-quality equipment. As such, when we perform a home demolition, we can efficiently pull out every bit of damaged material. Some of the heavy machinery that demolition contractors need to use consist of wrecking balls, cranes, bulldozers, jackhammers, chainsaws and sledgehammers. Occasionally, they even need to use explosives. So, anybody who wants to hire a demolition contractor needs to make sure that they are trained and qualified.
Call and Book Your Palatine, Illinois Home Demolition Appointment Today
We are a reliable residential demolition company with the equipment and expertise to get the job done on time. We are a company that prides itself in being able to provide reliable and efficient services. Upon your request, we can hand you a cost estimate, and schedule your appointment as soon as possible. After the call, we guarantee to send our residential demolition contractors to work on your Palatine, Illinois properties fast. Our company has proudly served many residential, commercial and industrial property owners in Palatine, IL, and we're proud to assist you as well. Call
(855) 885-3366
today to get in touch with our staff.
Zip Code Areas We Service in Palatine
60074, 60067, 60038, 60055, 60078, 60094, 60095