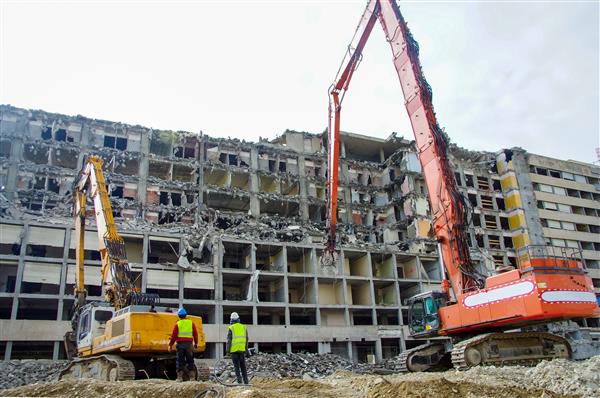 The Best Option For Demolition Contractors Carmel, IN: Our First-Class Demolition Company
Omni Demolition is recognized as the leading provider of demolition contractors in Carmel, IN. We are an established service provider when it comes to experience, skills and workmanship. If you need to hire a professional demolition contractor in Carmel, IN without spending a ridiculous amount of money, you have come to the right place. Our team of demolition experts provide outstanding demolition services whether complete or selective. The primary projects we undertake are demolition and deconstruction.
Dependable Demolition and Deconstruction in Carmel, IN
Demolition is aimed at basically bringing down a structure. Some projects require complete levelling while others simply need specific parts removed to be replaced. For every client call, we have a demolition expert equipped to do the job. There are two categories of deconstruction, namely soft strip or selective deconstruction and whole-house deconstruction. The rubble from the process is either disposed-off as waste, used as clean fill or re-used as aggregate. In case of metal structures, the scrap metal is recycled.
Why Come to Us for Your Demolition Project in Carmel, IN
Our demolition experts will only recommend the most appropriate services you require and provide upfront quotations, without any unexplained or unexpected charges. Some demolition contractors may offer you an attractive contract with a very cheap price tag, but are you sure you are getting a steal? Our word is our bond. We have an impeccable record of giving our clients value for their money while never compromising on the quality of our work. No other demolition contractor in all of Carmel, IN has a crew that is as dedicated and diligent as ours.
Our Main Demolition Services in Carmel, IN
Industrial Demolition services: We have an impeccable history in handling industrial buildings such as warehouses, chemical plants, mills and more. No matter how gigantic the structure is, our team of experts can surely manage.
Commercial Demolition services: Our demo company uses superior equipment and expertise in tackling various commercial demolition structures such as strip malls, warehouses, office buildings, hotels, bridges, grocery stores and airplane hangars among others.
Concrete Demolition and Recycling Services: Our demolition experts will help you realize your green-building initiative. We turn construction debris such as crushed concrete into gravel or a dry aggregate for making new concrete.
Scrap Metal Demolition Services: Allow our demo company to remove useless steel erections onsite and salvage reusable metal for recycling instead of hiring a separate contractor, which means more expenses for you.
We are on Top of Other Demolition Companies in Carmel, IN
We take pride in having some of the most seasoned demolition experts among numerous demolition contractors in Carmel, IN. We take pride in employing some of the finest calibre of demolition experts throughout the city. As the number one demolition company in Carmel, IN, we will work closely with you to guarantee an optimum outcome. Our demo company delivers effective and safe results on your time and budget.
Main Methods Used in Demolition and Deconstruction in Carmel, IN
Explosive Demolition: Explosive materials are strategically placed on the building or structure in Carmel, IN by our demolition experts. The explosives are timed to make a structure go down on itself in seconds in order to minimize damage to the surroundings.
Non-Explosive Demolition: Our local demolition contractors will use a wrecking ball to demolish a building in situations that do not allow the use of explosives.
Selective Demolition: Our demo contractors use this method when their goal is to recover or salvage demolition materials. Building demolition companies reuse or recycle the salvaged materials thus reducing waste.
Demolition Equipment in Carmel, IN
Hydraulic Breakers – Our demo company uses a percussion hammer attached to an excavator. This powerful equipment is used for bringing down concrete structures.
Wrecking Balls – Buildings or structures that are more than 6 storeys high are demolished with the help of a wrecking ball suspended on a crane by a steel rope. The wrecking ball is pulled then released towards the structure. With force, the steel ball strikes the structure and demolishes it in bits.
Hydraulic Shears and Rock Breakers – They are highly effective in cutting steel, metal, concrete, wood and rocks. Their high power to weight ratio enable hydraulic shears to yield a higher output.
Bulldozers – They are used to push demolition debris. They are also used to tear down smaller structures, clear the property of rubble or pile the debris.
Dumpers – In the demolition business, they are used for moving rubble and debris away from the demolition site.
Cranes – Our demolition contractors utilize cranes not only for suspending wrecking balls but in heavy lifting and moving materials within the site. Our demo company uses different types of cranes depending on the task to be fulfilled.
Crawler Loaders – They are effective in bringing down structures. They can also be used to clean up a demolition site. Crawler loaders can help move debris. Its tracks enable the unit to move easily and freely on the property.
We are the Number to Call for Premium Demolition Services in Carmel, Indiana
Your number one demolition company in Carmel, Indiana is always at your service. Ensure a spotless pre-construction site when you sign with us. Our demolition company never offers excuses; we simply provide professional and timely services guaranteed to accommodate your budget. Our work integrity and reasonable packages are only some of the reasons why we are a well renowned Carmel deconstruction and demolition company. Call us today at
(855) 885-3366
and get your job done quickly, flawlessly and affordably.
Zip Code Areas We Service in Carmel
46290, 46032, 46033, 46280, 46082