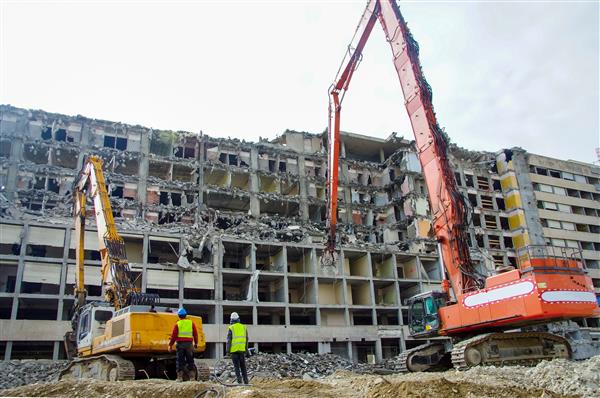 The Demolition Company with Demolition Contractors in Indianapolis, IN You Can Count On
Omni Demolition has demolition contractors at your service whose specialty is providing superior-quality, safe and cost-effective services for all our clients. We will make sure that the project is completed within your budget and stipulated timeframe. No need to break the bank to avail of first rate service and exceptional outcome. You can trust that our demolition experts are all well-versed when it comes to everything that has to do with eco-friendly demolition, as well as health and safety guidelines. For complex demolition jobs, we offer reliable demolition services.
Demolition vs. Deconstruction in Indianapolis, IN
Demolition is aimed at basically bringing down a structure. Some projects require complete levelling while others simply need specific parts removed to be replaced. For every client call, we have a demolition expert equipped to do the job. A deconstruction may be implemented on its own or as a pre-demolition procedure. We have the know-how in identifying the value of extracted materials and their potential for reuse.
Complete Accountability from Highly Skilled Specialists for Your Demolition Project in Indianapolis, IN
Our demolition experts guarantee to provide you with professional demolition services. Our demolition contractors have years of experience in the business providing exceptional and enviable customer service across Indianapolis, IN. Most sales agents will promise everything just to close a deal but are no longer accountable when their team fails to deliver. Our demolition contractor will handle your needs on a one-on-one level and ensure that your project is given the undivided attention it deserves.
Take Advantage of Our Demolition Services in Indianapolis, IN
Industrial Demolition Services: We can handle any challenging industrial demolition project you may have. With our world-class equipment and staff, we are able to demolish plants, mills, manufacturing buildings and so on.
Commercial Demolition Services: We know all the ins and outs of this delicate procedure. No matter the job, you can be rest assured that our demo company will give you the best results. Our demolition experts have the know-how and experience to bring down buildings and structures even in very tight spaces. Be it tearing down a mall, strip center, warehouse, bridge, hangar or structures in metropolitan areas, we have got you covered.
Concrete Demolition and Recycling Services: Once we have demolished your concrete structure, our demolition experts will crush and re-use the salvaged concrete as a base course for gravel.
Scrap Metal Demolition Services: Our demo company will save you time and money by demolishing your metal structure, putting a recovery plan in place and selling the salvaged scrap metal for you.
We are on Top of Other Demolition Companies in Indianapolis, IN
Our highly trained demolition contractors are able to offer flexible services to suit your specific needs. Our demolition experts and demolition contractors are dedicated to meeting all your needs. Our demolition company in Indianapolis, IN makes use of a unique approach that minimizes waste and maximizes recyclable materials. Our demo company offers packages that are reasonably priced as well due to the fact that we have mastered an efficient way of demolition that cuts unnecessary expenses.
Our Approved Methods for Demolition and Deconstruction in Indianapolis, IN
Explosive Demolition: Conducted by our skilled demolition experts in Indianapolis, IN, this method requires properly laying out detonators and explosives to bring a structure down to a pulp.
Non-Explosive Demolition: Our local demolition contractors will use a wrecking ball to bring down your structure. This method is cheaper than explosive demolition.
Selective Demolition: Buildings are deconstructed with the aid of special equipment. It is a solution that maximizes efficiency while reducing waste. It is mainly used when building owners want to add extensions to the building, update the interior of a building, convert space or improve the health of the building. This is a delicate procedure that demands great precision and tact, which our demo contractors have and other building demolition companies overlook.
We Utilize Well-maintained Equipment for Demolition in Indianapolis, IN
Hydraulic breakers – Commonly known as hydraulic hammers, these are often used by our demo company to grind up slabs and concrete structures.
Wrecking balls – Heavy and solid balls made of steel, wrecking balls are safely suspended on a crane and used to weaken a building until it gives.
Hydraulic Shears and Rock Breakers – They can be able to quickly and effectively cut through rocks, concrete, steel, wood and metal.
Bulldozers – Commonly seen in construction sites, bulldozers are not only good for flattening surfaces but also for moving and transporting waste materials. It can also be maneuvered to knock down weak walls and structures.
Dumpers – In every demolition business, dumpers are necessary to clear the site from rubble and debris.
Cranes – A necessity for demolition contractors, cranes serve multiple purposes including being used for wrecking balls and for transferring heavy tools within the site. Every demo company should have a well-maintained and stable crane to avoid any unforeseen accidents.
Crawler Loaders – They can be used to bring down heavy smaller-sized structures. They can also be used to move debris.
For all Your Demolition Services in Indianapolis, Indiana, Call on Us
If you are in dire need of a reliable demolition company in Indianapolis, Indiana but are quite not sure what kind of method you will require and how much it will cost you, do not hesitate to call us. Our dedication is in ensuring that we maximize your asset potential. Contact us today and let our demolition company take the pressure off of you. Our Indianapolis deconstruction and demolition company has highly skilled personnel with years of experience in the demolition business. Feel free to get in touch with us today at
(855) 885-3366
!
Zip Code Areas We Service in Indianapolis
46237, 46218, 46219, 46217, 46214, 46260, 46268, 46226, 46224, 46229, 46228, 46183, 46231, 46234, 46235, 46236, 46239, 46254, 46208, 46201, 46203, 46202, 46205, 46204, 46256, 46250, 46259, 46227, 46225, 46222, 46221, 46220, 46113, 46278, 46241, 46240, 46206, 46207, 46209, 46210, 46211, 46230, 46242, 46244, 46247, 46249, 46251, 46253, 46255, 46262, 46274, 46275, 46277, 46282, 46283, 46285, 46291, 46296, 46298