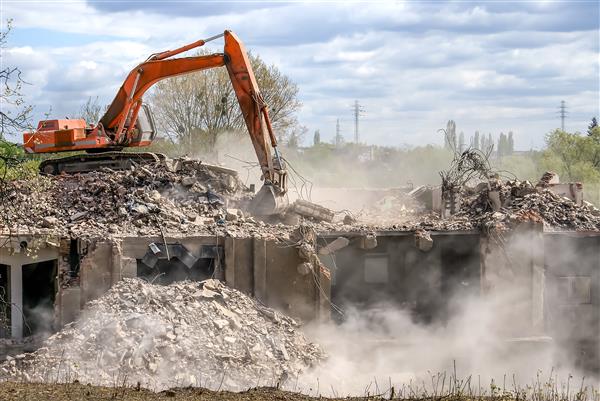 Cost-effective Solutions to Your Concrete Removal Needs in Overland Park, KS
Concrete removal is part and parcel of construction and demolition projects in Overland Park, KS. Omni Demolition has the best concrete slab removal experts in the region. We have spent years perfecting our services. We offer affordable concrete hauling services without compromising quality and safety. We guarantee professional workmanship and absolutely no guesswork when you sign with us.
Concrete Removal Tools and Equipment We Use in Overland Park, KS
Be careful of contractors in Overland Park, KS that use outdated and broken down equipment for this could mean impending delays to your project, or work that is so poorly done you will have to hire another company to redo the job. At Omni Demolition, the type of equipment needed for concrete slab removal in Overland Park, KS depends on the techniques used to tear down a building or structure. Hydraulic slitters are very efficient in breaking thick and dense concrete. Some of the tasks involved in a demolition job include concrete slab demolition, removing concrete driveway and concrete wall demolition. Our team periodically conducts machine inspection and maintenance to guarantee that everything we need for the job is in tip-top condition. Concrete removal and concrete hauling solutions vary in techniques as well as approaches.
When Do You Need Concrete Demolition Services in Overland Park, KS?
Concrete removal is an essential part of making your home, building or structure beautiful. Our concrete removal services in Overland Park, KS include: removing old foundations, unwanted driveways, walkways and slabs. The concrete demolition and concrete hauling process is necessary in some circumstances such as when your structure has aged significantly, when your building has widespread cracking, when you are planning to improve or upgrade your structure and when frost heave occurs. Great concrete quickly transforms the look of a structure. It also upgrades the quality of a building and comfort of the residents. It could be that you want to replace an old structure with a new one or to remodel an existing structure.
No Need to Stress Over Concrete Removal Permits and Requirements in Overland Park, KS
Before undertaking a concrete removal or a concrete hauling project in Overland Park, KS, you need to understand and adhere to the policies and requirements of the city council. There is a limited number of concrete removal companies in the city who take care of processing permits for their client and usually leave it to the owner to apply for the demolition permit themselves. Start by applying for a permit from the local authority. We will make sure that you have all the permits you need to ensure an uninterrupted execution of your demolition project. In some locations, the percentage of the structure you are demolishing will determine whether you require a permit or not.
How Much Do You Have to Pay for a Concrete Demolition in Overland Park, KS
Other service providers in Overland Park, KS make their proposed contract sound complicated to justify unreasonably priced estimates. There are a number of factors that contribute to the overall cost of your concrete demolition project such as the type of concrete used. Apart from the cost of the permit, you will also need to pay around $4,000 to $15,000 for the cost of the demolition service. We have the expertise, manpower and equipment to carry out any demolition project in Overland Park, KS; even smaller jobs such as patio demolition and patio removal. Unreinforced concrete on the other hand is easier to remove. Permits can cost you a few dollars to thousands of dollars depending on your location and project needs. We provide all types of demolition services at affordable rates.
Expected Duration of a Concrete Demolition in Overland Park, KS
Every concrete demolition project is unique even if identical procedures may be done and the same equipment will be used which is why no specific time frame can be given without the details of the area involved. Our team of experts, however, is the most knowledgeable in the industry when it comes to concrete slab removal, or concrete hauling so we can guarantee the quickest operations without compromising quality and safety. We put a lot of thought into every step of the process so the safety of our workers and the satisfaction of our clients are completely assured. We devise a plan to safely accomplish your project in a cost-effective way with projected timelines and then submit our proposal to you. Other factors determining the length of time your demolition project will take are the area of the concrete structure, the thickness of the concrete slab and the type of slab.
Making the Most Use of Your Demolished Asphalt or Cement in Overland Park, KS
Constructions, concrete demolition and removal projects produce a lot of by-products and potential waste. You can crush them up and use them as a base layer for your asphalt pavement. By recycling used up concrete, you can minimize waste and save money on your side projects. Our concrete demolition contractors facilitate the hauling of reusable concrete to ensure an organized clearing of the site. In this day and age of strict adherence to environmental laws, recycling concrete is a welcomed option. Concrete recycling also reduces waste in landfills.
Reasons for Hiring Our Concrete Demolition Company in Overland Park, Kansas
If you have been looking to hire a concrete slab removal expert, chances are you have seen ads from other providers in Overland Park, KS who offer the cheapest concrete demolition services, but are you sure you want to risk spending on a contractor that has no credibility and is seemingly desperate for clients? Hopefully not. No matter what concrete slab removal projects you have, dial our phone number today and we will be glad to provide you with a free estimate. We understand that each project is unique and therefore, we come up with special solutions for all your concrete demolition projects. Our flexibility allows us to work on your project according to your timeline and schedule. We also follow strict measures and carefully evaluate our demolition and removal plan to avoid delays. We professionally handle each client request in Overland Park, KS.
Zip Code Areas We Service in Overland Park
66214, 66210, 66211, 66212, 66213, 66221, 66223, 66209, 66202, 66207, 66204, 66062, 66085, 66224, 66201, 66222, 66225, 66250, 66251, 66276, 66282, 66283, 66285, 66286