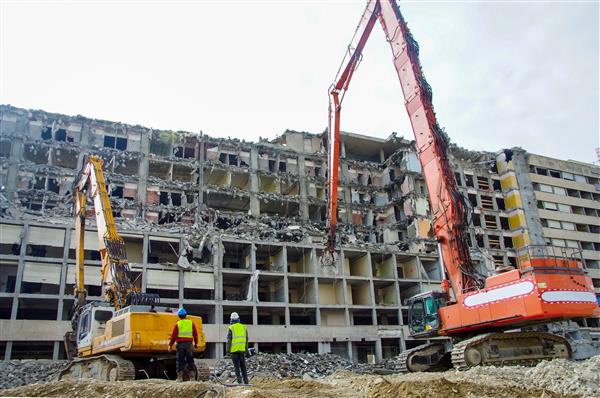 The Demolition Company with Demolition Contractors in Baton Rouge, LA You Can Count On
Our mission here at Omni Demolition is to ensure that we offer premium and high-caliber services through our expert demolition contractors. Our demolition contractor is on standby at all times ready to cater to your needs. Our demolition experts provide top-notch work. We have the right equipment for any kind of demolition work.
How is Demolition Different from Deconstruction in Baton Rouge, LA?
Demolition is a faster process in comparison to deconstruction. Our demolition expert tests and removes hazardous material before knocking down the building. There are two categories of deconstruction, namely soft strip or selective deconstruction and whole-house deconstruction. The materials can be reused in rebuilding or reconstruction.
Economical Services for Your Demolition Project in Baton Rouge, LA
We know that before you consider hiring us, you will want to understand how the job gets done by our demolition experts. Some demolition contractors may offer you an attractive contract with a very cheap price tag, but are you sure you are getting a steal? We pride ourselves in being reliable and efficient service providers who will cater to all your unique needs. Our demolition contractors are not only committed to providing first rate work but also ensure that all steps are taken to cause little to zero disturbance to the environment and to the properties adjacent to the site. Taking down old and unwanted buildings may look like a simple task; however, it requires the experience and competence of professional service providers like us to get your job done properly. Taking down old and unwanted buildings may look like a simple task; however, it requires the experience and competence of professional service providers like us to get your job done properly.
Our Demolition Services in Baton Rouge, LA
Industrial Demolition Services: This type of demolition service requires a surgical approach. We have a systemic, controlled and detailed solution in place for demolishing facilities such as chemical plants, manufacturing plants, port facilities, oil refineries, factories, and lumber mills among others.
Commercial Demolition Services: This type of demolition requires tact in working around obstacles. Our demo company is highly skilled in demolishing commercial structures such as hotels, retail spaces, office buildings, warehouses, bridges and airplane hangars among others.
Concrete demolition and recycling services: We are the only demolition experts who carefully set aside re-usable materials from your site for possible future use such as slabs to be crushed later on into gravel.
Scrap Metal Demolition Services: Our demo company will save you time and money by demolishing your metal structure, putting a recovery plan in place and selling the salvaged scrap metal for you.
Key Advantages Against Other Demolition Companies in Baton Rouge, LA
We take pride in deploying demolition experts and demolition contractors who are not simply knowledgeable on the job but also skilled and experienced all across the state. With us you are guaranteed safe and uninterrupted operations that you may encounter with inexperienced contractors with faulty machinery. No matter the nature of your project or timelines, our demolition company in Baton Rouge, LA will deliver to your satisfaction. As a trusted demo company, we have established a life-long relationship with our loyal patrons who can attest to our efficiency and commitment to getting the job done.
Methods Conducted by Experts on Demolition and Deconstruction in Baton Rouge, LA
Explosive Demolition: Done by licensed demolition experts in Baton Rouge, LA, this method may sound dangerous and it could be when proper procedures are not followed. After explosives are strategically laid out, a switch is all it takes to completely take down a building.
Non-Explosive Demolition: This method of demolition does not use explosives. Our local demolition contractors can use equipment such as wrecking balls, excavators and bulldozers.
Selective Demolition: Our demo contractors are the most sought-after for their record in successfully extracting or tearing down selected parts of a structure. We are one of the few building demolition companies who can conduct a customized approach depending on the client requirement.
Utilizing the Proper Equipment for Demolition in Baton Rouge, LA
Hydraulic Breakers – Our demo company uses a hydraulic breaker to demolish rocks and concrete structures. Its powerful hammer causes destruction on the targeted object in a matter of seconds.
Wrecking Balls – A wrecking ball is a heavy steel ball that is usually suspended from a crane. It is swung to the targeted structure or building in order to take it down.
Hydraulic Shears and Rock Breakers – They are usually attached to excavators and then used to make clean cuts through concrete, metal, wood and rocks of large structures.
Bulldozers – A bulldozer is a heavy piece of equipment that has a robust bucket attachment. This attachment enables the bulldozer to clear trash, rubble and debris from a demolition site. Bulldozers are multi-purpose, they can also be used to push down heavy smaller-sized structures.
Dumpers – If you are in the demolition business, you will definitely need a dumper/ tipper truck for transporting demolition waste.
Cranes – Demolition contractors use a crane to attach a wrecking ball. A demo company can also use a crane for moving materials on the different levels of the structure or building.
Crawler Loaders – They can be used to bring down heavy smaller-sized structures. They can also be used to move debris.
Call us Today for Demolition Services in Baton Rouge, Louisiana
Avoid dealing with deconstruction hassles and overpriced bills when you sign with our demolition company in Baton Rouge, Louisiana. We guarantee safe, timely and effective services. Signing with our demolition company guarantees a stress-free project, from the accurate estimation, the actual operations, onsite clearance as well as processing required permits. Our Baton Rouge deconstruction and demolition company is licensed and highly reputable. Go ahead and give us a call today at
(855) 885-3366
. We are always at your service.
Zip Code Areas We Service in Baton Rouge
70836, 70808, 70809, 70802, 70803, 70801, 70806, 70807, 70805, 70820, 70819, 70811, 70815, 70814, 70816, 70804, 70813, 70821, 70822, 70823, 70825, 70826, 70827, 70831, 70833, 70835, 70837, 70873, 70874, 70879, 70884, 70891, 70892, 70893, 70894, 70895, 70896, 70898