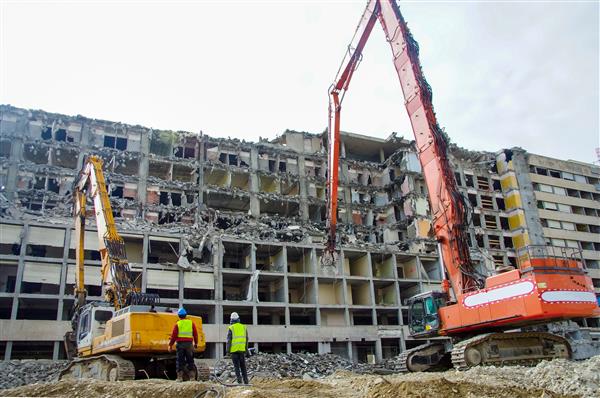 The Best Option For Demolition Contractors Shreveport, LA: Our First-Class Demolition Company
The strength of Omni Demolition lies not only in its state of the art equipment and the expertise of its demolition contractors but the commitment that we have in providing unsurpassable services. Just like any other major construction or remodeling plan, having a property demolished requires the skills of professionals, along with the use of appropriate equipment. We do not sugar-coat our services and we often deliver more than promised. Our demolition experts always provide reliable and efficient services in a proactive manner. You can rest assured that our affordable services are top-notch. To achieve this, our demolition experts apply strong verbal, communication, analytical, managerial, decision-making and time-management skills.
Distinction Between Demolition and Deconstruction in Shreveport, LA
Demolition is aimed at basically bringing down a structure. Whether you require complete or selective knocking down of a building in Shreveport, LA, we are the specialists to call. Deconstruction, on the other hand, is the disassembling of a building while preserving its re-usable parts. We have the know-how in identifying the value of extracted materials and their potential for reuse. Our demolition experts are most experienced in going over construction sites to see what items may be salvaged and put aside to be used again, often saving time and resources.
What We Do in Shreveport, LA
Our demolition experts as well as our demolition contractors in Shreveport, LA have highly specialized equipment and all the resources needed to complete any project you may have for us, however big or small it may be. An experienced and well-trained demolition contractor will manage your project and ensure that the job gets done. Most sales agents will promise everything just to close a deal but are no longer accountable when their team fails to deliver. Taking down a structure sounds chaotic but unlike other demolition contractors, our services are done with utmost care and with as little disturbance to the community as possible.
Check Our Broad Range of Demolition Services in Shreveport, LA
Industrial Demolition Services: This type of demolition service requires a surgical approach. We have a systemic, controlled and detailed solution in place for demolishing facilities such as chemical plants, manufacturing plants, port facilities, oil refineries, factories, and lumber mills among others.
Commercial Demolition services: We are the demo company to call when it comes to commercial spaces that require strategic planning, especially narrow and often crowded areas. Our capability in wrecking restaurants, grocery stores, and office buildings shows our mastery in handling business districts.
Concrete demolition and recycling services: If you want to save time and money, our demolition experts can also extract concrete materials and slabs onsite to be broken down into reusable gravel.
Scrap Metal Demolition Services: You do not have to worry about disposing of scrap metal once your metal structure is demolished, our demo company will help you sort out the scrap metal which can be recycled and reused for building.
The Top Choice Among Demolition Companies in Shreveport, LA
Our demolition experts and demolition contractors offer a professional and innovative approach to all your demolition projects. We are on a continuous path to success and we have managed to do this through perfection in our demolition services. Our commitment to our patrons helped us become the most respectable demolition company in all of Shreveport, LA. When it comes to bringing down old, dilapidated or unwanted property, we have vast experience as a demo company and we will ensure that our services do not cause any unintended damage or pollution
Methods Used for Demolition and Deconstruction in Shreveport, LA
Explosive Demolition: Our qualified demolition experts have years of experience in explosive demolition projects. Using our expertise and meticulous planning, we will safely execute your project with minimal disruption to your surroundings.
Non-Explosive Demolition: Our local demolition contractors will use a wrecking ball to bring down your structure. This method is cheaper than explosive demolition.
Selective Demolition: This process entails tearing down a part of the structure. Efficiency is maximized by recycling reusable material thus reducing waste and lessening the impact on the environment. As the leading demo contractors, we have set standards that other building demolition companies have a hard time measuring up to.
Main Equipment Used in Demolition in Shreveport, LA
Hydraulic breakers – Also known as hydraulic hammers, our demo company uses this to demolish rocks or concrete structures.
Wrecking balls – Heavy and solid balls made of steel, wrecking balls are safely suspended on a crane and used to weaken a building until it gives.
Hydraulic shears and rock breakers – Designed to cut through the toughest materials with very minimal effort, these tools are attached to excavators to do the job. They can slice through rocks, concrete, metal, wood and steel.
Bulldozers – A bulldozer is a heavy piece of equipment that has a robust bucket attachment. This attachment enables the bulldozer to clear trash, rubble and debris from a demolition site. Bulldozers are multi-purpose, they can also be used to push down heavy smaller-sized structures.
Dumpers – A dumper or a tipper truck is essential in the demolition business. This vehicle is specially designed to carry debris such as gravel, or demolition waste in bulk away from the property. It makes cleaning up the property after demolition easier and faster.
Cranes – Demolition companies use cranes to move materials from different levels of a structure. A demo company will also use this machinery together with a steel ball. For a wrecking ball to work, it has to be attached to the crane.
Crawler Loaders – Also called caterpillars, crawlers have flexible ground mechanism allowing them to be useful even on uneven terrain. They are primarily used for excavating.
We are the Number to Call for Premium Demolition Services in Shreveport, Louisiana
Our demolition company is a leading demolition company in Shreveport, Louisiana with proven resources, knowledge, professionalism and experience to successfully manage any demolition project you may have. For years now, we have helped all our clients demolish and deconstruct their buildings and structures successfully. With us you are guaranteed to have a safe and worry-free operation to be completed by field experts. You're in great hands with our Shreveport deconstruction and demolition company. Our work integrity and reasonable packages are only some of the reasons why we are a well renowned Shreveport deconstruction and demolition company. Give us a call at
(855) 885-3366
and we guarantee a refreshing customer experience that you can only get from us.
Zip Code Areas We Service in Shreveport
71129, 71101, 71103, 71104, 71105, 71106, 71107, 71108, 71109, 71119, 71118, 71102, 71120, 71130, 71133, 71134, 71135, 71136, 71137, 71138, 71148, 71149, 71151, 71152, 71153, 71154, 71156, 71161, 71162, 71163, 71164, 71165, 71166