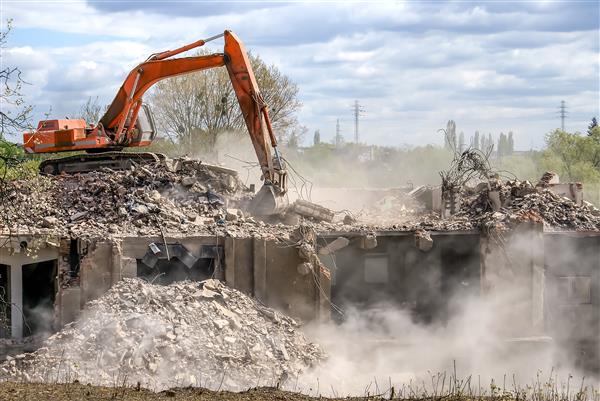 Your Ultimate Concrete Removal Company in New Bedford, MA
Concrete removal involves tearing down concrete buildings and structures in New Bedford, MA. The importance of concrete demolition cannot be overstated. For example, at Omni Demolition, clients need concrete slab removal and concrete hauling services in order to build or rebuild new structures. Our undeniable success in the business is proof that the team here at Omni Demolition is highly capable and dependable.
Equipment Used for Concrete Removal in New Bedford, MA
Omni Demolition uses advanced equipment to cut or crush concrete. We have access to pallet jackets, hoists, bobcats and other equipment so we can ensure the timely delivery of our New Bedford, MA concrete slab removal services. Hydraulic slitters are very efficient in breaking thick and dense concrete. We strategically plan out tasks and delegate enough manpower especially in removing concrete driveway, conducting concrete slab demolition, or doing a concrete wall demolition. It pays to work with professionals, most especially when you don't know what to do. Apart from helping you perform hard tasks by using precision tools and equipment, a concrete hauling expert can help you with the legal papers required by the local authority.
When to Consider Booking a New Bedford, MA Concrete Demolition Service
Concrete, when constantly exposed to changing weather and temperature, can weaken and crack. Concrete is no exception and the time inevitably comes when you will need to demolish your concrete structure in New Bedford, MA, for one reason or another. We have an expert team of laborers, managers and engineers who see to it that demolition and concrete hauling standards are met if not exceeded. When buildings become old, their concrete slabs become unstable posing a threat to anyone living in or around such establishments. It could be that you want to replace an old structure with a new one or to remodel an existing structure.
What Documents Should I Prepare for My Concrete Removal Project in New Bedford, MA?
Planning to undertake a concrete removal and concrete hauling project in New Bedford, MA? Great. There is a limited number of concrete removal companies in the city who take care of processing permits for their client and usually leave it to the owner to apply for the demolition permit themselves. Start by applying for a permit from the local authority. This however varies with your location. Ignoring permit requirements can become a costly affair. Here at Omni Demolition, all you have to do is submit a duly completed application form to us and we will do all the legwork.
How Much Should I Pay for a Concrete Demolition Project in New Bedford, MA?
Processing a demolition permit can cost around $200 on average. The bigger the size of the concrete, the more the job will cost. Apart from the cost of the permit, you will also need to pay around $4,000 to $15,000 for the cost of the demolition service. There will be tricky companies who will make a simple patio demolition or patio removal as complicated as possible to deceive you into agreeing to unreasonably expensive estimates. We might not have rock-bottom prices but considering the excellent workmanship and first rate customer service we provide, you are guaranteed the best value for your money. Another cost to factor in is demolition permits. Depending on where you are situated and size of the project, permits and associated costs can cost you around $200 or as high as $10,000 in some cases.
How Long Can I expect a Concrete Demolition Project to Take in New Bedford, MA?
Time taken to complete a concrete demolition project varies. We use a complete inventory of tools and equipment for jobs such as a concrete slab removal, concrete demolition and concrete hauling. Depending on our agreement and forecast, work can be completed within a day, a week or even a month. Depending on what we mutually agree on, your project can be completed in a few days, a couple of weeks or even months. Other factors determining the length of time your demolition project will take are the area of the concrete structure, the thickness of the concrete slab and the type of slab.
How Can I Reuse the Concrete Waste Generated from My Project in New Bedford, MA?
After a concrete demolition and removal project is completed, tons of concrete wastes are collected. Managing reusable resources is an effective way of minimizing the growing amount of wastes that households, commercial establishments and industrial buildings produce. Our concrete demolition contractors can also use the recycled concrete for landscaping. We recommend recycling concrete because it can be reused as a good quality construction material. Recycling concrete can save a considerable amount of money which would otherwise go towards transporting the concrete to a local landfill or towards disposal costs.
Why Make Us Your Concrete Demolition Company of Choice in New Bedford, Massachusetts
We offer various concrete demolition services. At Omni Demolition, our demolition contractors have specialized skills and years of experience in the field undertaking many concrete slab removal projects. We will ensure that concrete slab removal and other types of concrete removal service are done according to your specifications. First rate customer service need not make a dent in your savings. If not demolished properly, concrete can cause serious harm and injury to the environment and people. Contact us today for a concrete removal service!
Zip Code Areas We Service in New Bedford
02740, 02744, 02745, 02746, 02741, 02742