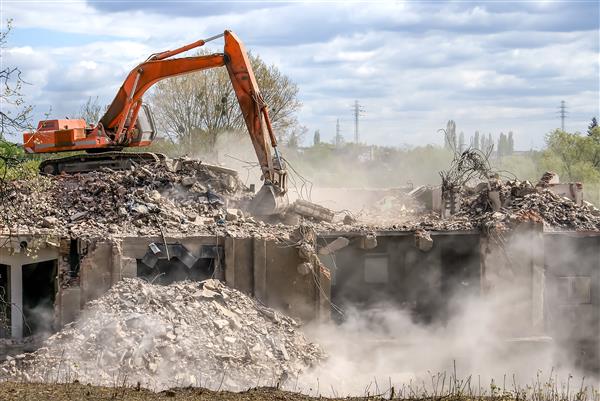 Your Ultimate Concrete Removal Company in Waltham, MA
Concrete removal involves tearing down concrete buildings and structures in Waltham, MA. Our concrete slab removal and concrete hauling professionals will take the lead during your demolition project, going above and beyond to deliver exceptional and satisfactory services. Whether you wish to remodel a small section of your house or rebuild the entire structure, you can count on us to provide a good service. We have spent years perfecting our services.
Important Equipment Used for Concrete Removal in Waltham, MA
Manual concrete demolition is done on small or residential structures. Our contractors at Omni Demolition use a wide range of equipment when we perform our services such as concrete slab removal. We give importance to our client's time which is why we ensure equipment and material readiness to avoid any delays to your projects. Our tools and equipment can be used on various projects of various sizes. As such, our services such as concrete slab demolition and concrete wall demolition are perfect for any type of situation. Our team periodically conducts machine inspection and maintenance to guarantee that everything we need for the job is in tip-top condition. Book with us for stress-free services and operations that finish on time.
Conditions that Require a Concrete Demolition in Waltham, MA
There are several reasons why a house needs to be demolished. One of the most important questions is whether your concrete structure or building needs to be demolished in the first place. We have all the equipment needed to perform quality concrete hauling or demolition. When buildings become old, their concrete slabs become unstable posing a threat to anyone living in or around such establishments. Apart from wall or ceiling cracks, you will need the help of a professional if you have problems with leaky water pipes or defective house wirings, most especially if they are buried underneath the concrete.
What Documents Do I Need to Secure Before a Concrete Removal Service in Waltham, MA?
Before undertaking a concrete removal or a concrete hauling project in Waltham, MA, you need to understand and adhere to the policies and requirements of the city council. While other concrete removal companies may charge you extra fees to have your permits processed, our experts at Omni Demolition will sort it out for you. For one, you will need a permit. The purpose of a permit is to ensure that the governing body is able to monitor the work being done in its jurisdiction for the safety of all involved. Permit requirements also vary depending on the geographical location of your demolition project. Therefore, it is important to familiarize yourself with the legal requirements of where you live. In some locations, the percentage of the structure you are demolishing will determine whether you require a permit or not.
How Much Do You Have to Pay for a Concrete Demolition in Waltham, MA
The most common question in every contractual project is how much will it cost. There are a number of factors that contribute to the overall cost of your concrete demolition project such as the type of concrete used. We vow to conduct clean and honest business because we give more value to a lifetime relationship with our clients. Ask your potential Waltham, MA patio demolition companies how much they charge before you make your final decision. Feel free to contact us to learn how much we charge for a patio removal or other similar services. We provide detailed and accurate estimates that are easy to understand. The actual demolition cost alone can cost you from between $1000 – $15000+
Typical Timeline for a Concrete Demolition Operation in Waltham, MA
Time taken to complete a concrete demolition project usually depends on a number of things. Our team of experts, however, is the most knowledgeable in the industry when it comes to concrete slab removal, or concrete hauling so we can guarantee the quickest operations without compromising quality and safety. At our company, we are able to finish a demolition or hauling job within as little as a few days, depending on the size of the property. We always conduct a comprehensive check on every project we work on in Waltham, MA. Your budget also determines the time it will take to complete your project.
You Get More Value by Recycling Concrete in Waltham, MA
With rising pressure on local landfills, the diversion of rubble from a concrete demolition and removal project is becoming increasingly important. Ever wonder how this type of material can be used again? Our team recycles crushed and cut concrete slabs. Our concrete demolition contractors highly encourage recycling in accordance with our adherence to providing eco-friendly solutions. It is also an environmentally friendly approach of dealing with the waste. Concrete lasts long, and you can use it in various ways.
Why Choose us for All Your Concrete Demolition Needs in Waltham, Massachusetts?
Our concrete slab removal services are unmatched. Moreover, we are well equipped to handle any other concrete removal service you may be in need of. While the end result of our services is a torn down building or structure, we use a number of concrete slab removal techniques to achieve our purpose. We will ensure that concrete slab removal and other types of concrete removal service are done according to your specifications. We use various techniques when we provide our services to ensure that we finish the project within the targeted time frame. With our experts, you won't worry about accidents, hidden costs, and other concerns. Our friendly customer care specialists will be happy to assist you and provide you with a no-commitment estimate.
Zip Code Areas We Service in Waltham
02452, 02453, 02451, 02454, 02455