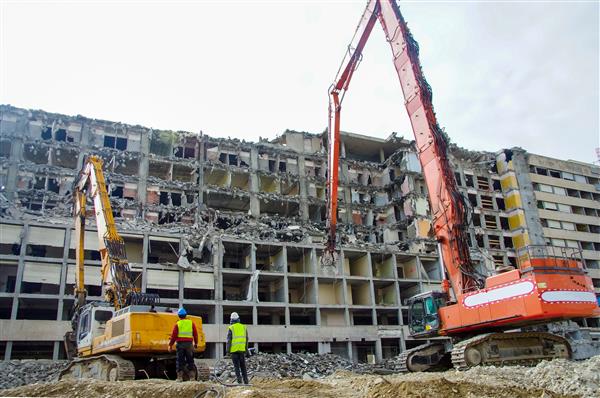 Demolition Contractors in Haverhill, MA: Your Trusted Demolition Company
Omni Demolition has efficient and expertly trained demolition contractors. You are guaranteed to get the best value for your money with our expertise partnered with updated equipment and strict adherence to state safety regulations and policies. Our demolition contractor is on standby at all times ready to cater to your needs. Our team of demolition experts provide outstanding demolition services whether complete or selective. The primary projects we undertake are demolition and deconstruction.
What is the Difference between Demolition and Deconstruction in Haverhill, MA
Demolition is the process of knocking down, levelling, razing, tearing down or pulling down a building or a structure. Demolition can either be selective or explosive. Explosive demolition uses mostly dynamite to bring down big buildings. Selective demolition involves bringing down a part of a building or tearing a section of a wall by a demolition expert. Deconstruction, on the other hand, is the disassembling of a building while preserving its re-usable parts. If you are going to rebuild or remodel an existing building and you wish to maintain some segments, a deconstruction is recommended. Deconstruction is when a demolition expert carefully dismantles or takes down a structure with the aim of reusing or recycling the materials.
Complete Accountability from Highly Skilled Specialists for Your Demolition Project in Haverhill, MA
Our demolition experts guarantee to provide you with professional demolition services. An experienced and well-trained demolition contractor will manage your project and ensure that the job gets done. We also take time to really understand your needs and deliver according to your desires with no excuses. You will not find another demolition contractor in all of Haverhill, MA who will help you save and spend wisely. Our job is thorough and you can be certain that once we are done, you do not have to worry about hazardous wastes being left behind. Our job is thorough and you can be certain that once we are done, you do not have to worry about hazardous wastes being left behind.
Our Demolition Services in Haverhill, MA
Industrial Demolition services: We have tried and tested thorough demolition of industrialized buildings. Our record includes taking down plants, manufacturing buildings, mills and the like.
Commercial Demolition services: Our demo company, has proven to be knowledgeable in demolishing commercial buildings despite their confinement in between other structures. Using specialized equipment plus our own unique strategy, we have in the past taken down airplane hangars, grocery stores, bridges, shops, and warehouses.
Concrete Demolition and Recycling Services: Concrete recycling results in saving costs in that it decreases the cost of transportation and disposal. Our demolition experts will break, remove and then crush concrete after demolition. The concrete can be used as an aggregate in new concrete.
Scrap Metal Demolition Services: Our demo company maximizes the value of scrap metal as part of our scrap metal demolition service. This significantly minimizes the cost of the project.
We Set the Pace for Other Demolition Companies in Haverhill, MA
Despite being highly preferred over other demolition contractors, we keep our feet grounded. Our demolition experts are highly experienced in all types demolition services be they in a remote or challenging environment. As an established demolition company in all of Haverhill, MA, we see to it that our services, equipment and workmanship are always above customer satisfaction. When it comes to bringing down old, dilapidated or unwanted property, we have vast experience as a demo company and we will ensure that our services do not cause any unintended damage or pollution
Methods Applied in Demolition and Deconstruction in Haverhill, MA
Explosive Demolition: We have a team of demolition experts in Haverhill, MA who thoroughly oversee the process of using explosives to crumble a structure, including the strict adherence to safety regulations and environmental protocols.
Non-Explosive Demolition: Our local demolition contractors use a wrecking ball attached to a crane to knock down buildings. It is a cheaper and faster method unlike explosive demolition.
Selective Demolition: This process entails tearing down a part of the structure. Efficiency is maximized by recycling reusable material thus reducing waste and lessening the impact on the environment. As the leading demo contractors, we have set standards that other building demolition companies have a hard time measuring up to.
Important Demolition Equipment in Haverhill, MA
Hydraulic breakers – Also known as hydraulic hammers, our demo company uses this to demolish rocks or concrete structures.
Wrecking balls – Heavy and solid balls made of steel, wrecking balls are safely suspended on a crane and used to weaken a building until it gives.
Hydraulic shears and rock breakers – These specialized accessories allow cutting into a variety of materials such as metal, wood, rocks, and cement.
Bulldozers – This powerful machinery has a number of uses in construction. A bulldozer can be used to knock down an old or derelict structure. It can also be used to push away debris and clean up the area. Dumpers – In every demolition business, dumpers are necessary to clear the site from rubble and debris.
Cranes – Demolition contractors use cranes not only for swinging wrecking balls but also in moving objects within the site. Our demo company facilitates the use of cranes to lift heavy objects from lower grounds to higher areas.
Crawler Loaders – They are very effective in removing materials from the demolition site. They are used to move or clear an area of demolition rubble. Crawler loaders can also be used to push down smaller-sized structures.
Call us Today for Demolition Services in Haverhill, Massachusetts
Your number one demolition company in Haverhill, Massachusetts is always at your service. We take any demolition challenge head on. Our demolition company provides all our clients with dynamic solutions for all their Haverhill demolition and deconstruction needs. Our Haverhill deconstruction and demolition company is licensed and highly reputable. For all your demolition needs, call us at
(855) 885-3366
.
Zip Code Areas We Service in Haverhill
01832, 01830, 01835, 01831