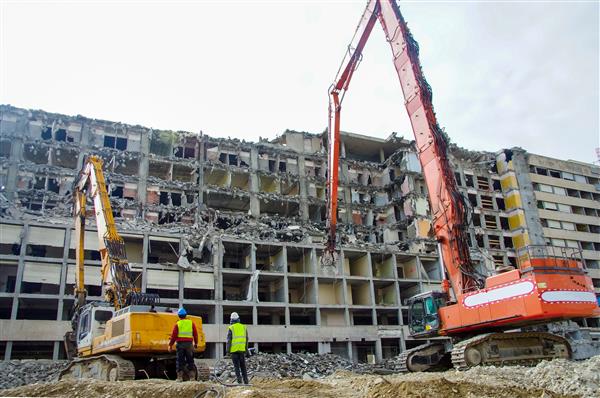 The Best Demolition Contractors and Demolition Company Lawrence, MA You Can Depend On
Here at Omni Demolition, we believe that pricing is not the only factor that you must consider when getting the services of demolition contractors in Lawrence, MA. We have an enduring assurance to safety. Unlike other service providers, our demolition experts are all highly skilled and experienced in this business. Whether it may be a residential, commercial or industrial structure that needs to be taken care of, our crew has got it covered.
Better Understanding of Demolition and Deconstruction in Lawrence, MA
Demolition is the process of knocking down, levelling, razing, tearing down or pulling down a building or a structure. A demolition expert may order a deconstruction if parts of the original structure need to be retained or hazardous materials and reusable items need to be extracted before an actual demolition. Should a client wish to retain a building's frame or will only be rebuilding a certain part of the property, a deconstruction is in order. If you are going to rebuild or remodel an existing building and you wish to maintain some segments, a deconstruction is recommended. Selective deconstruction involves going into a property before demolition and removing high value and easily removable materials.
What We Do in Lawrence, MA
Our demolition experts have a solid record of work experience aside from continually receiving refresher trainings every now and then to ensure that they are well updated with any enhancements or changes in technology and procedural protocol. Compared to other demolition contractors who are highly profit-driven, we are committed to giving back to the community through outstanding workmanship and transparent transactions. We also take time to really understand your needs and deliver according to your desires with no excuses. Our demolition contractor will handle your needs on a one-on-one level and ensure that your project is given the undivided attention it deserves. Taking down old and unwanted buildings may look like a simple task; however, it requires the experience and competence of professional service providers like us to get your job done properly. Taking down old and unwanted buildings may look like a simple task; however, it requires the experience and competence of professional service providers like us to get your job done properly.
We Offer Demolition Services in Lawrence, MA Fit for Your Needs
Industrial Demolition Services: This type of demolition service requires a surgical approach. We have a systemic, controlled and detailed solution in place for demolishing facilities such as chemical plants, manufacturing plants, port facilities, oil refineries, factories, and lumber mills among others.
Commercial Demolition Services: Despite commercial buildings being located in compact spaces, our demo company is able to bring down your building or structure in a safe way with minimal damage to the surrounding area. Using modernized equipment, our team of professionals have pulled down warehouses, grocery stores, shops, airplane hangars among others.
Concrete demolition and recycling services: Our demolition experts can break down concrete surfaces and slabs into reusable gravel.
Scrap Metal Demolition Services: Our demo company maximizes the value of scrap metal as part of our scrap metal demolition service. This significantly minimizes the cost of the project.
What Distinguishes Us from Other Demolition Companies in Lawrence, MA
Our demolition experts and highly skilled demolition contractors consistently make innovations with the way demolitions are made. We are on a continuous path to success and we have managed to do this through perfection in our demolition services. We are a top-rated demolition company in Lawrence, MA. Our demo company is well equipped in handling any job, however simple or complex.
Main Methods for Demolition and Deconstruction in Lawrence, MA
Explosive Demolition: Conducted by our skilled demolition experts in Lawrence, MA, this method requires properly laying out detonators and explosives to bring a structure down to a pulp.
Non-Explosive Demolition: Instead of explosives, local demolition contractors may also use a wrecking ball to tear down a building. This method also requires safety precaution as swinging wrecking balls are harder to control than it seems.
Selective Demolition: In cases of remodeling or renovation, demo contractors may be required to pull apart specific areas of the structure. We exceed other building demolition companies when it comes to precision in conducting selective demo such as disassembling interiors, floor coverings, ceilings and walls.
Cutting Edge Equipment Utilized for Demolition in Lawrence, MA
Hydraulic Breakers – This strong hammer is built to withstand heavy and rigorous use. As one of the high-quality demolition tools used by our demo company, it offers greater productivity in regards to speed, efficiency and its overall performance. Wrecking Balls – Buildings or structures that are more than 6 storeys high are demolished with the help of a wrecking ball suspended on a crane by a steel rope. The wrecking ball is pulled then released towards the structure. With force, the steel ball strikes the structure and demolishes it in bits.
Hydraulic shears and rock breakers – Designed to cut through the toughest materials with very minimal effort, these tools are attached to excavators to do the job. They can slice through rocks, concrete, metal, wood and steel. Bulldozers – These powerful machines are used to bring down smaller sized buildings or structures. They are also used to transfer debris and rubble to trucks.
Dumpers – Essential in clearing a demolition site, our dumpers make it easier and quicker to take out unwanted debris and materials from the site to be properly disposed of. Our demolition business has invested in quality dumpers to ensure a speedy clean-up of the property and that your project timeline is met.
Cranes – In demolition, demolition contractors need a crane. Cranes can be used to lift a small-sized excavator. A wrecking ball can also be attached to a crane for demolition making it an essential piece of machinery in a demo company.
Crawler Loaders – A flexible machine, crawlers are perfect for excavating narrow spaces. Although not very good for excavating, it can be used to haul items easily.
For all your Demolition Needs contact us in Lawrence, Massachusetts
Settling with an amateur demolition company in Lawrence, Massachusetts may seem cost-effective at first but mishaps and faulty work onsite may cost more of your resources, time and energy. You can rest easy knowing that we have a solution for all your demolition projects. Our demolition company is the Lawrence demolition and deconstruction company you have been looking for. Our Lawrence deconstruction and demolition company is licensed and highly reputable. Dial
(855) 885-3366
for a professional Lawrence demolition that will not break your bank.
Zip Code Areas We Service in Lawrence
01843, 01840, 01841, 01842