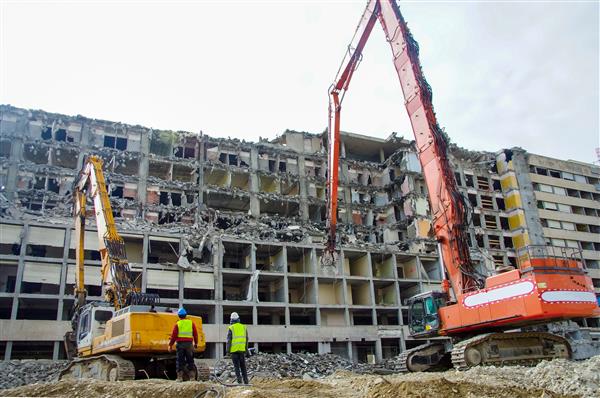 Demolition Contractors Newton, MA The Demolition Company That You Can Count On
Having been in the demolition business for years, Omni Demolition has built an unshakable reputation as the leading demolition company in Newton, MA. We will make sure that the project is completed within your budget and stipulated timeframe. We do not sugar-coat our services and we often deliver more than promised. Our demolition experts always provide reliable and efficient services in a proactive manner. We have the resources and expertise to offer you the best solutions in a safe and professional manner.
What is the Difference between Demolition and Deconstruction in Newton, MA
Demolition can be described as dismantling of buildings or a specific room by a demolition expert. Demolition is the actual tearing down of a structure to be done by a demolition expert. Deconstruction, on the other hand, is the disassembling of a building while preserving its re-usable parts. Deconstruction could be a component included in the demolition where our skilled team removes all hazardous and re-usable objects prior to the building being knocked down.
Our Commitment to Your Demolition Project in Newton, MA
We know that before you consider hiring us, you will want to understand how the job gets done by our demolition experts. Our demolition contractor is at your service to fulfill all your needs. We pride ourselves in being reliable and efficient service providers who will cater to all your unique needs. No other demolition contractor in all of Newton, MA has a crew that is as dedicated and diligent as ours. From the start to the finish of your project, we are focused on your absolute satisfaction. From the start to the finish of your project, we are focused on your absolute satisfaction.
Our Demolition Services in Newton, MA
Industrial Demolition Services: This requires application of specialized techniques by highly trained professionals. We will safely and effectively bring down industrial structures such as factories, mills and manufacturing plants among others.
Commercial Demolition services: Our demo company, has proven to be knowledgeable in demolishing commercial buildings despite their confinement in between other structures. Using specialized equipment plus our own unique strategy, we have in the past taken down airplane hangars, grocery stores, bridges, shops, and warehouses.
Concrete Demolition and Recycling Services: Concrete recycling results in saving costs in that it decreases the cost of transportation and disposal. Our demolition experts will break, remove and then crush concrete after demolition. The concrete can be used as an aggregate in new concrete.
Scrap Metal Demolition Services: Our demo company will save you time and money by demolishing your metal structure, putting a recovery plan in place and selling the salvaged scrap metal for you.
What Sets Us Apart from Others Newton, MA
We are professional demolition contractors who offer superior quality services. Our resources are as varied as they are effective: dependable and advanced equipment as well as expert personnel. You are guaranteed a hassle-free experience when you sign with us, the most trusted demolition company in Newton, MA. We continue to fulfil our commitment as a demo company when it comes to putting our clients as top priority.
Safely Regulated Methods for Demolition and Deconstruction in Newton, MA
Explosive Demolition: Our demolition experts in Newton, MA implode your building making it collapse safely with minimal damage to the immediate surroundings.
Non-Explosive Demolition: This method of demolition does not use explosives. Our local demolition contractors can use equipment such as wrecking balls, excavators and bulldozers.
Selective Demolition: A more complex method compared to using explosives or wrecking balls, selective demolition requires demo contractors to remove certain parts of a structure while keeping the rest of it in place. We have mastered this technique and take pride in being skilled in doing what other building demolition companies cannot.
Important Demolition Equipment in Newton, MA
Hydraulic Breakers – Our demo company will use this heavy hammer to demolish rocks or concrete structures. Hydraulic breakers are also an important part of recycling operations.
Wrecking Balls – Although less common in demolition sites, it is an efficient way of demolishing a concrete structure. This solid steel ball is attached to a crane. It is then swung to the targeted building several times to strike down the structure.
Hydraulic shears and rock breakers – These are helpful in cutting all sorts of steel, wood, rocks, concrete and metal. They make a very clean cut within a short period of time.
Bulldozers – This powerful machinery has a number of uses in construction. A bulldozer can be used to knock down an old or derelict structure. It can also be used to push away debris and clean up the area.
Dumpers – In the demolition business, they are used for moving rubble and debris away from the demolition site.
Cranes – Demolition contractors utilize a crane to ease the burden of moving heavy materials or equipment back and forth on a construction site. Our demo company also uses cranes to suspend wrecking balls for non-explosive demos.
Crawler Loaders – They are very effective in removing materials from the demolition site. They are used to move or clear an area of demolition rubble. Crawler loaders can also be used to push down smaller-sized structures.
We are the Number to Call for Premium Demolition Services in Newton, Massachusetts
Our demolition company in Newton, Massachusetts is the best one in town. There's a reason why we continue to be highly recommended by building contractors and the rest of our clientele. As an established demolition company, we maintain high standards of service and workmanship no matter how big or small a contract is. Our work integrity and reasonable packages are only some of the reasons why we are a well renowned Newton deconstruction and demolition company. Call us
(855) 885-3366
today for all your demolition solutions.
Zip Code Areas We Service in Newton
02464, 02466, 02461, 02462, 02468, 02465, 02467, 02460, 02459, 02458, 02456, 02495