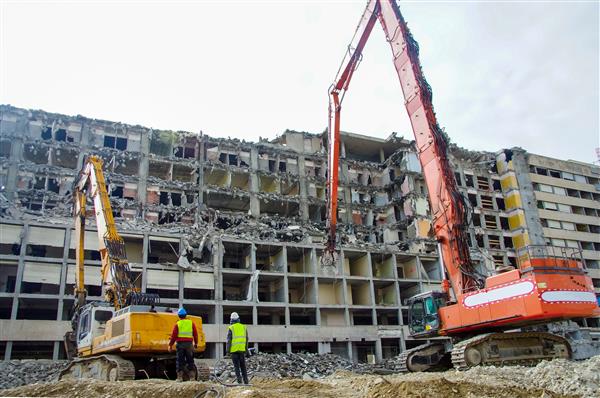 Professional Demolition Contractors Quincy, MA – What You Need to Know when Hiring a Demolition Company
Having been in the demolition business for years, Omni Demolition has built an unshakable reputation as the leading demolition company in Quincy, MA. Our goal is to establish strong customer ties through honest business and outstanding workmanship. We offer unrivalled expertise and deliver tailor-made solutions to both simple and tough demolition projects. Led by deconstruction experts in the industry in Quincy, MA, our demolition experts offer innovative approaches to all your projects, whether big or small. There are no second guesses when you sign with us.
Dependable Demolition and Deconstruction in Quincy, MA
Demolition is taking down or dismantling a building or structure with a strong and overwhelming force whose end result is rubble or waste. A demolition expert may order a careful deconstruction prior to a demolition to carefully remove chemically hazardous materials as a safety precaution. Deconstruction is when a demolition expert takes a structure apart carefully, one piece at a time. It entails tearing down the components of a building for the purpose of recycling, re-using as well as waste management.
You can Trust Us with Your Demolition Project in Quincy, MA
We maintain multi-disciplined and highly seasoned demolition experts and demolition contractors in Quincy, MA-fully trained in material handling and equipment operation. As professional demolition contractors, we religiously adhere to state policies and regulations. Our management style is hands-on, giving us the opportunity to customize solutions to fit your demolition needs. Our demolition contractors are not only committed to providing first rate work but also ensure that all steps are taken to cause little to zero disturbance to the environment and to the properties adjacent to the site.
Take Advantage of Our Demolition Services in Quincy, MA
Industrial Demolition services: Complexity and size do not intimidate us. We have successfully torn down enormous structures such as manufacturing plants, factories, warehouses and even utility installations. Commercial Demolition services: You can call our demo company if you need someone to knock down commercial structures such as commercial centres, groceries, airplane hangars and the like. Concrete Demolition and Recycling Services: This type of demolition is environmentally friendly and saves on cost. Rubble from concrete demolition is reused by our demolition experts to make gravel or as one of the materials for making new concrete. Scrap Metal Demolition Services: As an all-around demo company, we can also take care of any unwanted steel erections and metal scraps onsite. We follow a certain procedure in salvaging items that are still good for future use so you can be sure nothing goes to waste.
We are the Leading Demolition Company in Quincy, MA
Our demolition experts and highly skilled demolition contractors consistently make innovations with the way demolitions are made. Our team uses sophisticated equipment and observes high standards in every operation. As an established demolition company in all of Quincy, MA, we see to it that our services, equipment and workmanship are always above customer satisfaction. We continue to fulfil our commitment as a demo company when it comes to putting our clients as top priority.
Main Methods for Demolition and Deconstruction in Quincy, MA
Explosive Demolition: Our demolition experts carefully consider all factors before flipping the switch that will initialize explosives to go off and promptly annihilate the target building in Quincy, MA. Non-Explosive Demolition: Instead of explosives, local demolition contractors may also use a wrecking ball to tear down a building. This method also requires safety precaution as swinging wrecking balls are harder to control than it seems. Selective Demolition: Recommended for buildings that are being rebuilt, selective demolition involves carefully removing some parts of the building to make way for a modified construction. Unlike new and upcoming building demolition companies, our demo contractors are experienced in extracting parts of the building while still maintaining its structural integrity.
We Facilitate High-End Equipment for Demolition in Quincy, MA
Hydraulic Breakers – A demo company uses hydraulic breakers to demolish concrete and pulverize rocks. Wrecking balls – Huge metal balls suspended on a metal crane and swung into the building intended to be collapsed either once or as many as needed. Hydraulic Shears and Rock Breakers – They are able to demolish steel structures. Hydraulic shears are also used for recycling or secondary breaking. Rock Breakers are robust pounding hammers that are usually fitted to excavators. They are used to demolish rocks, as the name suggests or concrete. Bulldozers – Common equipment in construction sites used for excavating and hauling materials or waste. This machine can also be used to flatten or level structures hence the term bulldoze. Dumpers – A necessity in every demolition business, dumpers are used to haul waste materials off the demolition site. It ensures the pre-construction area is free from any trash or debris brought about by the demolition. Cranes – Demolition contractors will need to use a crane in long-reach or high-reach demolition projects. A wrecking ball is suspended on a crane, from where it is swung to demolish a structure partly or wholly. A crane is a very important piece of equipment in any demo company. Crawler Loaders – They are effective in bringing down structures. They can also be used to clean up a demolition site. Crawler loaders can help move debris. Its tracks enable the unit to move easily and freely on the property.
Go Ahead and Contact Us for All Your Demolition Needs in Quincy, Massachusetts
If you are in dire need of a reliable demolition company in Quincy, Massachusetts but are quite not sure what kind of method you will require and how much it will cost you, do not hesitate to call us. We will meet all your demands and give the same meticulous attention to your projects no matter the size. You're in great hands with our Quincy deconstruction and demolition company. Our work integrity and reasonable packages are only some of the reasons why we are a well renowned Quincy deconstruction and demolition company. Call us
(855) 885-3366
today for all your demolition solutions.
Zip Code Areas We Service in Quincy
02169, 02171, 02170, 02269