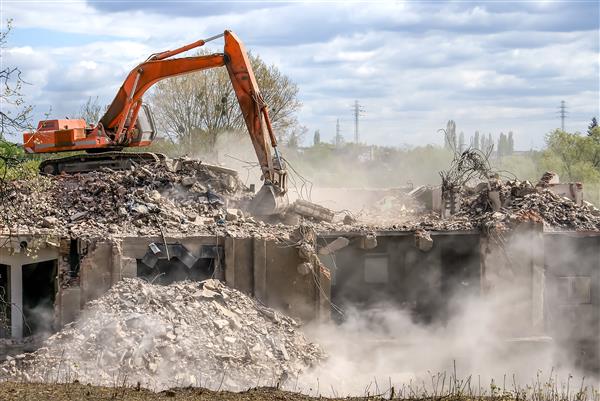 Trust Only the Authority in the Concrete Removal Business in Frederick, MD
Concrete removal is part and parcel of construction and demolition projects in Frederick, MD. Here at Omni Demolition, our concrete slab removal services are completed all the while making you feel like a VIP. We have well-trained experts who can help you with tasks such as concrete hauling, partial house demolition and site cleanup. Our reliable craftsmen do not believe in making excuses.
Special Equipment Used for Concrete Removal in Frederick, MD
Be careful of contractors in Frederick, MD that use outdated and broken down equipment for this could mean impending delays to your project, or work that is so poorly done you will have to hire another company to redo the job. At Omni Demolition, specialized heavy machinery and equipment are required for concrete slab removal. We give importance to our client's time which is why we ensure equipment and material readiness to avoid any delays to your projects. Demolition hammers are efficient and quick when it comes to demolition work such as removing concrete driveway, concrete slab demolition or concrete wall demolition. Trust us to start removing concrete driveway and other concrete structures at your project location as soon as you give us the green light to commence work. We also provide concrete hauling to clean up the site after we finish cutting and crushing your walls, driveways or ceilings. Hydraulic concrete shears are used in secondary demolition where they help to separate concrete from steel reinforcements and further reduce the size of the rubble.
When Do You Need Concrete Demolition Services in Frederick, MD?
Concrete removal is an essential part of making your home, building or structure beautiful. Some of the main reasons include the overall condition of the structure and presence of faulty wirings or leaky water pipes underneath the cement. Whatever your demolition and concrete hauling requirements are, we can help you achieve all your goals at a budget-friendly price. Concrete structures are built to withstand great pressure. All of the technicians follow safety procedures to ensure the project flows smoothly without any delays.
Permits Needed for Concrete Removal in Frederick, MD
Before you can start a Frederick, MD concrete removal, concrete hauling project or any other related service, you need to secure a few documents. Start by applying for a permit from the local authority. Some concrete removal companies may charge extra for processing it on your behalf but not us—we are here to make the permit process as simple and effortless as possible. The kind of concrete demolition permit you will require will basically depend on what you are demolishing, where the demolition project is and how much you are demolishing. Before you begin a demolition job, it is advisable to first understand the laws and requirements of your location. At Omni Demolition, you can trust our team to assist you in securing the required clearances and permits.
How Much Will a Concrete Demolition Project Cost in Frederick, MD?
The most common question in every contractual project is how much will it cost. Permits can cost an average of $200 to a few thousand dollars. If you live in an urbanized location, expect the permit application fees to go up to a thousand dollars or more. Our concrete demolition projects in Frederick, MD include patio demolition, patio removal, tearing down walkways and walls, demolishing decks, entire buildings, among others. Unreinforced concrete on the other hand is easier to remove. As for the service, you might spend around $4,000 to $15,000+, depending on the urgency of the request, size of the project and overall condition of your property in Frederick, MD. If the structure contains hazardous materials such as asbestos, it may cost you extra to have the hazardous materials removed.
Expected Duration of a Concrete Demolition in Frederick, MD
Concrete is usually reinforced with tough steel making it virtually indestructible. A concrete demolition project needs the services of professionals to have it done right and safely. Concrete slab removal and concrete hauling is a delicate procedure. In cases where a city inspector has checked whether all sewer, utilities, and water facilities have been taken care of, our own men double checks to ensure the safety of our demolition in Frederick, MD. It entails dividing slabs into sub-sections as well as grids, then removing them piece by piece. Once we assess the situation, we can come up with a plan and provide a tentative time frame.
What Can I Do With

My Concrete Waste in Frederick, MD?
It comes right after a concrete demolition and removal project. Concrete recycling is a more viable option of taking care of demolition waste. Our concrete demolition contractors highly encourage recycling in accordance with our adherence to providing eco-friendly solutions. We repurpose the material so they can be used to create asphalt pavement and other similar structures. This not only lessens the environmental impact but it also minimizes the overall cost on your concrete demolition project.
Recognize the Most Preferred Concrete Demolition Company in Frederick, Maryland
Our concrete demolition services in Frederick, MD consist of concrete slab removal and concrete removal service. Omni Demolition has all the skills, tools and equipment needed to perform a concrete slab removal or hauling service. We are self-driven in completing all our tasks with accuracy. Our experts are the best at what they do. This is not a job for amateurs and if done wrongly, it could be costly on your end. Dial our phone number today and let us know what concrete removal service you require. Concrete demolition in Omni Demolition is the best way to safely tear down buildings or structures made from concrete.
Zip Code Areas We Service in Frederick
21705, 21703, 21702, 21701, 21709