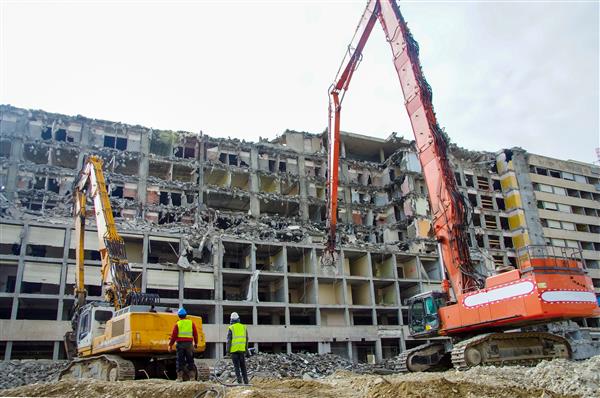 Demolition Contractors Baltimore, MD: Your Trusted Demolition Company
Omni Demolition has efficient and expertly trained demolition contractors. You are guaranteed to get the best value for your money with our expertise partnered with updated equipment and strict adherence to state safety regulations and policies. No job is ever too big, too small or too demanding for us. We have a team of seasoned demolition experts ready to act on any project. Whether it may be a residential, commercial or industrial structure that needs to be taken care of, our crew has got it covered.
Do You Need Demolition or Deconstruction in Baltimore, MD?
Demolition is the process of tearing down or pulling down buildings and structures by a demolition expert. A demolition expert may order a careful deconstruction prior to a demolition to carefully remove chemically hazardous materials as a safety precaution. Deconstruction, on the other hand, is the disassembling of a building while preserving its re-usable parts. It is usually done when one wants to remodel or improve a part of the building.
Why Come to Us for Your Demolition Project in Baltimore, MD
Our demolition experts have a solid record of work experience aside from continually receiving refresher trainings every now and then to ensure that they are well updated with any enhancements or changes in technology and procedural protocol. Compared to other demolition contractors who are highly profit-driven, we are committed to giving back to the community through outstanding workmanship and transparent transactions. It is our core mission to exceed all your expectations. You will not find another demolition contractor in all of Baltimore, MD who will help you save and spend wisely. Our job is thorough and you can be certain that once we are done, you do not have to worry about hazardous wastes being left behind. Our job is thorough and you can be certain that once we are done, you do not have to worry about hazardous wastes being left behind.
We Offer a Wide Array of Professional Demolition Services in Baltimore, MD
Industrial Demolition Services: This requires application of specialized techniques by highly trained professionals. We will safely and effectively bring down industrial structures such as factories, mills and manufacturing plants among others.
Commercial Demolition services: Need your commercial demolition project done right the first time? Our demo company will take care of that for you. Our portfolio includes: airplane hangars, restaurants, grocery stores, gas stations, warehouses and libraries among others.
Concrete demolition and recycling services: We are the only demolition experts who carefully set aside re-usable materials from your site for possible future use such as slabs to be crushed later on into gravel.
Scrap Metal Demolition Services: Allow our demo company to remove useless steel erections onsite and salvage reusable metal for recycling instead of hiring a separate contractor, which means more expenses for you.
The Top Choice Among Demolition Companies in Baltimore, MD
We take pride in deploying demolition experts and demolition contractors who are not simply knowledgeable on the job but also skilled and experienced all across the state. Our resources are as varied as they are effective: dependable and advanced equipment as well as expert personnel. Our demolition company is committed in service delivery. Being a demo company in this business for years, we have perfected the process of demolishing structures as cost-effectively and safely as possible.
Methods Applied in Demolition and Deconstruction in Baltimore, MD
Explosive Demolition: Our demolition experts in Baltimore, MD implode your building making it collapse safely with minimal damage to the immediate surroundings.
Non-Explosive Demolition: In instances where the height of the building makes it unsafe to use explosives, a wrecking ball is used by local demolition contractors to weaken the structure before tearing it down.
Selective Demolition: Our demo contractors use this method when their goal is to recover or salvage demolition materials. Building demolition companies reuse or recycle the salvaged materials thus reducing waste.
Demolition Equipment in Baltimore, MD
Hydraulic Breakers – Our demo company uses a hydraulic breaker to demolish rocks and concrete structures. Its powerful hammer causes destruction on the targeted object in a matter of seconds.
Wrecking Balls – A wrecking ball is made from steel. It is suspended from a steel chain attached to a crane and is used to demolish large buildings. It is swung several times towards the intended structure until the structure crumbles. The working of a wrecking ball relies on the skills of an experienced operator.
Hydraulic Shears/ Rock breakers – They are fitted to an excavator and have the ability to cut through concrete, metal, rocks and wood.
Bulldozers – A bulldozer is a heavy piece of equipment that has a robust bucket attachment. This attachment enables the bulldozer to clear trash, rubble and debris from a demolition site. Bulldozers are multi-purpose, they can also be used to push down heavy smaller-sized structures.
Dumpers – A dumper is a very useful piece of machinery in every demolition business. It is used to carry away demolition waste from demolition sites.
Cranes – Demolition contractors use cranes to attach a wrecking ball to it. The wrecking ball suspended on a crane is then swung to the targeted structure. A demo company can use cranes to remove debris from high areas of a demolished structure. Cranes can also be used to load debris onto a dumper.
Crawler Loaders – A flexible machine, crawlers are perfect for excavating narrow spaces. Although not very good for excavating, it can be used to haul items easily.
Call us Today for Demolition Services in Baltimore, Maryland
Settling with an amateur demolition company in Baltimore, Maryland may seem cost-effective at first but mishaps and faulty work onsite may cost more of your resources, time and energy. Ensure a spotless pre-construction site when you sign with us. You're in great hands with our Baltimore deconstruction and demolition company. We are the Baltimore deconstruction and demolition company to go to for premium and safe demo services. Contact us at
(855) 885-3366
.
Zip Code Areas We Service in Baltimore
21218, 21211, 21210, 21213, 21212, 21215, 21214, 21217, 21216, 21231, 21230, 21239, 21251, 21209, 21202, 21206, 21207, 21205, 21226, 21201, 21223, 21224, 21225, 21229, 21203, 21233, 21235, 21241, 21263, 21264, 21270, 21273, 21275, 21278, 21279, 21280, 21281, 21282, 21284, 21285, 21287, 21288, 21289, 21290, 21297, 21298