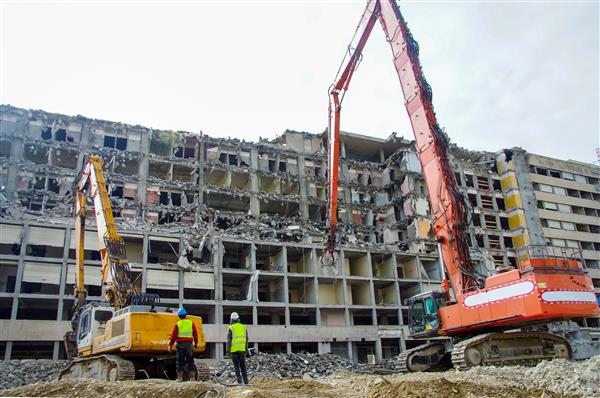 The Best Demolition Contractors and Demolition Company Gaithersburg, MD You Can Depend On
When looking to hire demolition contractors in Gaithersburg, MD, Omni Demolition is your best choice. If you need to hire a professional demolition contractor in Gaithersburg, MD without spending a ridiculous amount of money, you have come to the right place. Our demolition experts always provide reliable and efficient services in a proactive manner. Whether it may be a residential, commercial or industrial structure that needs to be taken care of, our crew has got it covered.
Distinction Between Demolition and Deconstruction in Gaithersburg, MD
Demolition is aimed at basically bringing down a structure. A demolition expert may order a deconstruction if parts of the original structure need to be retained or hazardous materials and reusable items need to be extracted before an actual demolition. Deconstruction differs from demolition in that, it involves tearing apart a building or a home in a manner that salvages materials. If you are going to rebuild or remodel an existing building and you wish to maintain some segments, a deconstruction is recommended.
What We Do in Gaithersburg, MD
Our demolition experts and demolition contractors in Gaithersburg, MD are highly skilled in meeting all your demands. As professional demolition contractors, we religiously adhere to state policies and regulations. Our management style is hands-on, giving us the opportunity to customize solutions to fit your demolition needs. No other demolition contractor in all of Gaithersburg, MD has a crew that is as dedicated and diligent as ours.
We Offer a Wide Array of Professional Demolition Services in Gaithersburg, MD
Industrial Demolition services: We have an impeccable history in handling industrial buildings such as warehouses, chemical plants, mills and more. No matter how gigantic the structure is, our team of experts can surely manage.
Commercial Demolition Services: This type of demolition requires tact in working around obstacles. Our demo company is highly skilled in demolishing commercial structures such as hotels, retail spaces, office buildings, warehouses, bridges and airplane hangars among others.
Concrete Demolition and Recycling Services: This type of demolition is environmentally friendly and saves on cost. Rubble from concrete demolition is reused by our demolition experts to make gravel or as one of the materials for making new concrete.
Scrap Metal Demolition Services: Allow our demo company to remove useless steel erections onsite and salvage reusable metal for recycling instead of hiring a separate contractor, which means more expenses for you.
Key Advantages Against Other Demolition Companies in Gaithersburg, MD
Our team of demolition experts and demolition contractors will work tirelessly and dedicatedly to ensure that your project is completed on time. We are on a continuous path to success and we have managed to do this through perfection in our demolition services. An emerging demo company from years back, we are now among the top contractors in the city when it comes to leveling residential, commercial and industrial properties. That is why we are recognized as the leading demo company.
Types of Demolition and Deconstruction in Gaithersburg, MD
Explosive Demolition: Done by licensed demolition experts in Gaithersburg, MD, this method may sound dangerous and it could be when proper procedures are not followed. After explosives are strategically laid out, a switch is all it takes to completely take down a building.
Non-Explosive Demolition: Our local demolition contractors will use a wrecking ball to bring down your structure. This method is cheaper than explosive demolition.
Selective Demolition: In cases of remodeling or renovation, demo contractors may be required to pull apart specific areas of the structure. We exceed other building demolition companies when it comes to precision in conducting selective demo such as disassembling interiors, floor coverings, ceilings and walls.
Important Equipment Used for Demolition in Gaithersburg, MD
Hydraulic breakers – Our demo company uses hydraulic breakers or hammers in crushing otherwise solid surfaces such as concrete, cement and even rocks.
Wrecking balls – Heavy and solid balls made of steel, wrecking balls are safely suspended on a crane and used to weaken a building until it gives.
Hydraulic Shears and Rock Breakers – They are able to demolish steel structures. Hydraulic shears are also used for recycling or secondary breaking. Rock Breakers are robust pounding hammers that are usually fitted to excavators. They are used to demolish rocks, as the name suggests or concrete.
Bulldozers – Common equipment in construction sites used for excavating and hauling materials or waste. This machine can also be used to flatten or level structures hence the term bulldoze.
Dumpers – In the demolition business, they are used for moving rubble and debris away from the demolition site.
Cranes – In demolition, demolition contractors need a crane. Cranes can be used to lift a small-sized excavator. A wrecking ball can also be attached to a crane for demolition making it an essential piece of machinery in a demo company.
Crawler Loaders – This heavy machinery is used to move aside debris material. It can also load the material onto a dump truck.
Call us Today for Demolition Services in Gaithersburg, Maryland
Our demolition company in Gaithersburg, Maryland is the best one in town. We have a brilliant track record of achieving 100% success despite hostile or challenging work environments. You're in great hands with our Gaithersburg deconstruction and demolition company. Get in touch with the leading Gaithersburg deconstruction and demolition company. Go ahead and give us a call today at
(855) 885-3366
. We are always at your service.
Zip Code Areas We Service in Gaithersburg
20878, 20899, 20879, 20877