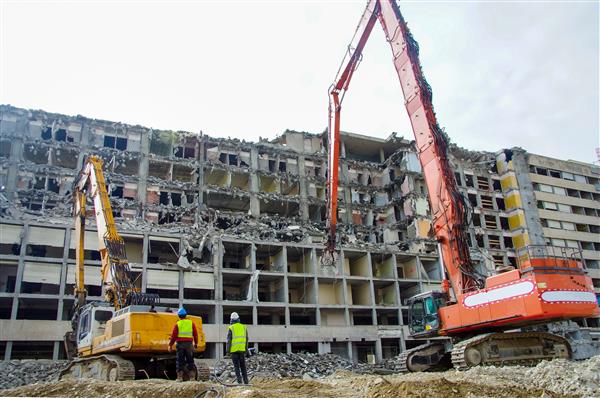 The Best Demolition Contractors and Demolition Company Dearborn, MI You Can Depend On
Our mission here at Omni Demolition is to ensure that we offer premium and high-caliber services through our expert demolition contractors. We have an enduring assurance to safety. If you need a structure or building taken down, our demolition experts will use the fastest and most economical method of demolition. This minimizes the chances of accidents or injuries at the demolition site.
Demolition vs. Deconstruction in Dearborn, MI
Demolition is the tearing down of buildings or structures partly or completely. Some projects require complete levelling while others simply need specific parts removed to be replaced. For every client call, we have a demolition expert equipped to do the job. A deconstruction may be implemented on its own or as a pre-demolition procedure. There are two types of deconstruction: selective and whole-house. Deconstruction is when a demolition expert carefully dismantles or takes down a structure with the aim of reusing or recycling the materials.
What We Do in Dearborn, MI
Our demolition experts guarantee to provide you with professional demolition services. Some demolition contractors may offer you an attractive contract with a very cheap price tag, but are you sure you are getting a steal? Most sales agents will promise everything just to close a deal but are no longer accountable when their team fails to deliver. Our demolition contractor will use special equipment and apply all the necessary skills in ensuring that the demolition process does not cause harm or injury to anyone or anything.
Our Demolition Services in Dearborn, MI
Industrial Demolition services: We focus on enhancing safety and maximizing productivity. We are responsive and flexible enough to be able to deal with any complications that such a challenging demolition project may bring. With our knowledgeable technicians and superior equipment, we can handle demolishing refineries, highways, powerplants, bridges, mines and airports among others.
Commercial Demolition Services: Despite commercial buildings being located in compact spaces, our demo company is able to bring down your building or structure in a safe way with minimal damage to the surrounding area. Using modernized equipment, our team of professionals have pulled down warehouses, grocery stores, shops, airplane hangars among others.
Concrete Demolition and Recycling Services: Once we have demolished your concrete structure, our demolition experts will crush and re-use the salvaged concrete as a base course for gravel.
Scrap Metal Demolition Services: Our demo company is experienced in salvaging scrap from your demolition project. You can recycle the scrap metal. This will minimize on wastage and cost.
We are on Top of Other Demolition Companies in Dearborn, MI
Our highly trained demolition contractors are able to offer flexible services to suit your specific needs. Our team uses sophisticated equipment and observes high standards in every operation. As the number one demolition company in Dearborn, MI, we will work closely with you to guarantee an optimum outcome. As an established demo company, we continue to make innovations in the field of construction while also maintaining the highest standards of our services.
Safely Regulated Methods for Demolition and Deconstruction in Dearborn, MI
Explosive Demolition: We have a team of demolition experts in Dearborn, MI who thoroughly oversee the process of using explosives to crumble a structure, including the strict adherence to safety regulations and environmental protocols.
Non-Explosive Demolition: Our local demolition contractors use a wrecking ball attached to a crane to knock down buildings. It is a cheaper and faster method unlike explosive demolition.
Selective Demolition: A more complex method compared to using explosives or wrecking balls, selective demolition requires demo contractors to remove certain parts of a structure while keeping the rest of it in place. We have mastered this technique and take pride in being skilled in doing what other building demolition companies cannot.
The process requires demo contractors to work around normal operating hours on small working spaces and under strict timetables. Our company, unlike other building demolition companies, understands the significance of all these considerations. We ensure that we provide an environment that is safe for everyone involved with as minimal disruption as possible.
Common Equipment Used for Demolition in Dearborn, MI
Hydraulic Breakers – Our demo company uses a hydraulic breaker to demolish rocks and concrete structures. Its powerful hammer causes destruction on the targeted object in a matter of seconds.
Wrecking balls – A wrecking ball is used together with a crane. This heavy steel ball is suspended from a crane and is used to bring down an entire structure or part of it. Although not widely used, this method is as fast as it is cost effective.
Hydraulic shears and rock breakers – A modification to excavators, these tools help in cutting through solid surfaces such as wood, metal, rocks, and concrete.
Bulldozers – These powerful machines are used to bring down smaller sized buildings or structures. They are also used to transfer debris and rubble to trucks.
Dumpers – An efficient demolition business uses dumpers to haul wastes off the demo site for its clearing process. Not having dumpers means requiring a third party contractor to get rid of the trash and may cause delays on the project timeline.
Cranes – Demolition contractors use a crane to attach a wrecking ball. A demo company can also use a crane for moving materials on the different levels of the structure or building.
Crawler Loaders – Mostly used for excavating, this equipment is also utilized for its lifting and loading capabilities.
Contact Us for Cost-effective Demolition Services in Dearborn, Michigan
If you are in dire need of a reliable demolition company in Dearborn, Michigan but are quite not sure what kind of method you will require and how much it will cost you, do not hesitate to call us. We have a brilliant track record of achieving 100% success despite hostile or challenging work environments. Our demolition company provides all our clients with dynamic solutions for all their Dearborn demolition and deconstruction needs. Our work integrity and reasonable packages are only some of the reasons why we are a well renowned Dearborn deconstruction and demolition company. Dial
(855) 885-3366
for a professional Dearborn demolition that will not break your bank.
Zip Code Areas We Service in Dearborn
48128, 48120, 48126, 48124, 48121, 48123