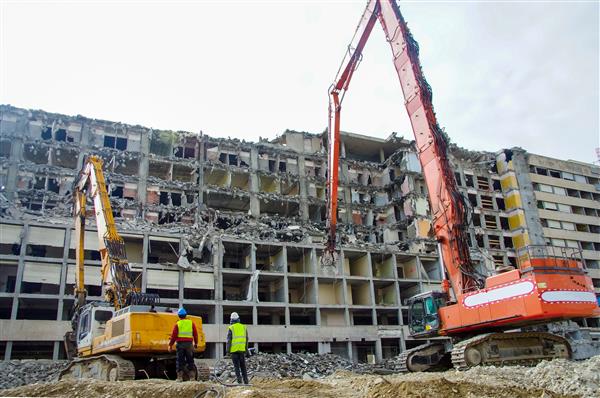 Demolition Contractors Lansing, MI: Your Go-To Demolition Company
Omni Demolition has paved the way for many construction services in the city through the exemplary workmanship and warm customer service of our demolition contractors. We will be able to complete your project in a professional, cost-effective and safe way. If you need to hire a professional demolition contractor in Lansing, MI without spending a ridiculous amount of money, you have come to the right place. Our demolition experts always provide reliable and efficient services in a proactive manner. We are an environmentally friendly company.
Distinction Between Demolition and Deconstruction in Lansing, MI
Demolition is aimed at basically bringing down a structure. Demolition can either be selective or explosive. Explosive demolition uses mostly dynamite to bring down big buildings. Selective demolition involves bringing down a part of a building or tearing a section of a wall by a demolition expert. Knowing the accurate requirements for your project is important to steering it into the right direction. In instances where a building will be remodelled or reconstructed, a deconstruction is more appropriate. Deconstruction is when a demolition expert carefully dismantles or takes down a structure with the aim of reusing or recycling the materials.
Economical Services for Your Demolition Project in Lansing, MI
Our demolition experts will handle your property professionally from start to finish. Our demolition contractors have years of experience in the business providing exceptional and enviable customer service across Lansing, MI. Most sales agents will promise everything just to close a deal but are no longer accountable when their team fails to deliver. Our demolition contractors are not only committed to providing first rate work but also ensure that all steps are taken to cause little to zero disturbance to the environment and to the properties adjacent to the site.
Our Main Demolition Services in Lansing, MI
Industrial Demolition services: Complexity and size do not intimidate us. We have successfully torn down enormous structures such as manufacturing plants, factories, warehouses and even utility installations.
Commercial Demolition services: Being a world-class demo company, you can rest easy knowing that your property is in safe and capable hands. We have the capability to bring down commercial structures such as warehouses, airplane hangars, shopping malls, garages, office buildings and sports facilities among others.
Concrete Demolition and Recycling Services: We are a safe demolition company. We also listen to what you are saying. Are you trying to cut down on costs and reduce wastage? Once our demolition experts have demolished your concrete structure, we can grind it into gravel or turn it into an aggregate for making new concrete.
Scrap Metal Demolition Services: Our demo company is also experienced in extracting steel and metal from a building.
The Top Choice Among Demolition Companies in Lansing, MI
Compared to other service providers, we take pride in having hardworking demolition experts and highly skilled demolition contractors. We are a class above the rest. What sets us apart is our unshaken resolve to achieve 100% in customer satisfaction. As an established demolition company in all of Lansing, MI, we see to it that our services, equipment and workmanship are always above customer satisfaction. Our demo company appreciates all our clients and we demonstrate this by endeavoring to give you nothing but the very best.
Safely Regulated Methods for Demolition and Deconstruction in Lansing, MI
Explosive Demolition: It is also known as the implosion method. Our demolition experts fix a building's or structure's slabs, columns and beams with explosives. Once the explosives detonate, the columns collapse and so does the building or structure.
Non-Explosive Demolition: Although somehow rare, our local demolition contractors use a wrecking ball to tear down a structure. Compared to using explosives, this method costs less; however, there is limited control on the amount of damage each swing can make.
Selective Demolition: In cases where property owners want to retain a certain part or frame of a structure, demo contractors will conduct the selective method. In this procedure, building demolition companies need to ensure the integrity of the structure is not compromised after some parts are removed.
Important Equipment Used for Demolition in Lansing, MI
Hydraulic breakers – Also known as hydraulic hammers, our demo company uses this to demolish rocks or concrete structures.
Wrecking Balls – Although less common in demolition sites, it is an efficient way of demolishing a concrete structure. This solid steel ball is attached to a crane. It is then swung to the targeted building several times to strike down the structure.
Hydraulic Shears and Rock Breakers – They are usually attached to excavators and then used to make clean cuts through concrete, metal, wood and rocks of large structures.
Bulldozers – These powerful machines are used to bring down smaller sized buildings or structures. They are also used to transfer debris and rubble to trucks.
Dumpers – Copious amount of time is spent clearing demolition sites and this is where dumpers come in very handy. An experienced demolition business deploys dumpers to haul debris and waste away from the site.
Cranes – Demolition contractors use a crane to attach a wrecking ball. A demo company can also use a crane for moving materials on the different levels of the structure or building.
Crawler Loaders – This heavy machinery is used to move aside debris material. It can also load the material onto a dump truck.
Dial OurNumber for Top Rated Demolition Services in Lansing, Michigan
Our demolition company in Lansing, Michigan is the best one in town. We have a brilliant track record of achieving 100% success despite hostile or challenging work environments. Find out why we have remained the #1 demolition company for years as you experience top of the line customer service. As the top Lansing deconstruction and demolition company, no job is ever too big or too small for us. Call us today at
(855) 885-3366
and allow us to assist you with your demolition requirements.
Zip Code Areas We Service in Lansing
48933, 48915, 48912, 48911, 48910, 48921, 48906, 48901, 48908, 48909, 48913, 48916, 48918, 48919, 48922, 48924, 48929, 48930, 48937, 48951, 48956, 48980