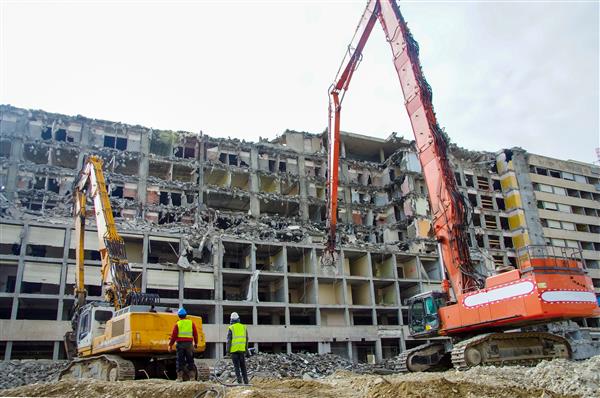 The Best Demolition Contractors and Demolition Company Livonia, MI You Can Depend On
When looking to hire demolition contractors in Livonia, MI, Omni Demolition is your best choice. Our contractors ensure that the necessary safety measures and procedures are in place in the work environment. Always making sure that our clients are not kept in the dark, our demolition experts will guide you accordingly when it comes to recommended methods, pricing and procedures to be enacted. We are an environmentally friendly company.
What is the Difference between Demolition and Deconstruction in Livonia, MI
Demolition is the tearing down of buildings or structures partly or completely. Demolition can either be selective or explosive. Explosive demolition uses mostly dynamite to bring down big buildings. Selective demolition involves bringing down a part of a building or tearing a section of a wall by a demolition expert. Should a client wish to retain a building's frame or will only be rebuilding a certain part of the property, a deconstruction is in order. It entails tearing down the components of a building for the purpose of recycling, re-using as well as waste management.
Our Commitment to Your Demolition Project in Livonia, MI
We have demolition experts who plan everything meticulously, from the bringing in of our equipment up to the clearance of the property from wastes and debris. Our demolition contractors have years of experience in the business providing exceptional and enviable customer service across Livonia, MI. Our word is our bond. We have an impeccable record of giving our clients value for their money while never compromising on the quality of our work. But this is not just a one-time initiative, it is ingrained in the workmanship of each and every demolition contractor in our company.
Take Advantage of Our Demolition Services in Livonia, MI
Industrial Demolition services: We have tried and tested thorough demolition of industrialized buildings. Our record includes taking down plants, manufacturing buildings, mills and the like.
Commercial Demolition Services: Despite commercial buildings being located in compact spaces, our demo company is able to bring down your building or structure in a safe way with minimal damage to the surrounding area. Using modernized equipment, our team of professionals have pulled down warehouses, grocery stores, shops, airplane hangars among others.
Concrete demolition and recycling services: Our demolition experts can break down concrete surfaces and slabs into reusable gravel.
Scrap Metal Demolition Services: Our demo company maximizes the value of scrap metal as part of our scrap metal demolition service. This significantly minimizes the cost of the project.
Key Advantages Against Other Demolition Companies in Livonia, MI
Our demolition experts and highly skilled demolition contractors consistently make innovations with the way demolitions are made. We are on a continuous path to success and we have managed to do this through perfection in our demolition services. No matter the nature of your project or timelines, our demolition company in Livonia, MI will deliver to your satisfaction. Our demo company delivers effective and safe results on your time and budget.
Main Methods Used in Demolition and Deconstruction in Livonia, MI
Explosive Demolition: Our demolition experts in Livonia, MI bring down structures or buildings by removing the main structural elements such as the walls and pillars with the help of explosives. This reduces the building's structural stability, causing it to collapse under its own weight. This method is faster, environmentally friendly and safer when compared to other methods.
Non-Explosive Demolition: Certain buildings are not recommended for use of explosives, to which local demolition contractors opt for wrecking balls. Made of steel, a wrecking ball is suspended and swung into the building repeatedly causing it to topple or crumble down.
Selective Demolition: A more complex method compared to using explosives or wrecking balls, selective demolition requires demo contractors to remove certain parts of a structure while keeping the rest of it in place. We have mastered this technique and take pride in being skilled in doing what other building demolition companies cannot.
Common Equipment Used for Demolition in Livonia, MI
Hydraulic Breakers – Our demo company uses a percussion hammer attached to an excavator. This powerful equipment is used for bringing down concrete structures.
Wrecking balls – Used mainly for non-explosive demos, these heavy impacting balls are helpful in progressively weakening a building until all that's left are frameworks that are then easier to tear down.
Hydraulic Shears and Rock Breakers – They are highly effective in cutting steel, metal, concrete, wood and rocks. Their high power to weight ratio enable hydraulic shears to yield a higher output.
Bulldozers – A bulldozer is a heavy piece of equipment that has a robust bucket attachment. This attachment enables the bulldozer to clear trash, rubble and debris from a demolition site. Bulldozers are multi-purpose, they can also be used to push down heavy smaller-sized structures.
Dumpers – A dumper or a tipper truck is essential in the demolition business. This vehicle is specially designed to carry debris such as gravel, or demolition waste in bulk away from the property. It makes cleaning up the property after demolition easier and faster.
Cranes – Demolition contractors need a crane for attaching a wrecking ball to it. It can also be used to lift heavy things onto or off the structure. A demo company will almost always have this piece of machinery on a demolition site.
Crawler Loaders – They are very efficient in moving heavy materials and dirt piles. Some models of the crawler loaders are able to push down heavy smaller-sized structures. They are also used to clean the ground.
Call us Today for Demolition Services in Livonia, Michigan
We are your dependable and trusted demolition company in Livonia, Michigan. There's a reason why we continue to be highly recommended by building contractors and the rest of our clientele. As an established demolition company, we maintain high standards of service and workmanship no matter how big or small a contract is. Our work integrity and reasonable packages are only some of the reasons why we are a well renowned Livonia deconstruction and demolition company. Call us today at
(855) 885-3366
and get your job done quickly, flawlessly and affordably.
Zip Code Areas We Service in Livonia
48152, 48150, 48154, 48151, 48153