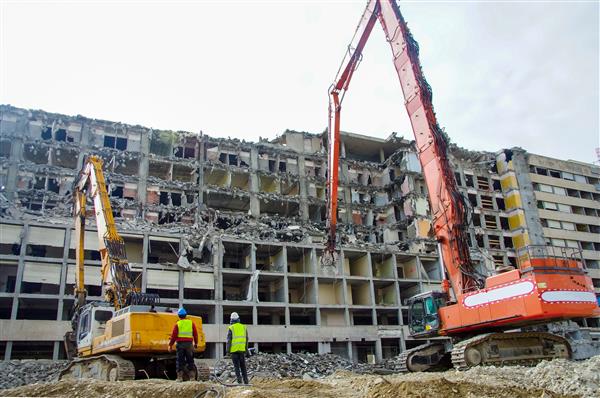 Demolition Contractors Rochester Hills, MI: Your Go-To Demolition Company
When looking to hire demolition contractors in Rochester Hills, MI, Omni Demolition is your best choice. We set the standards in world-class demolition services. No need to break the bank to avail of first rate service and exceptional outcome. You can trust that our demolition experts are all well-versed when it comes to everything that has to do with eco-friendly demolition, as well as health and safety guidelines. We have the right equipment for any kind of demolition work.
Dependable Demolition and Deconstruction in Rochester Hills, MI
Demolition is the process of tearing down or pulling down buildings and structures by a demolition expert. Our demolition expert tests and removes hazardous material before knocking down the building. Deconstruction is when a demolition expert takes a structure apart carefully, one piece at a time. Deconstruction could be a component included in the demolition where our skilled team removes all hazardous and re-usable objects prior to the building being knocked down. Some projects require complete levelling while others simply need specific parts removed to be replaced. For every client call, we have a demolition expert equipped to do the job.
Why Hire Us for Your Demolition Project in Rochester Hills, MI
Our demolition experts will handle your property professionally from start to finish. Our demolition contractors have years of experience in the business providing exceptional and enviable customer service across Rochester Hills, MI. We have a proven record of accomplishment in excellence. You will not find another demolition contractor in all of Rochester Hills, MI who will help you save and spend wisely. From the start to the finish of your project, we are focused on your absolute satisfaction. From the start to the finish of your project, we are focused on your absolute satisfaction.
We Offer a Wide Array of Professional Demolition Services in Rochester Hills, MI
Industrial Demolition services: We have an impeccable history in handling industrial buildings such as warehouses, chemical plants, mills and more. No matter how gigantic the structure is, our team of experts can surely manage.
Commercial Demolition services: If you are looking for a reliable demo company, our reputation and years in the business is your assurance. Our past contracts include leveling bridges, dilapidated malls, airplane hangars, and even grocery stores.
Concrete demolition and recycling services: If you want to save time and money, our demolition experts can also extract concrete materials and slabs onsite to be broken down into reusable gravel.
Scrap Metal Demolition Services: Allow our demo company to remove useless steel erections onsite and salvage reusable metal for recycling instead of hiring a separate contractor, which means more expenses for you.
We are the Leading Demolition Company in Rochester Hills, MI
Our team of demolition experts and demolition contractors will work tirelessly and dedicatedly to ensure that your project is completed on time. We are a class above the rest. What sets us apart is our unshaken resolve to achieve 100% in customer satisfaction. Our demolition company in Rochester Hills, MI makes use of a unique approach that minimizes waste and maximizes recyclable materials. When it comes to bringing down old, dilapidated or unwanted property, we have vast experience as a demo company and we will ensure that our services do not cause any unintended damage or pollution
Main Methods for Demolition and Deconstruction in Rochester Hills, MI
Explosive Demolition: Explosive materials are strategically placed on the building or structure in Rochester Hills, MI by our demolition experts. The explosives are timed to make a structure go down on itself in seconds in order to minimize damage to the surroundings.
Non-Explosive Demolition: Our local demolition contractors will use a wrecking ball to bring down your structure. This method is cheaper than explosive demolition.
Selective Demolition: This is a type of demolition whereby building materials, part of the structure or building are separated and then sorted for the purpose of reusing or recycling. Our demo contractors have mastered the art of selective demolition that other building demolition companies do not have.
Main Equipment Used in Demolition in Rochester Hills, MI
Hydraulic breakers – Commonly known as hydraulic hammers, these are often used by our demo company to grind up slabs and concrete structures.
Wrecking balls – Heavy and solid balls made of steel, wrecking balls are safely suspended on a crane and used to weaken a building until it gives.
Hydraulic shears and rock breakers – When attached to excavators, these tools are helpful in cutting through any type of surface. Using electrical force, it can slice through metal, steel, concrete, rock and wood.
Bulldozers – This powerful machinery has a number of uses in construction. A bulldozer can be used to knock down an old or derelict structure. It can also be used to push away debris and clean up the area.
Dumpers – Copious amount of time is spent clearing demolition sites and this is where dumpers come in very handy. An experienced demolition business deploys dumpers to haul debris and waste away from the site.
Cranes – Aside from being used to secure a wrecking ball, demolition contractors in our demo company also use cranes to lower and lift materials within the site.
Crawler Loaders – They are very efficient in moving heavy materials and dirt piles. Some models of the crawler loaders are able to push down heavy smaller-sized structures. They are also used to clean the ground.
For all Your Demolition Services in Rochester Hills, Michigan, Call on Us
Our demolition company is a leading demolition company in Rochester Hills, Michigan with proven resources, knowledge, professionalism and experience to successfully manage any demolition project you may have. For years now, we have helped all our clients demolish and deconstruct their buildings and structures successfully. With us you are guaranteed to have a safe and worry-free operation to be completed by field experts. Consult with a reliable demolition company and save yourself from all the worries. Our Rochester Hills deconstruction and demolition company is licensed and highly reputable. For all your demolition needs, call us at
(855) 885-3366
.
Zip Code Areas We Service in Rochester Hills
48306, 48307, 48309