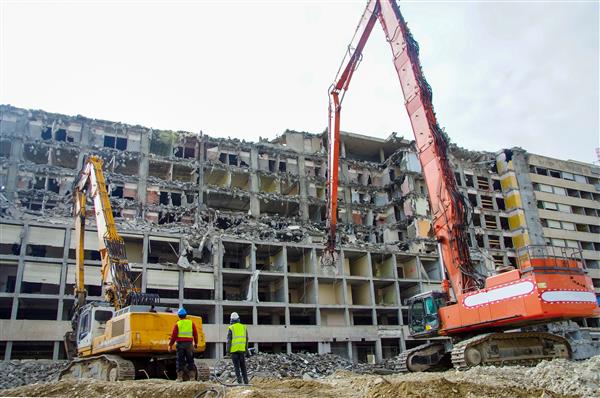 Demolition Contractors in Southfield, MI: The Number 1 Demolition Company
Having been in the demolition business for years, Omni Demolition has built an unshakable reputation as the leading demolition company in Southfield, MI. We are dedicated to working on your project with no distractions whatsoever. If you need to hire a professional demolition contractor in Southfield, MI without spending a ridiculous amount of money, you have come to the right place. We have a team of seasoned demolition experts ready to act on any project. We are highly competent and able to handle any project you may have.
The Main Variances of Demolition and Deconstruction in Southfield, MI
Demolition is the process of knocking down, levelling, razing, tearing down or pulling down a building or a structure. Some projects require complete levelling while others simply need specific parts removed to be replaced. For every client call, we have a demolition expert equipped to do the job. Deconstruction in Southfield, MI involves taking a structure apart. The rubble from the process is either disposed-off as waste, used as clean fill or re-used as aggregate. In case of metal structures, the scrap metal is recycled.
You can Trust Us with Your Demolition Project in Southfield, MI
Our demolition experts have done thousands of contracts and not a single one has given us negative feedback. Some demolition contractors offer their services at rock bottom prices but this may cost you more in the long run. We pride ourselves in being reliable and efficient service providers who will cater to all your unique needs. But this is not just a one-time initiative, it is ingrained in the workmanship of each and every demolition contractor in our company.
We Offer a Wide Array of Professional Demolition Services in Southfield, MI
Industrial Demolition services: We have an impeccable history in handling industrial buildings such as warehouses, chemical plants, mills and more. No matter how gigantic the structure is, our team of experts can surely manage.
Commercial Demolition services: Our demo company uses superior equipment and expertise in tackling various commercial demolition structures such as strip malls, warehouses, office buildings, hotels, bridges, grocery stores and airplane hangars among others.
Concrete demolition and recycling services: Our demolition experts are knowledgeable in pulverizing slabs and concrete to be turned into eco-friendly gravel.
Scrap Metal Demolition Services: Instead of hiring another contractor, we will help you save money as our demo company will take care of handling misplaced steel erections and sorting metal scraps for salvaging.
What Sets Us Apart from Others Southfield, MI
Despite being highly preferred over other demolition contractors, we keep our feet grounded. Our demolition experts and demolition contractors are dedicated to meeting all your needs. Our commitment to our patrons helped us become the most respectable demolition company in all of Southfield, MI. Our demo company offers packages that are reasonably priced as well due to the fact that we have mastered an efficient way of demolition that cuts unnecessary expenses.
Our Approved Methods for Demolition and Deconstruction in Southfield, MI
Explosive Demolition: Explosive materials are strategically placed on the building or structure in Southfield, MI by our demolition experts. The explosives are timed to make a structure go down on itself in seconds in order to minimize damage to the surroundings.
Non-Explosive Demolition: This method of demolition does not use explosives. Our local demolition contractors can use equipment such as wrecking balls, excavators and bulldozers.
Selective Demolition: This method is used when buildings are being remodeled or rebuilt and the client wishes to retain some parts of the structure. Not all contractors can perform this demolition as it involves meticulous planning and careful effort. Our demo contractors are veterans in conducting selective demolition especially in handling specialized equipment required for the job. You can trust our team of experts in providing calculated and top of the line performance, which other inexperienced building demolition companies cannot guarantee.
Cutting Edge Equipment Utilized for Demolition in Southfield, MI
Hydraulic Breakers-They turn excavators into powerful and effective demolition machines. Our demo company uses hydraulic breakers to break rocks, concrete and other hard materials.
Wrecking Balls – A wrecking ball is a heavy ball made from steel. It is attached to a crane and is used to strike down structures from a manageable height.
Hydraulic shears and rock breakers – These are helpful in cutting all sorts of steel, wood, rocks, concrete and metal. They make a very clean cut within a short period of time.
Bulldozers – These can be utilized to apply pressure on a structure and weaken it as well as to haul waste and other materials onsite.
Dumpers – Not every demolition business have their own dumpers but we use them for taking waste products and debris off the site.
Cranes – Demolition contractors utilize a crane to ease the burden of moving heavy materials or equipment back and forth on a construction site. Our demo company also uses cranes to suspend wrecking balls for non-explosive demos.
Crawler Loaders – They are effective in bringing down structures. They can also be used to clean up a demolition site. Crawler loaders can help move debris. Its tracks enable the unit to move easily and freely on the property.
Contact Us for Any Demolition Services in Southfield, Michigan
There is no other demolition company in Southfield, Michigan that offers high quality services with reasonable prices as us. Signing with us means you deal with our highly diligent specialists who will never present mediocre work to our clients. Contact us today and let our demolition company take the pressure off of you. Our Southfield deconstruction and demolition company has highly skilled personnel with years of experience in the demolition business. Feel free to get in touch with us today at
(855) 885-3366
!
Zip Code Areas We Service in Southfield
48033, 48034, 48075, 48076, 48037, 48086