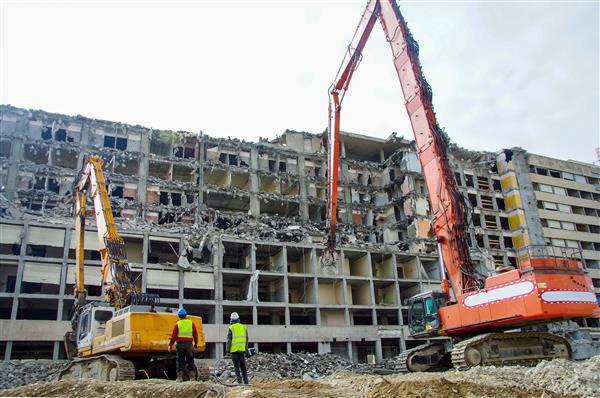 Demolition Contractors Sterling Heights, MI: Your Trusted Demolition Company
Our mission here at Omni Demolition is to ensure that we offer premium and high-caliber services through our expert demolition contractors. Our demolition process complies with all the regulations and standards in Sterling Heights, MI. We do not sugar-coat our services and we often deliver more than promised. Our demolition experts always provide reliable and efficient services in a proactive manner. Whether it may be a residential, commercial or industrial structure that needs to be taken care of, our crew has got it covered.
The Difference Between Demolition and Deconstruction in Sterling Heights, MI
Demolition is the process of tearing down or pulling down buildings and structures by a demolition expert. A demolition expert may order a deconstruction if parts of the original structure need to be retained or hazardous materials and reusable items need to be extracted before an actual demolition. A deconstruction may be implemented on its own or as a pre-demolition procedure. It entails tearing down the components of a building for the purpose of recycling, re-using as well as waste management.
Why Hire Us for Your Demolition Project in Sterling Heights, MI
Our demolition experts will meticulously execute your demolition project in a timely and safe manner. An experienced and well-trained demolition contractor will manage your project and ensure that the job gets done. One of our biggest hallmarks is giving you undivided personal attention. No other demolition contractor in all of Sterling Heights, MI has a crew that is as dedicated and diligent as ours.
Professional Demolition Services in Sterling Heights, MI
Industrial Demolition services: Complexity and size do not intimidate us. We have successfully torn down enormous structures such as manufacturing plants, factories, warehouses and even utility installations.
Commercial Demolition services: We are the demo company to call when it comes to commercial spaces that require strategic planning, especially narrow and often crowded areas. Our capability in wrecking restaurants, grocery stores, and office buildings shows our mastery in handling business districts.
Concrete Demolition and Recycling Services: Our demolition experts will help you realize your green-building initiative. We turn construction debris such as crushed concrete into gravel or a dry aggregate for making new concrete.
Scrap Metal Demolition Services: Allow our demo company to remove useless steel erections onsite and salvage reusable metal for recycling instead of hiring a separate contractor, which means more expenses for you.
We Lead, Other Demolition Companies Follow in Sterling Heights, MI
Our demolition experts and highly skilled demolition contractors consistently make innovations with the way demolitions are made. Our demolition experts are highly experienced in all types demolition services be they in a remote or challenging environment. Our demolition company in Sterling Heights, MI makes use of a unique approach that minimizes waste and maximizes recyclable materials. When it comes to bringing down old, dilapidated or unwanted property, we have vast experience as a demo company and we will ensure that our services do not cause any unintended damage or pollution
Our Approved Methods for Demolition and Deconstruction in Sterling Heights, MI
Explosive Demolition: Our demolition experts in Sterling Heights, MI bring down structures or buildings by removing the main structural elements such as the walls and pillars with the help of explosives. This reduces the building's structural stability, causing it to collapse under its own weight. This method is faster, environmentally friendly and safer when compared to other methods.
Non-Explosive Demolition: Instead of explosives, local demolition contractors may also use a wrecking ball to tear down a building. This method also requires safety precaution as swinging wrecking balls are harder to control than it seems.
Selective Demolition: This is also known as interior demolition. When your building or property is structurally sound but its interior needs to be remodeled or upgraded, our demo contractors apply selective demolition. We use highly advanced demolition techniques giving us a reputation that other building demolition companies cannot match.
The process requires demo contractors to work around normal operating hours on small working spaces and under strict timetables. Our company, unlike other building demolition companies, understands the significance of all these considerations. We ensure that we provide an environment that is safe for everyone involved with as minimal disruption as possible.
Cutting Edge Equipment Utilized for Demolition in Sterling Heights, MI
Hydraulic Breakers – A demo company uses hydraulic breakers to demolish concrete and pulverize rocks.
Wrecking Balls – A wrecking ball is a heavy ball made from steel. It is attached to a crane and is used to strike down structures from a manageable height.
Hydraulic Shears and Rock Breakers – They are able to demolish steel structures. Hydraulic shears are also used for recycling or secondary breaking. Rock Breakers are robust pounding hammers that are usually fitted to excavators. They are used to demolish rocks, as the name suggests or concrete.
Bulldozers – Commonly used where heavy lifting is required, this flexible machine can also be used to topple down weak structures.
Dumpers – A dumper or a tipper truck is essential in the demolition business. This vehicle is specially designed to carry debris such as gravel, or demolition waste in bulk away from the property. It makes cleaning up the property after demolition easier and faster.
Cranes – Demolition contractors need a crane for attaching a wrecking ball to it. It can also be used to lift heavy things onto or off the structure. A demo company will almost always have this piece of machinery on a demolition site.
Crawler Loaders – They are very efficient in moving heavy materials and dirt piles. Some models of the crawler loaders are able to push down heavy smaller-sized structures. They are also used to clean the ground.
For all Your Demolition Services in Sterling Heights, Michigan, Call on Us
We are ranked as the leading demolition company in Sterling Heights, Michigan. When you have a demolition project, do not hesitate to contact us. We are your one-stop-shop demolition company and we offer free consultation plus an accurate estimation of the costs. As the top Sterling Heights deconstruction and demolition company, no job is ever too big or too small for us. Feel free to get in touch with us today at
(855) 885-3366
!
Zip Code Areas We Service in Sterling Heights
48310, 48313, 48312, 48314, 48311