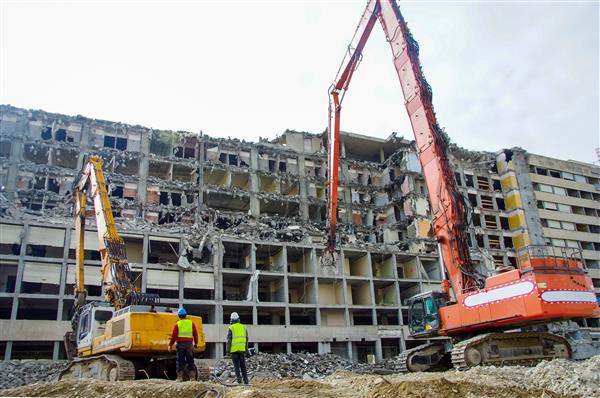 Demolition Contractors Troy, MI: Your Go-To Demolition Company
For years, Omni Demolition has continuously served and established its reputation as the most trusted demolition contractor in Troy, MI. Our contractors ensure that the necessary safety measures and procedures are in place in the work environment. Our demolition experts provide top-notch work. There are no second guesses when you sign with us.
The Main Variances of Demolition and Deconstruction in Troy, MI
Knowing the difference between a demolition and a deconstruction will save you from further confusion. Demolition can either be selective or explosive. Explosive demolition uses mostly dynamite to bring down big buildings. Selective demolition involves bringing down a part of a building or tearing a section of a wall by a demolition expert. Deconstruction differs from demolition in that, it involves tearing apart a building or a home in a manner that salvages materials. The rubble from the process is either disposed-off as waste, used as clean fill or re-used as aggregate. In case of metal structures, the scrap metal is recycled. Demolition is the actual tearing down of a structure to be done by a demolition expert.
Complete Accountability from Highly Skilled Specialists for Your Demolition Project in Troy, MI
Our demolition experts have done thousands of contracts and not a single one has given us negative feedback. Our demolition contractors have years of experience in the business providing exceptional and enviable customer service across Troy, MI. We also take time to really understand your needs and deliver according to your desires with no excuses. But this is not just a one-time initiative, it is ingrained in the workmanship of each and every demolition contractor in our company.
Our Range of Demolition Services in Troy, MI
Industrial Demolition services: We have the expertise, equipment and manpower to take down, mills, plants, manufacturing buildings among others without compromising the integrity of neighbouring structures.
Commercial Demolition services: We isolate the targeted building before performing the actual demolition so as not to cause any damage to its neighboring structures. Our demo company, has handled tearing down malls, airplane hangars, markets, and even bridges.
Concrete demolition and recycling services: If you want to save time and money, our demolition experts can also extract concrete materials and slabs onsite to be broken down into reusable gravel.
Scrap Metal Demolition Services: Instead of hiring another contractor, we will help you save money as our demo company will take care of handling misplaced steel erections and sorting metal scraps for salvaging.
We are on Top of Other Demolition Companies in Troy, MI
Our demolition company in Troy, MI offers a broad spectrum of solutions which enables us to deliver prompt and successful results. We are on a continuous path to success and we have managed to do this through perfection in our demolition services. As an established demolition company in all of Troy, MI, we see to it that our services, equipment and workmanship are always above customer satisfaction. That is why we are recognized as the leading demo company.
High Standard Methods for Demolition and Deconstruction in Troy, MI
Explosive Demolition: Our qualified demolition experts have years of experience in explosive demolition projects. Using our expertise and meticulous planning, we will safely execute your project with minimal disruption to your surroundings.
Non-Explosive Demolition: Our local demolition contractors will use a wrecking ball to demolish a building in situations that do not allow the use of explosives.
Selective Demolition: This process entails tearing down a part of the structure. Efficiency is maximized by recycling reusable material thus reducing waste and lessening the impact on the environment. As the leading demo contractors, we have set standards that other building demolition companies have a hard time measuring up to.
We Facilitate High-End Equipment for Demolition in Troy, MI
Hydraulic breakers – Our demo company uses hydraulic breakers or hammers in crushing otherwise solid surfaces such as concrete, cement and even rocks.
Wrecking balls – Used mainly for non-explosive demos, these heavy impacting balls are helpful in progressively weakening a building until all that's left are frameworks that are then easier to tear down.
Hydraulic shears and rock breakers – Designed to cut through the toughest materials with very minimal effort, these tools are attached to excavators to do the job. They can slice through rocks, concrete, metal, wood and steel.
Bulldozers – These powerful machines are used to bring down smaller sized buildings or structures. They are also used to transfer debris and rubble to trucks.
Dumpers – Dumpers are also known as tipper trucks. They are used for transporting rubble or waste from the demolition site. If you are in the demolition business, safety is paramount and some of the safety hazards are demolition wastes. A dumper is a very important in removing the large amount of debris from the site.
Cranes – A necessity for demolition contractors, cranes serve multiple purposes including being used for wrecking balls and for transferring heavy tools within the site. Every demo company should have a well-maintained and stable crane to avoid any unforeseen accidents.
Crawler Loaders – They can be used to bring down heavy smaller-sized structures. They can also be used to move debris.
For all your Demolition Needs contact us in Troy, Michigan
Our demolition company is a leading demolition company in Troy, Michigan with proven resources, knowledge, professionalism and experience to successfully manage any demolition project you may have. For years now, we have helped all our clients demolish and deconstruct their buildings and structures successfully. We take any demolition challenge head on. Consult with a reliable demolition company and save yourself from all the worries. Our work integrity and reasonable packages are only some of the reasons why we are a well renowned Troy deconstruction and demolition company. Get in touch with us today at
(855) 885-3366
and we will be more than glad to help.
Zip Code Areas We Service in Troy
48098, 48083, 48085, 48084, 48007, 48099