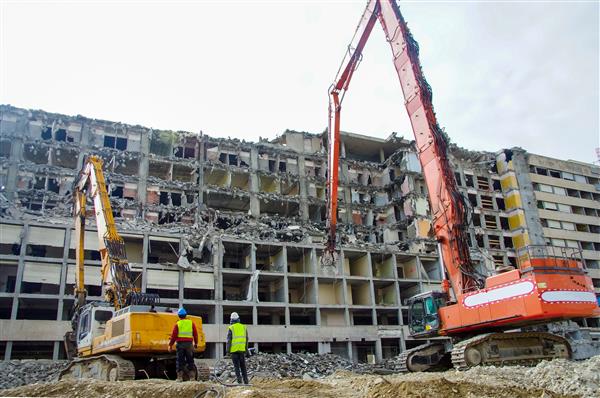 The Demolition Company with Demolition Contractors in Warren, MI You Can Count On
When looking to hire demolition contractors in Warren, MI, Omni Demolition is your best choice. Just like any other major construction or remodeling plan, having a property demolished requires the skills of professionals, along with the use of appropriate equipment. If you need a structure or building taken down, our demolition experts will use the fastest and most economical method of demolition. You can rest assured that our affordable services are top-notch. To achieve this, our demolition experts apply strong verbal, communication, analytical, managerial, decision-making and time-management skills.
What are the differences Between Demolition and Deconstruction in Warren, MI
Knowing the difference between a demolition and a deconstruction will save you from further confusion. Some projects require complete levelling while others simply need specific parts removed to be replaced. For every client call, we have a demolition expert equipped to do the job. Should a client wish to retain a building's frame or will only be rebuilding a certain part of the property, a deconstruction is in order. It entails tearing down the components of a building for the purpose of recycling, re-using as well as waste management.
Why Come to Us for Your Demolition Project in Warren, MI
Our demolition experts will meticulously execute your demolition project in a timely and safe manner. Hire the most recommended demolition contractor in all of Warren, MI. Our word is our bond. We have an impeccable record of giving our clients value for their money while never compromising on the quality of our work. Taking down a structure sounds chaotic but unlike other demolition contractors, our services are done with utmost care and with as little disturbance to the community as possible. Whether small or large, we strive to always provide you with the highest possible standards of service in completing your projects within your budget and timeframe without complications. Whether small or large, we strive to always provide you with the highest possible standards of service in completing your projects within your budget and timeframe without complications.
Our Demolition Services in Warren, MI
Industrial Demolition services: We have the expertise, equipment and manpower to take down, mills, plants, manufacturing buildings among others without compromising the integrity of neighbouring structures.
Commercial Demolition services: Our demo company uses superior equipment and expertise in tackling various commercial demolition structures such as strip malls, warehouses, office buildings, hotels, bridges, grocery stores and airplane hangars among others.
Concrete demolition and recycling services: We are the only demolition experts who carefully set aside re-usable materials from your site for possible future use such as slabs to be crushed later on into gravel.
Scrap Metal Demolition Services: You do not have to worry about disposing of scrap metal once your metal structure is demolished, our demo company will help you sort out the scrap metal which can be recycled and reused for building.
We are on Top of Other Demolition Companies in Warren, MI
Despite being highly preferred over other demolition contractors, we keep our feet grounded. We are on a continuous path to success and we have managed to do this through perfection in our demolition services. No matter the nature of your project or timelines, our demolition company in Warren, MI will deliver to your satisfaction. That is why we are recognized as the leading demo company.
Our Approved Methods for Demolition and Deconstruction in Warren, MI
Explosive Demolition: This method should be done only by experienced demolition experts in Warren, MI as it involves safety parameters that should be strictly observed. It involves turning a switch to initiate an explosion, which will then collapse the building into a mound of rubble.
Non-Explosive Demolition: Our local demolition contractors will use a wrecking ball attached to a crane to knock down a building. The heavy wrecking ball is swung several times on the targeted structure before it can collapse.
Selective Demolition: In cases where property owners want to retain a certain part or frame of a structure, demo contractors will conduct the selective method. In this procedure, building demolition companies need to ensure the integrity of the structure is not compromised after some parts are removed.
Well-maintained Equipment for Demolition in Warren, MI
Hydraulic breakers – Powerful excavators necessary in every demo company, hydraulic breakers or crushers are used to excavate structures quickly. These are commonly used to grind up concrete or rocks.
Wrecking balls – A massive ball made of steel, it is suspended on a crane and maneuvered into a swinging motion to tear down a building. It sounds less dangerous than using explosives but the use of wrecking balls gives little control to the depth of damage done, hence it requires careful and professional handling.
Hydraulic Shears and Rock Breakers – They are usually attached to excavators and then used to make clean cuts through concrete, metal, wood and rocks of large structures.
Bulldozers – Common equipment in construction sites used for excavating and hauling materials or waste. This machine can also be used to flatten or level structures hence the term bulldoze.
Dumpers – A necessity in every demolition business, dumpers are used to haul waste materials off the demolition site. It ensures the pre-construction area is free from any trash or debris brought about by the demolition.
Cranes – Demolition contractors use cranes to attach a wrecking ball to it. The wrecking ball suspended on a crane is then swung to the targeted structure. A demo company can use cranes to remove debris from high areas of a demolished structure. Cranes can also be used to load debris onto a dumper.
Crawler Loaders – Also meant to be used in excavating, crawler loaders have declined in popularity compared to hydraulics that can be used in heavy drilling. This equipment, however, can run on its own power as opposed to hydraulic excavators that more often require towing.
For all Your Demolition Services in Warren, Michigan, Call on Us
Settling with an amateur demolition company in Warren, Michigan may seem cost-effective at first but mishaps and faulty work onsite may cost more of your resources, time and energy. There's a reason why we continue to be highly recommended by building contractors and the rest of our clientele. Consult with a reliable demolition company and save yourself from all the worries. Our Warren deconstruction and demolition company has highly skilled personnel with years of experience in the demolition business. Give us a call today at
(855) 885-3366
and we will get back to you as soon as we can.
Zip Code Areas We Service in Warren
48093, 48091, 48092, 48089, 48088, 48397, 48090