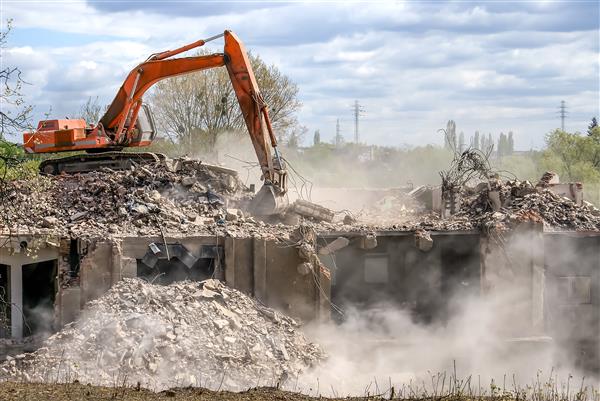 Your Ultimate Concrete Removal Company in Burnsville, MN
Concrete removal is a complicated procedure that requires tact and the services of professionals in Burnsville, MN. Indeed, time ages all things. If you have a desire to transform your old home into a new one, then we will no doubt make it happen here at Omni Demolition with our concrete slab removal and concrete hauling services. Whether you wish to remodel a small section of your house or rebuild the entire structure, you can count on us to provide a good service. We make sure to charge affordable fees for any of our services when all the work is done.
Cutting Edge Equipment Made for Concrete Removal in Burnsville, MN
You no longer need to worry about paying high equipment rental fees when you hire our team in Burnsville, MN. Omni Demolition uses state of the art technology dedicated to do rapid yet effective concrete slab removal and concrete hauling. Hydraulic slitters are very efficient in breaking thick and dense concrete. Some of the services we offer include removing concrete driveway, concrete slab demolition, and concrete wall demolition. Consulting with a trained expert is important, as there are a number of things that need to be considered before embarking on concrete removal, such as your legal obligations and safety requirements. This will ensure that the job is done thoroughly to your satisfaction.
When Do You Need Concrete Demolition Services in Burnsville, MN?
We have handled all kinds of cement deconstruction in Burnsville, MN and we can safely say, our team is experienced in anything and everything under the sun. Our concrete removal services in Burnsville, MN include: removing old foundations, unwanted driveways, walkways and slabs. We have an expert team of laborers, managers and engineers who see to it that demolition and concrete hauling standards are met if not exceeded. Oftentimes, damages to properties require a complete removal and replacement instead of a concrete resurfacing which only hides the damage. It could be that you want to replace an old structure with a new one or to remodel an existing structure.
Permit requirements for a Concrete Removal in Burnsville, MN
You can't proceed with your concrete removal or concrete hauling project without securing a permit in Burnsville, MN. While other concrete removal companies may include additional fees for processing the required permits, we at Omni Demolition have got you covered. Omni Demolition ensures a smooth operation for every single client that puts their faith in our services. You will also need to have a rough estimate of the possible project costs. At Omni Demolition, you can trust our team to assist you in securing the required clearances and permits.
Cost of Concrete Demolition in Burnsville, MN
The most common question in every contractual project is how much will it cost. For highly urbanized locations, such as Chicago, you can expect to pay more. The good news is that you are guaranteed to get bigger savings when hiring us as opposed to our competitors. You should contact our reputable professionals in Burnsville, MN for any concrete removal job such as a patio demolition or patio removal. To know how much you need to prepare for your project, we highly recommend getting in touch with your chosen demolition company in Burnsville, MN. Another cost to factor in is demolition permits. Depending on where you are situated and size of the project, permits and associated costs can cost you around $200 or as high as $10,000 in some cases. The cost of disposing waste that contains rebar is also higher.
How Long Do Concrete Demolition Projects Take Place in Burnsville, MN?
It doesn't take long to complete a concrete demolition project as long as a careful and detailed plan is made by the demolition team beforehand. We plot reasonable timetables for the complete operation in Burnsville, MN, from preparation, to actual concrete slab removal, up to concrete hauling and site clearing. At our company, we are able to finish a demolition or hauling job within as little as a few days, depending on the size of the property. In instances that an unforeseen situation arises, the client is notified to ensure that they are not kept in the dark and to establish the right expectations. Your safety and satisfaction are both assured at our company as we strive to deliver polished services.
What Can I Do With My Concrete Waste in Burnsville, MN?
Whether you are an environmental advocate or you just want to make some extra money, recycling wastes from a completed concrete demolition and removal project is the way to go. Deconstructed concrete is not the type of waste that will disintegrate and decay at a fast pace when left on its own which is why we encourage recycling, instead of disposing of them in dump sites. Some companies even buy concrete wastes so they can process it to be reused in constructing roads, sidewalks and even airport runways. Our concrete demolition contractors facilitate the hauling of reusable concrete to ensure an organized clearing of the site. The aggregate is used in the production of new structural concrete. Concrete recycling also reduces waste in landfills.
Call for a Quick Concrete Demolition Service Today
Our team is only a call away when our clients need urgent concrete demolition services. Our expert contractors at Omni Demolition have unparalleled skills and experience in the concrete slab removal business. Our history of completed projects speaks for us when it comes to expertise, safety requirement compliance, and outstanding workmanship. Our experts are the best at what they do. This is not a job for amateurs and if done wrongly, it could be costly on your end. Our professional contractors know the proper way to handle equipment. Don't risk your safety; work with demolition professionals in Burnsville, MN.
Zip Code Areas We Service in Burnsville
55306, 55337