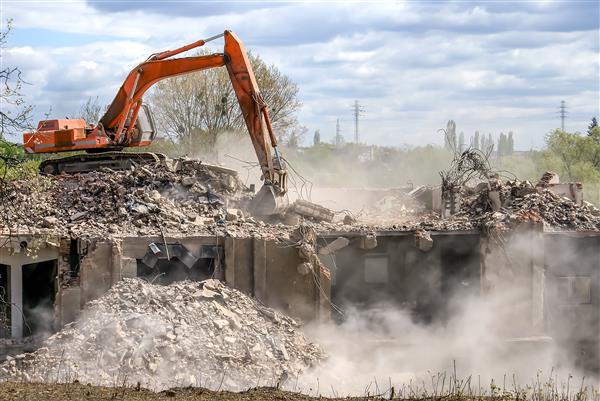 Your Company of Choice for Your Concrete Removal Projects in Minneapolis, MN
Concrete removal is a complicated procedure that requires tact and the services of professionals in Minneapolis, MN. Indeed, time ages all things. When it comes to concrete slab removal and concrete hauling, we are your number one choice. Our reliable craftsmen do not believe in making excuses.
Equipment and Tools We Use to Provide Quality Concrete Removal in Minneapolis, MN
Omni Demolition uses advanced equipment to cut or crush concrete. Concrete slab removal in Minneapolis, MN requires the use of special equipment to get the job done perfectly, efficiently and safely. Service providers who have faulty equipment will surely cause delays in your project or worse, add their own repair expenses on top of your original bill. For all your concrete demolition needs like removing concrete driveway, concrete slab demolition and concrete wall demolition, contact our highly trained experts for a comprehensive evaluation of your concrete removal and concrete hauling project. We offer a wide range of services, which include concrete slab demolition. After the demolition, the waste has to be dealt with, so we also have special machinery for concrete hauling.
When Do You Need Concrete Demolition Services in Minneapolis, MN?
One of the most important questions when it comes to concrete demolition services in Minneapolis, MN is if the circumstances call for demolition at all. Temporary resurfacing cracked surfaces or patching up crumbling foundations will only cause repeated spending, more hassles and even threaten the safety of the building occupants. After successfully removing an unwanted driveway, road, sidewalk or any other unwanted concrete surface, we clear the site while carefully observing concrete hauling standards. Great concrete quickly transforms the look of a structure. It also upgrades the quality of a building and comfort of the residents. All of the technicians follow safety procedures to ensure the project flows smoothly without any delays.
What Documents Should I Prepare for My Concrete Removal Project in Minneapolis, MN?
Planning to undertake a concrete removal and concrete hauling project in Minneapolis, MN? Great. While other concrete removal companies may factor processing the permits and approvals as additional costs to you, at Omni Demolition, we take care of that for you. The city imposes a strict policy in permit application. You will be required to submit a few documents depending on the type and size of your project. Your local council may require that you get planning permits, demolition permits and a concrete demolition consent.
Cost of Concrete Demolition in Minneapolis, MN
There are a number of factors that contribute to the cost of concrete removal with the biggest contributor being the total area of concrete to be removed. In addition to the demolition permit costs, you should also factor in the total cost of the service. In urban areas, demolition companies charge a minimum of $4,000 for their fees. Final costs depend on factors such as disposal fees(some companies charge this separately). We have the expertise, manpower and equipment to carry out any demolition project in Minneapolis, MN; even smaller jobs such as patio demolition and patio removal. Unreinforced concrete on the other hand is easier to remove. We guarantee to provide a competitive and reasonable price.
How Long Can I expect a Concrete Demolition Project to Take in Minneapolis, MN?
We pride ourselves in having a quick an efficient turn around time in our concrete demolition projects. With that in mind, your concrete slab removal and concrete hauling projects in Minneapolis, MN might take a couple of days, weeks or even months to complete. The removal process requires the use of an arsenal of state-of-the-art equipment, skilled experts and adequate manpower. We devise a plan to safely accomplish your project in a cost-effective way with projected timelines and then submit our proposal to you. Thorough preparation and planning need to be done in order to execute the project safely and with precision.
Is It Possible to Recycle concrete in Minneapolis, MN?
It is not only an environmentally friendly process of utilizing concrete rubble but it is also a cost cutting measure for your concrete demolition and removal project. It is a cost-saving measure on your end. Our concrete demolition contractors can also use recycled concrete for landscaping projects. We repurpose the material so they can be used to create asphalt pavement and other similar structures. Recycled concrete can also be used in a number of landscaping settings such as paving stones, water features, boulder rock walls, retaining walls, erosion structures, and other uses.
Recognize the Most Preferred Concrete Demolition Company in Minneapolis, Minnesota
Our concrete demolition services in Minneapolis, MN consist of concrete slab removal and concrete removal service. At Omni Demolition, our demolition contractors have specialized skills and years of experience in the field undertaking many concrete slab removal projects. We guarantee to provide superior quality concrete slab removal, site cleanup and other services no matter where you live in the city. Our flexibility allows us to work on your project according to your timeline and schedule. Our professional contractors know the proper way to handle equipment. Concrete demolition in Omni Demolition is the best way to safely tear down buildings or structures made from concrete.
Zip Code Areas We Service in Minneapolis
55402, 55409, 55408, 55407, 55406, 55405, 55404, 55403, 55401, 55417, 55455, 55430, 55454, 55418, 55419, 55410, 55411, 55412, 55413, 55414, 55415, 55416, 55440, 55458, 55459, 55460, 55467, 55470, 55472, 55473, 55474, 55478, 55479, 55480, 55483, 55484, 55485, 55486, 55487, 55488