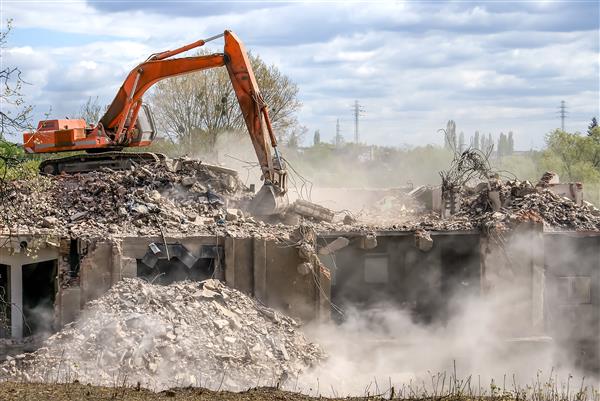 The Leading Company for All Your Concrete Removal Needs in Saint Cloud, MN
Concrete removal involves tearing down concrete buildings and structures in Saint Cloud, MN. When it comes to concrete slab removal and concrete hauling, we are your number one choice. Whether it is taking down an old building to replace it with a new one or improving the condition of a derelict building, Omni Demolition has the right people for the job. You can rely on us to get the job done.
Important Equipment Used for Concrete Removal in Saint Cloud, MN
From plowing to chipping to drilling and demolishing concrete, we are your go-to company. At Omni Demolition, specialized heavy machinery and equipment are required for concrete slab removal. Hydraulic slitters are very efficient in breaking thick and dense concrete. We specialize in removing concrete driveway as well as concrete wall demolition. Our team periodically conducts machine inspection and maintenance to guarantee that everything we need for the job is in tip-top condition. Other equipment used in demolishing concrete are pallet jacks, hoists and bobcats. We are meticulous in our service delivery ensuring that your solution is customized to achieve the best possible results.
When Should I Book a Concrete Demolition Service in Saint Cloud, MN?
Concrete is designed to last a very long time if it is installed properly. However, like every other type of material, its structure will also degrade over time. The structure degrades as the years go by. No matter the size of your demolition and concrete hauling project, we are well able to handle it for you. The most common reasons why concrete wears out easily include extreme temperature fluctuations, corrosion and overload. We are an environmentally friendly company.
What Documents Do I Need to Secure Before a Concrete Removal Service in Saint Cloud, MN?
When it comes to conducting a concrete removal or concrete hauling project, existing policies and permit requirements may vary from state to state. Other concrete removal companies may charge you extra to process the necessary permits. Planning to have a concrete demolition job done in your property? Depending on the nature of your project you may or may not need one. Permit requirements also vary depending on the geographical location of your demolition project. Therefore, it is important to familiarize yourself with the legal requirements of where you live. Here at Omni Demolition, all you have to do is submit a duly completed application form to us and we will do all the legwork.
How Much Does a Saint Cloud, MN Concrete Demolition Cost?
Expect to pay an average of around $200 to secure a demolition permit alone. Sometimes, the charge can go up, depending on the rates of your local government. Unfortunately sketchy sales agents ruin it for the rest of the industry and tend to make clients suspicious when dealing with contractors. If you live in an urbanized location, expect the permit application fees to go up to a thousand dollars or more. Whether you need estimates for small jobs such as a patio demolition or patio removal, or you need a proposal for breaking up concrete at an industrial property, we will provide you with a detailed breakdown of expenses. Our professionals can use concrete saws, pry bars, sledgehammers or electric jackhammers to remove this type of concrete. Its demolition cost will be lower. Another cost to factor in is demolition permits. Depending on where you are situated and size of the project, permits and associated costs can cost you around $200 or as high as $10,000 in some cases. The cost of disposing waste that contains rebar is also higher.
Estimated Time a Concrete Demolition Project Should Take in Saint Cloud, MN?
Time taken to complete a concrete demolition project usually depends on a number of things. We also explain the permit requirements and application to our clients before we provide services such as concrete hauling and concrete slab removal. At our company, we see to it that our clients understand what happens during every step of the process. The bigger the demolition structure, the more time it will take to complete the job. Thorough preparation and planning need to be done in order to execute the project safely and with precision.
Making the Most Use of Your Demolished Asphalt or Cement in Saint Cloud, MN
After completing a concrete demolition and removal project, the most viable thing to do with the concrete rubble is to recycle it. You can crush them up and use them as a base layer for your asphalt pavement. By recycling used up concrete, you can minimize waste and save money on your side projects. The process of recycling done by our concrete demolition contractors includes salvaging rubble from demolition, crushing it, pre-sizing and sorting. We repurpose the material so they can be used to create asphalt pavement and other similar structures. Recycling concrete can save a considerable amount of money which would otherwise go towards transporting the concrete to a local landfill or towards disposal costs.
Make the Wise Decision by Calling Us for Concrete Demolition in Saint Cloud, Minnesota
Our commitment is in offering personalized and satisfactory concrete demolition services in Saint Cloud, MN to all our clients-from concrete slab removal to any other concrete removal service you may be in need of. Omni Demolition has been a well-respected authority in concrete slab removal for many years. We are self-driven in completing all our tasks with accuracy. We use various techniques when we provide our services to ensure that we finish the project within the targeted time frame. Contact us today!
Zip Code Areas We Service in Saint Cloud
56304, 56301, 56303, 56302, 56372, 56393, 56395, 56396, 56397, 56398, 56399