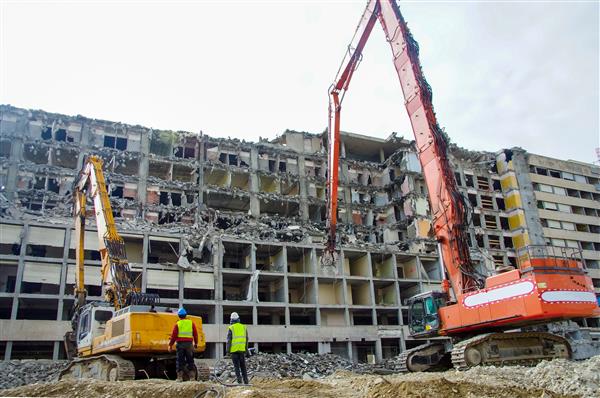 Demolition Contractors in Lakeville, MN: The Number 1 Demolition Company
When looking to hire demolition contractors in Lakeville, MN, Omni Demolition is your best choice. You are guaranteed to get the best value for your money with our expertise partnered with updated equipment and strict adherence to state safety regulations and policies. No need to break the bank to avail of first rate service and exceptional outcome. We have a team of seasoned demolition experts ready to act on any project. We are always on schedule. For all your projects, we ensure that we provide you with environmentally friendly services.
Distinction Between Demolition and Deconstruction in Lakeville, MN
Demolition is taking down or dismantling a building or structure with a strong and overwhelming force whose end result is rubble or waste. A demolition expert may order a deconstruction if parts of the original structure need to be retained or hazardous materials and reusable items need to be extracted before an actual demolition. Should a client wish to retain a building's frame or will only be rebuilding a certain part of the property, a deconstruction is in order. The structures can be pulled down manually.
Discover Our Amazing Services for All Your Demolition Projects in Lakeville, MN
Our demolition experts and demolition contractors in Lakeville, MN offer superior services in demolition for all your projects. Some demolition contractors may offer you an attractive contract with a very cheap price tag, but are you sure you are getting a steal? Hiring inexperienced contractors results in lousy jobs and may even cause delays on your targeted completion date. Our demolition contractor will use special equipment and apply all the necessary skills in ensuring that the demolition process does not cause harm or injury to anyone or anything.
Take Advantage of Our Demolition Services in Lakeville, MN
Industrial Demolition services: Our countless contracts include leveling massive structures such as worn-down factories, mills, and chemical warehouses.
Commercial Demolition services: You can call our demo company if you need someone to knock down commercial structures such as commercial centres, groceries, airplane hangars and the like.
Concrete Demolition and Recycling Services: This type of demolition is environmentally friendly and saves on cost. Rubble from concrete demolition is reused by our demolition experts to make gravel or as one of the materials for making new concrete.
Scrap Metal Demolition Services: You do not have to worry about disposing of scrap metal once your metal structure is demolished, our demo company will help you sort out the scrap metal which can be recycled and reused for building.
We are the Leading Demolition Company in Lakeville, MN
Our demolition experts and highly skilled demolition contractors have worked on the most noteworthy projects in Lakeville, MN. Our demolition experts and demolition contractors have an established performance record of completing demolition jobs in the right way, on budget and on time. No matter the nature of your project or timelines, our demolition company in Lakeville, MN will deliver to your satisfaction. Our demo company delivers effective and safe results on your time and budget.
Methods Applied in Demolition and Deconstruction in Lakeville, MN
Explosive Demolition: Our well-trained demolition experts in Lakeville, MN strictly follow all protocols to ensure safety onsite and in nearby areas. Aside from safety precautions, all procedures in using explosives are guaranteed to be eco-friendly and not invasive.
Non-Explosive Demolition: This method of demolition does not use explosives. Our local demolition contractors can use equipment such as wrecking balls, excavators and bulldozers.
Selective Demolition: This type of demolition is done when you want to remodel or renovate a building. It can either be exterior or interior by nature. Exterior demolition involves tearing down a part of the building with a purpose of increasing it in size or making it smaller. Interior demolition focuses mostly on taking apart spaces for remodeling or renovation.
We Utilize Well-maintained Equipment for Demolition in Lakeville, MN
Hydraulic Breakers – A demo company uses hydraulic breakers to demolish concrete and pulverize rocks. Wrecking balls – Heavy and solid balls made of steel, wrecking balls are safely suspended on a crane and used to weaken a building until it gives.
Hydraulic shears and rock breakers – Used by specialists to cut through various materials such as concrete, metal, wood, and steel.
Bulldozers – These can be utilized to apply pressure on a structure and weaken it as well as to haul waste and other materials onsite.
Dumpers – In the demolition business, dumpers are used to transport debris from the demolition site.
Cranes – Aside from being used to secure a wrecking ball, demolition contractors in our demo company also use cranes to lower and lift materials within the site.
Crawler Loaders – They can be used to bring down heavy smaller-sized structures. They can also be used to move debris.
Dial OurNumber for Top Rated Demolition Services in Lakeville, Minnesota
If you are looking for a reliable demolition company in Lakeville, Minnesota, there is no need to look any further. When you have a demolition project, do not hesitate to contact us. As an established demolition company, we maintain high standards of service and workmanship no matter how big or small a contract is. Our Lakeville deconstruction and demolition company has highly skilled personnel with years of experience in the demolition business. For all your demolition needs, call us at
(855) 885-3366
.
Zip Code Areas We Service in Lakeville
55044