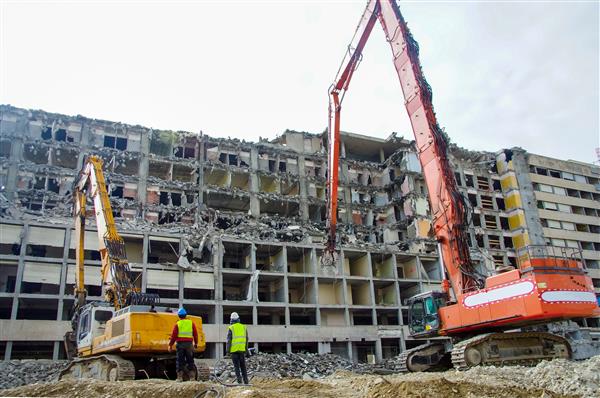 Demolition Contractors Saint Paul, MN: The Number One Demolition Company
Having been in the demolition business for years, Omni Demolition has built an unshakable reputation as the leading demolition company in Saint Paul, MN. Our goal is to establish strong customer ties through honest business and outstanding workmanship. You never have to worry about timelines. Our demolition experts employ the safest and most efficient ways of wrecking and demolishing old homes, dilapidated buildings and any other structure you may want demolished. We are highly competent and able to handle any project you may have.
What are the differences Between Demolition and Deconstruction in Saint Paul, MN
Demolition can be described as dismantling of buildings or a specific room by a demolition expert. Demolition can either be selective or explosive. Explosive demolition uses mostly dynamite to bring down big buildings. Selective demolition involves bringing down a part of a building or tearing a section of a wall by a demolition expert. Knowing the accurate requirements for your project is important to steering it into the right direction. We have the know-how in identifying the value of extracted materials and their potential for reuse. Some projects require complete levelling while others simply need specific parts removed to be replaced. For every client call, we have a demolition expert equipped to do the job.
What We Do in Saint Paul, MN
Our demolition experts and demolition contractors in Saint Paul, MN offer superior services in demolition for all your projects. Compared to other demolition contractors who are highly profit-driven, we are committed to giving back to the community through outstanding workmanship and transparent transactions. Hiring inexperienced contractors results in lousy jobs and may even cause delays on your targeted completion date. You will not find another demolition contractor in all of Saint Paul, MN who will help you save and spend wisely.
What Demolition Services Can You Expect to Find in Saint Paul, MN?
Industrial Demolition services: We have taken down massive structures such as warehouses, industrial buildings, bridges, power plants, and mills. Our special equipment and expertise allow for the safe demolition of vast properties.
Commercial Demolition services: Our demo company, has proven to be knowledgeable in demolishing commercial buildings despite their confinement in between other structures. Using specialized equipment plus our own unique strategy, we have in the past taken down airplane hangars, grocery stores, bridges, shops, and warehouses.
Concrete demolition and Recycling Services: Our demolition experts are able to recycle your concrete slabs and structures by crushing them and turning them into reusable gravel.
Scrap Metal Demolition Services: Our demo company maximizes the value of scrap metal as part of our scrap metal demolition service. This significantly minimizes the cost of the project.
Key Advantages Against Other Demolition Companies in Saint Paul, MN
Our team of demolition experts and demolition contractors will work tirelessly and dedicatedly to ensure that your project is completed on time. Our resources are as varied as they are effective: dependable and advanced equipment as well as expert personnel. Using cutting edge technology added to our team's expertise, our demolition company is guaranteed to deliver more than promised. Each project in our demo company is always given the care and attention that our customers deserve and expect.
High Standard Methods for Demolition and Deconstruction in Saint Paul, MN
Explosive Demolition: We have a team of demolition experts in Saint Paul, MN who thoroughly oversee the process of using explosives to crumble a structure, including the strict adherence to safety regulations and environmental protocols.
Non-Explosive Demolition: Our local demolition contractors will use a wrecking ball attached to a crane to knock down a building. The heavy wrecking ball is swung several times on the targeted structure before it can collapse.
Selective Demolition: Recommended for buildings that are being rebuilt, selective demolition involves carefully removing some parts of the building to make way for a modified construction. Unlike new and upcoming building demolition companies, our demo contractors are experienced in extracting parts of the building while still maintaining its structural integrity.
Cutting Edge Equipment Utilized for Demolition in Saint Paul, MN
Hydraulic breakers – Our demo company uses hydraulic breakers or hammers in crushing otherwise solid surfaces such as concrete, cement and even rocks.
Wrecking balls – A wrecking ball is used together with a crane. This heavy steel ball is suspended from a crane and is used to bring down an entire structure or part of it. Although not widely used, this method is as fast as it is cost effective.
Hydraulic Shears and Rock Breakers – They can be able to quickly and effectively cut through rocks, concrete, steel, wood and metal.
Bulldozers – These can be utilized to apply pressure on a structure and weaken it as well as to haul waste and other materials onsite.
Dumpers – A dumper or a tipper truck is essential in the demolition business. This vehicle is specially designed to carry debris such as gravel, or demolition waste in bulk away from the property. It makes cleaning up the property after demolition easier and faster.
Cranes – A necessity for demolition contractors, cranes serve multiple purposes including being used for wrecking balls and for transferring heavy tools within the site. Every demo company should have a well-maintained and stable crane to avoid any unforeseen accidents.
Crawler Loaders – They can be used to bring down heavy smaller-sized structures. They can also be used to move debris.
Dial OurNumber for Top Rated Demolition Services in Saint Paul, Minnesota
Your number one demolition company in Saint Paul, Minnesota is always at your service. Our dedication is in ensuring that we maximize your asset potential. Signing with our demolition company guarantees a stress-free project, from the accurate estimation, the actual operations, onsite clearance as well as processing required permits. As the top Saint Paul deconstruction and demolition company, no job is ever too big or too small for us. Contact us at
(855) 885-3366
.
Zip Code Areas We Service in Saint Paul
55114, 55117, 55116, 55119, 55130, 55155, 55102, 55103, 55101, 55106, 55107, 55104, 55105, 55108, 55133, 55144, 55145, 55146, 55164, 55165, 55170, 55172, 55175, 55188