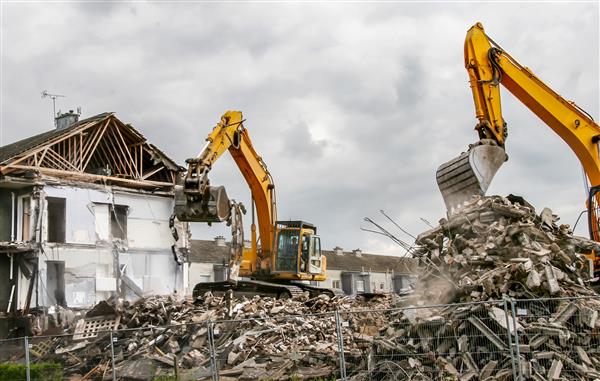 Omni Demolition: A Residential House Demolition Company You Can Trust
Hiring a professional to handle your house demolition in Blaine, MN may be the best decision you will ever have to make. There are different types of demolition processes. Each process calls for skill and precision, which is why there are reliable house demolition companies that specialize in these construction phases. If you wish to keep your business local and be assured of expert service, Omni Demolition's residential demolition contractors provide exceptional service. Home demolition is not an easy task. In fact, there are many important considerations to bear in mind. One of which is safety because tearing down a structure will require the right equipment, tools, and skilled operators. Hiring a demolition team is the best option if you want to spare yourself from all the trouble. Once we get your signal to go ahead, we will make the process simple for you whether our services are needed for a large demolition project or for something as small as a mobile home demolition project.
How We Provide Outstanding Blaine, MN Home Demolition Services
House demolition is our cup of tea and we are one of the most reputable demolition companies in Blaine, MN. Demolition methods include top-down deconstruction, crane, high reach arm, remote-controlled demolition, and implosion. It is important that the building collapses inwards in order to avoid damaging adjacent constructions. For this purpose, our crew carefully plans the explosions. Usually, the major pillar or columns that support the building are chosen. Some of the tools we use to demolish a building include cranes, bulldozers, and excavators. Other demolition methods that our experienced residential demolition contractors employ include crane, wrecking ball, and high reach arm. When hiring residential demolition companies in Blaine, MN, you need to be very cautious as amateur operators in this field may make mistakes that can create a costly mess out of something as simple as a mobile home demolition project. Using our lengthy experience in the industry, we can guarantee a smooth delivery of our services.
Requesting a Blaine, MN Home Demolition Cost Estimate
House demolition costs in Blaine, MN vary with the location and size of the property and may range anywhere from $8,000 to $15,000 or higher. Variables that affect the cost of a demolition project include asbestos-contaminated materials that are not only more labor intensive to remove, but also cost roughly three times as much to safely get rid of in contrast to other materials like timber or concrete. Hiring a demolition companies is an easy, smooth and safe way to complete your urgent tasks within a specific budget and timeline. Here at Omni Demolition, our residential demolition contractors offer the most affordable house and mobile home demolition rates together with incomparable services. This way, you can get more for your money. In general, the size of the project, the type of demolition, plus the magnitude of the property damage determines the total cost of the service. Other factors considered are the availability of equipment and the size of the team you need.
Obtaining a Residential Demolition Permit in Blaine, MN
A house demolition project will require you to apply for a permit. Other special inspections and documentation for your house tear-down or mobile home demolition may be asked from you depending on the state you are in. The requirements vary depending on the state you live in. If you have questions about the documentation requirements in your area, contact our team. We will brief you about everything you need to ensure a smooth demolition project.
Things To Prepare Before a Blaine, MN Residential Demolition Project Starts
Just as you don't just undertake a home demolition project in Blaine, MN without the proper permits, you don't do it without getting the site ready, either. Whether it is a huge office building or a small house, site preparation is a crucial factor. A demolition contractor then starts the process with the removal of valuables from the building, such as the copper wiring; then follows the removal of materials like glass, asbestos sheets and other materials, which are considered to cause serious safety hazards during and after demolition. Talk to our mobile home demolition professionals for more tips on how to prepare your home.
Why Should I Pick a Blaine, MN Residential Demolition Over a Renovation Service?
Materials degrade over time, most especially when they are constantly exposed to environmental stressors such as weather changes, intense heat, cold, and pest infestation and may become unsafe or not financially viable to fix the issues. When the structural integrity of a building is compromised, you should already seek the help of professional demolition contractors. Otherwise, you are increasing the risk of getting caught in an accident and suffering from physical injuries. Another case in which you may need a residential demolition crew is when you are tired of the floor plan of your residence and need a change. We can schedule your residential demolition service in Blaine, MN as soon as you call us. Hiring the right company will ensure that you're happy with the end results.
Equipment and Tools Used for Residential Demolition in Blaine, MN
We provide the best services in the city because of our team of brilliant and well-trained residential demolition contractors. We have been the leading company in the city because we have the best contractors who make sure to use only the finest home demolition tools and equipment. Even better, we have all the experience and technical know-how needed to carry out the task at hand. With demolition equipment such as trucks, loaders, tractors, wheeled tippers, concrete crushers and excavators, demolition can be done in just a matter of hours. The most popular among these is the wrecking ball, though safety explosives are also commonly used. We guarantee to work fast so you can start rebuilding your property right away.
Give Us a Ring Today for Home Demolition Services in Blaine, Minnesota
We are a reliable residential demolition company with the equipment and expertise to get the job done on time. We are a company that prides itself in being able to provide reliable and efficient services. Fortunately, with our Blaine, Minnesota residential demolition contractors, you will never have to worry about handling your run-down property on your own. Rest assured that we follow strict measures when performing our services. We are only a phone call away for all your demolition needs.
Zip Code Areas We Service in Blaine
55014, 55434, 55449