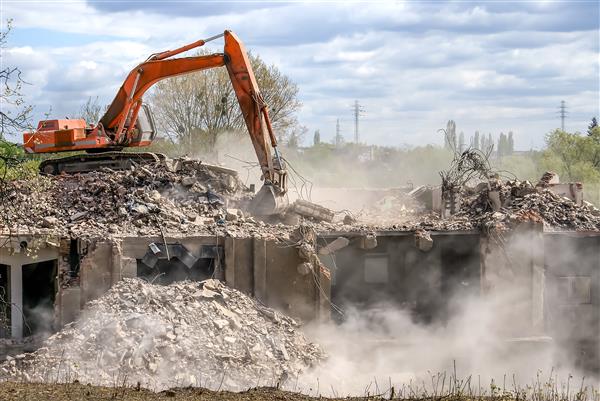 Your Ultimate Concrete Removal Company in Independence, MO
Concrete removal is a complicated procedure that requires tact and the services of professionals in Independence, MO. Indeed, time ages all things. The importance of concrete demolition cannot be overstated. For example, at Omni Demolition, clients need concrete slab removal and concrete hauling services in order to build or rebuild new structures. Our reliable craftsmen do not believe in making excuses. At Omni Demolition, we give you value for your money.
High-power Equipment Best for Concrete Removal in Independence, MO
Be careful of contractors in Independence, MO that use outdated and broken down equipment for this could mean impending delays to your project, or work that is so poorly done you will have to hire another company to redo the job. Omni Demolition does not only invest in quality equipment for concrete slab removal in Independence, MO, we utilize high end dumpers for concrete hauling as well. Common equipment used for this type of demolition are picks, robotic hammers and sledgehammers. Some of the services we offer include removing concrete driveway, concrete slab demolition, and concrete wall demolition. We offer a wide range of services, which include concrete slab demolition. Concrete removal and concrete hauling solutions vary in techniques as well as approaches. We are well equipped in handling all your concrete removal and concrete hauling projects.
When Do You Need Concrete Demolition Services in Independence, MO?
Concrete demolition in Independence, MO solves the potential issue of unsafe structures. Structures and buildings crafted from concrete are made to withstand enormous pressures. Hence, removing them can be quite challenging. We continually educate our professionals on safe concrete demolition and concrete hauling services. While a renovation job might be a less expensive option, we still recommend hiring a demolition specialist, as a renovation may be superficially covering up critical signs of an unsafe structure. If you see any signs of structural damage on the walls, ceilings and other sections of your house, you must consider booking a demolition service as soon as possible to prevent accidents.
Concrete Removal Permits and Other Construction Requirements in Independence, MO
A concrete removal or concrete hauling project in Independence, MO, requires that you obtain a number of permits and approvals from the local council. When choosing among the different local concrete removal companies, make sure to ask if they can assist you with the permit application. Definitely, here at Omni Demolition, our experts can help you get the documentation needed so you can start your project sooner rather than later. You will definitely need a permit depending on the nature of your project. Usually, you have to obtain a form of approval from the appropriate regulatory body before you can lawfully proceed with the demolition. Other contractors hire a third-party permit service provider to file the necessary permit but this could only mean additional expenses for you. If you work with our experts at Omni Demolition, you can be sure that you'll have a great experience.
How Much Do I Need to Pay for Concrete Demolition Services in Independence, MO?
For starters, there are demolition permits which can cost you a lot depending on the location of the project. The cost of demolition is impacted by several things like the amount of concrete that needs to removed. The more concrete you need removed, the higher the cost. Removal rates also affect costs. Our concrete demolition projects in Independence, MO include patio demolition, patio removal, tearing down walkways and walls, demolishing decks, entire buildings, among others. No need to get worked up in guessing project costs when all you have to give us a call and we will be happy to give you a free estimate. The actual demolition typically ranges from $4,000 to $14,000.
How Long Does It Take to Complete a Concrete Demolition Project in Independence, MO?
We are confident in our service delivery timelines. One of our primary focuses is on the time taken to complete your concrete demolition project. It can take days, weeks or even months to complete a concrete slab removal and concrete hauling project in Independence, MO. In cases where a city inspector has checked whether all sewer, utilities, and water facilities have been taken care of, our own men double checks to ensure the safety of our demolition in Independence, MO. The bigger the demolition structure, the more time it will take to complete the job. This is because the speed and performance of hand held tools varies greatly with that of automatic or advanced machinery.
Is It Possible to Recycle concrete in Independence, MO?
Constructions, concrete demolition and removal projects produce a lot of by-products and potential waste. Concrete recycling is an environmentally friendly process and prevents unnecessary waste transportation and disposal costs. Our concrete demolition contractors are knowledgeable in inspecting rubbish and identifying which ones are valuable. We encourage recycling of concrete debris. It reduces disposal to the city's landfills. This not only lessens the environmental impact but it also minimizes the overall cost on your concrete demolition project.
Make the Wise Decision by Calling Us for Concrete Demolition in Independence, Missouri
Our concrete slab removal services are unmatched. Moreover, we are well equipped to handle any other concrete removal service you may be in need of. At Omni Demolition, your Concrete slab removal project needs the exceptional expertise and experience that we bring to the table in Independence, MO. They know how to execute their assigned tasks with accuracy and they know how to tactfully minimize the risks associated with concrete slab removal projects. Our experts are the best at what they do. This is not a job for amateurs and if done wrongly, it could be costly on your end. Contact us today!
Zip Code Areas We Service in Independence
64054, 64055, 64056, 64057, 64050, 64052, 64053, 64015, 64016, 64051