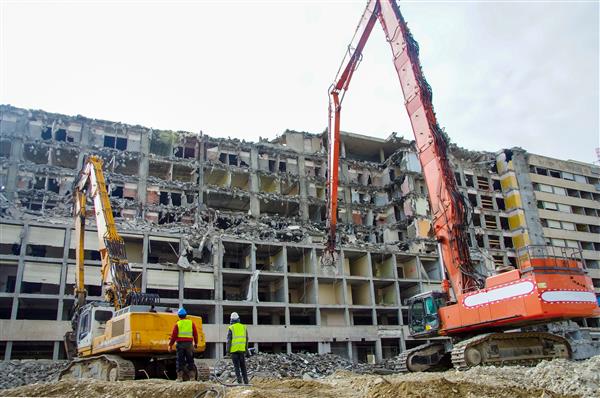 Demolition Contractors O'Fallon, MO The Demolition Company That You Can Count On
For years, Omni Demolition has continuously served and established its reputation as the most trusted demolition contractor in O'Fallon, MO. You are guaranteed to get the best value for your money with our expertise partnered with updated equipment and strict adherence to state safety regulations and policies. We do not sugar-coat our services and we often deliver more than promised. Led by deconstruction experts in the industry in O'Fallon, MO, our demolition experts offer innovative approaches to all your projects, whether big or small. The primary projects we undertake are demolition and deconstruction.
Distinction Between Demolition and Deconstruction in O'Fallon, MO
Demolition is taking down or dismantling a building or structure with a strong and overwhelming force whose end result is rubble or waste. A demolition expert may order a careful deconstruction prior to a demolition to carefully remove chemically hazardous materials as a safety precaution. A deconstruction may be implemented on its own or as a pre-demolition procedure. Deconstruction could be a component included in the demolition where our skilled team removes all hazardous and re-usable objects prior to the building being knocked down.
Why Choose Us as Your Company of Choice for Your Demolition Project in O'Fallon, MO
Our demolition experts will handle your property professionally from start to finish. An experienced and well-trained demolition contractor will manage your project and ensure that the job gets done. One of our biggest hallmarks is giving you undivided personal attention. But this is not just a one-time initiative, it is ingrained in the workmanship of each and every demolition contractor in our company. From cost estimation up to the site clean-up, you can rest assured that we have everything covered. From cost estimation up to the site clean-up, you can rest assured that we have everything covered.
Our Range of Demolition Services in O'Fallon, MO
Industrial Demolition services: Complexity and size do not intimidate us. We have successfully torn down enormous structures such as manufacturing plants, factories, warehouses and even utility installations.
Commercial Demolition Services: We know all the ins and outs of this delicate procedure. No matter the job, you can be rest assured that our demo company will give you the best results. Our demolition experts have the know-how and experience to bring down buildings and structures even in very tight spaces. Be it tearing down a mall, strip center, warehouse, bridge, hangar or structures in metropolitan areas, we have got you covered.
Concrete Demolition and Recycling Services: This type of demolition is environmentally friendly and saves on cost. Rubble from concrete demolition is reused by our demolition experts to make gravel or as one of the materials for making new concrete.
Scrap Metal Demolition Services: You do not have to worry about disposing of scrap metal once your metal structure is demolished, our demo company will help you sort out the scrap metal which can be recycled and reused for building.
We Lead, Other Demolition Companies Follow in O'Fallon, MO
Our demolition experts and highly skilled demolition contractors have worked on the most noteworthy projects in O'Fallon, MO. Our demolition experts are highly experienced in all types demolition services be they in a remote or challenging environment. We are a top-rated demolition company in O'Fallon, MO. Our demo company delivers effective and safe results on your time and budget.
Methods Conducted by Experts on Demolition and Deconstruction in O'Fallon, MO
Explosive Demolition: Our qualified demolition experts have years of experience in explosive demolition projects. Using our expertise and meticulous planning, we will safely execute your project with minimal disruption to your surroundings.
Non-Explosive Demolition: Our local demolition contractors will use a wrecking ball to demolish a building in situations that do not allow the use of explosives.
Selective Demolition: In cases of remodeling or renovation, demo contractors may be required to pull apart specific areas of the structure. We exceed other building demolition companies when it comes to precision in conducting selective demo such as disassembling interiors, floor coverings, ceilings and walls.
Cutting Edge Equipment Utilized for Demolition in O'Fallon, MO
Hydraulic breakers – Also known as hydraulic hammers, our demo company uses this to demolish rocks or concrete structures.
Wrecking balls – A wrecking ball is used together with a crane. This heavy steel ball is suspended from a crane and is used to bring down an entire structure or part of it. Although not widely used, this method is as fast as it is cost effective.
Hydraulic Shears and Rock Breakers – They can be able to quickly and effectively cut through rocks, concrete, steel, wood and metal.
Bulldozers – They are used to remove huge rubble and dirt piles. They are also used to push down smaller-sized structures and buildings.
Dumpers – In every demolition business, dumpers are necessary to clear the site from rubble and debris.
Cranes – Demolition contractors utilize a crane to ease the burden of moving heavy materials or equipment back and forth on a construction site. Our demo company also uses cranes to suspend wrecking balls for non-explosive demos.
Crawler Loaders – This heavy machinery is used to move aside debris material. It can also load the material onto a dump truck.
Call us Today for Demolition Services in O'Fallon, Missouri
Avoid dealing with deconstruction hassles and overpriced bills when you sign with our demolition company in O'Fallon, Missouri. Signing with us means you deal with our highly diligent specialists who will never present mediocre work to our clients. You're in great hands with our O'Fallon deconstruction and demolition company. As the top O'Fallon deconstruction and demolition company, no job is ever too big or too small for us. Dial
(855) 885-3366
for a professional O'Fallon demolition that will not break your bank.
Zip Code Areas We Service in O'Fallon
63367, 63366, 63368