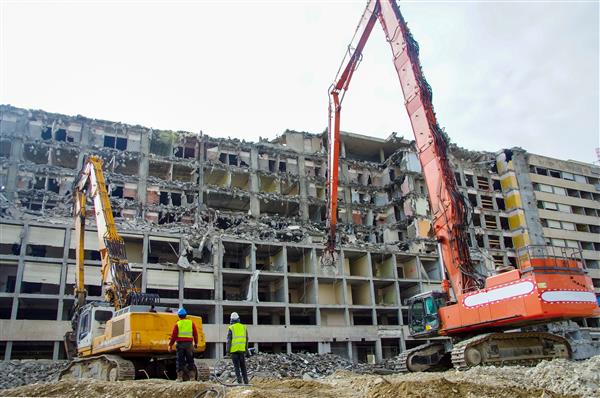 The Demolition Company with Demolition Contractors in Springfield, MO You Can Count On
The strength of Omni Demolition lies not only in its state of the art equipment and the expertise of its demolition contractors but the commitment that we have in providing unsurpassable services. We are an established service provider when it comes to experience, skills and workmanship. No need to break the bank to avail of first rate service and exceptional outcome. If you need a structure or building taken down, our demolition experts will use the fastest and most economical method of demolition. We are an environmentally friendly company.
Better Understanding of Demolition and Deconstruction in Springfield, MO
Knowing the difference between a demolition and a deconstruction will save you from further confusion. A demolition expert may order a careful deconstruction prior to a demolition to carefully remove chemically hazardous materials as a safety precaution. There are two categories of deconstruction, namely soft strip or selective deconstruction and whole-house deconstruction. The structures can be pulled down manually.
Complete Accountability from Highly Skilled Specialists for Your Demolition Project in Springfield, MO
Our demolition experts as well as our demolition contractors in Springfield, MO have highly specialized equipment and all the resources needed to complete any project you may have for us, however big or small it may be. Some demolition contractors offer their services at rock bottom prices but this may cost you more in the long run. We are knowledgeable in protocols and we prioritize safety at all times. You will not find another demolition contractor in all of Springfield, MO who will help you save and spend wisely.
Our Demolition Services in Springfield, MO
Industrial Demolition services: We have taken down massive structures such as warehouses, industrial buildings, bridges, power plants, and mills. Our special equipment and expertise allow for the safe demolition of vast properties.
Commercial Demolition Services: This type of demolition requires tact in working around obstacles. Our demo company is highly skilled in demolishing commercial structures such as hotels, retail spaces, office buildings, warehouses, bridges and airplane hangars among others.
Concrete Demolition and Recycling Services: Once we have demolished your concrete structure, our demolition experts will crush and re-use the salvaged concrete as a base course for gravel.
Scrap Metal Demolition Services: Allow our demo company to remove useless steel erections onsite and salvage reusable metal for recycling instead of hiring a separate contractor, which means more expenses for you.
What Distinguishes Us from Other Demolition Companies in Springfield, MO
Our demolition company in Springfield, MO offers a broad spectrum of solutions which enables us to deliver prompt and successful results. Our demolition experts are highly experienced in all types demolition services be they in a remote or challenging environment. Using cutting edge technology added to our team's expertise, our demolition company is guaranteed to deliver more than promised. We continue to fulfil our commitment as a demo company when it comes to putting our clients as top priority.
Methods Applied in Demolition and Deconstruction in Springfield, MO
Explosive Demolition: Our demolition experts carefully consider all factors before flipping the switch that will initialize explosives to go off and promptly annihilate the target building in Springfield, MO.
Non-Explosive Demolition: Our local demolition contractors will use a wrecking ball to bring down your structure. This method is cheaper than explosive demolition.
Selective Demolition: This method is used when buildings are being remodeled or rebuilt and the client wishes to retain some parts of the structure. Not all contractors can perform this demolition as it involves meticulous planning and careful effort. Our demo contractors are veterans in conducting selective demolition especially in handling specialized equipment required for the job. You can trust our team of experts in providing calculated and top of the line performance, which other inexperienced building demolition companies cannot guarantee.
Common Equipment Used for Demolition in Springfield, MO
Hydraulic breakers-Heavy-duty excavators are used at our demo company to aid in breaking or crushing concrete segments of the building. Be wary of contractors who have poorly maintained equipment such as hydraulic breakers because this will surely cause delays in your timeline.
Wrecking Balls – A wrecking ball is made from steel. It is suspended from a steel chain attached to a crane and is used to demolish large buildings. It is swung several times towards the intended structure until the structure crumbles. The working of a wrecking ball relies on the skills of an experienced operator.
Hydraulic shears and rock breakers – These specialized accessories allow cutting into a variety of materials such as metal, wood, rocks, and cement.
Bulldozers – Common equipment in construction sites used for excavating and hauling materials or waste. This machine can also be used to flatten or level structures hence the term bulldoze.
Dumpers – In the demolition business, dumpers are used to transport debris from the demolition site.
Cranes – Demolition companies use cranes to move materials from different levels of a structure. A demo company will also use this machinery together with a steel ball. For a wrecking ball to work, it has to be attached to the crane.
Crawler Loaders – This heavy machinery is used to move aside debris material. It can also load the material onto a dump truck.
Call us Today for Demolition Services in Springfield, Missouri
There is no other demolition company in Springfield, Missouri that offers high quality services with reasonable prices as us. Our dedication is in ensuring that we maximize your asset potential. Consult with a reliable demolition company and save yourself from all the worries. Our work integrity and reasonable packages are only some of the reasons why we are a well renowned Springfield deconstruction and demolition company. Feel free to get in touch with us today at
(855) 885-3366
!
Zip Code Areas We Service in Springfield
65810, 65802, 65803, 65804, 65806, 65807, 65809, 65801, 65805, 65808, 65814, 65817, 65890, 65897, 65898, 65899