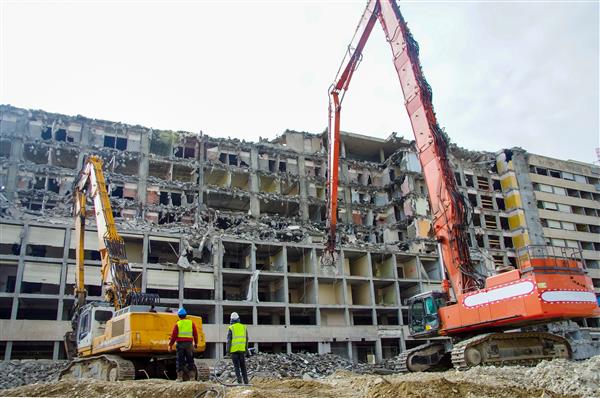 Demolition Contractors Gulfport, MS: Your Trusted Demolition Company
It can be a huge challenge finding reliable and affordable demolition contractors in Gulfport, MS, but that is what Omni Demolition is here for. We are an established service provider when it comes to experience, skills and workmanship. No job is ever too big, too small or too demanding for us. Here at Omni Demolition, you can expect nothing less than high-quality customer service and spotless workmanship courtesy of our seasoned demolition experts. We are highly competent and able to handle any project you may have.
The Main Variances of Demolition and Deconstruction in Gulfport, MS
Demolition is aimed at basically bringing down a structure. Our demolition expert tests and removes hazardous material before knocking down the building. Should a client wish to retain a building's frame or will only be rebuilding a certain part of the property, a deconstruction is in order. We have the know-how in identifying the value of extracted materials and their potential for reuse.
Our Commitment to Your Demolition Project in Gulfport, MS
Our demolition experts and demolition contractors in Gulfport, MS are highly skilled in meeting all your demands. First and foremost, our selection of advanced and reliable equipment enables our demolition contractors to be highly efficient as well as cost-effective. Being in the business for years, our experience and continued trainings ensure that you work with only the most able specialists in the industry. Taking down a structure sounds chaotic but unlike other demolition contractors, our services are done with utmost care and with as little disturbance to the community as possible. Taking down old and unwanted buildings may look like a simple task; however, it requires the experience and competence of professional service providers like us to get your job done properly. Taking down old and unwanted buildings may look like a simple task; however, it requires the experience and competence of professional service providers like us to get your job done properly.
We Offer a Wide Array of Professional Demolition Services in Gulfport, MS
Industrial Demolition services: Our best-in-class strategies and state-of-the-art equipment allow us to offer specialized industrial demolition services for your chemical plant, mills and factories.
Commercial Demolition services: We isolate the targeted building before performing the actual demolition so as not to cause any damage to its neighboring structures. Our demo company, has handled tearing down malls, airplane hangars, markets, and even bridges.
Concrete Demolition and Recycling Services: Our demolition experts will help you realize your green-building initiative. We turn construction debris such as crushed concrete into gravel or a dry aggregate for making new concrete.
Scrap Metal Demolition Services: Allow our demo company to remove useless steel erections onsite and salvage reusable metal for recycling instead of hiring a separate contractor, which means more expenses for you.
A class Above the Rest in Gulfport, MS
Our demolition experts and highly skilled demolition contractors have worked on the most noteworthy projects in Gulfport, MS. We take pride in employing some of the finest calibre of demolition experts throughout the city. Our commitment to our patrons helped us become the most respectable demolition company in all of Gulfport, MS. Our demo company offers packages that are reasonably priced as well due to the fact that we have mastered an efficient way of demolition that cuts unnecessary expenses.
Safely Regulated Methods for Demolition and Deconstruction in Gulfport, MS
Explosive Demolition: It is also known as the implosion method. Our demolition experts fix a building's or structure's slabs, columns and beams with explosives. Once the explosives detonate, the columns collapse and so does the building or structure.
Non-Explosive Demolition: Although somehow rare, our local demolition contractors use a wrecking ball to tear down a structure. Compared to using explosives, this method costs less; however, there is limited control on the amount of damage each swing can make.
Selective Demolition: This is also known as interior demolition. When your building or property is structurally sound but its interior needs to be remodeled or upgraded, our demo contractors apply selective demolition. We use highly advanced demolition techniques giving us a reputation that other building demolition companies cannot match.
Utilizing the Proper Equipment for Demolition in Gulfport, MS
Hydraulic breakers – Our demo company uses hydraulic breakers or hammers in crushing otherwise solid surfaces such as concrete, cement and even rocks.
Wrecking balls – Huge metal balls suspended on a metal crane and swung into the building intended to be collapsed either once or as many as needed.
Hydraulic shears and rock breakers – A modification to excavators, these tools help in cutting through solid surfaces such as wood, metal, rocks, and concrete.
Bulldozers – They are used to remove huge rubble and dirt piles. They are also used to push down smaller-sized structures and buildings.
Dumpers – Dumpers are also known as tipper trucks. They are used for transporting rubble or waste from the demolition site. If you are in the demolition business, safety is paramount and some of the safety hazards are demolition wastes. A dumper is a very important in removing the large amount of debris from the site.
Cranes – Demolition companies use cranes to move materials from different levels of a structure. A demo company will also use this machinery together with a steel ball. For a wrecking ball to work, it has to be attached to the crane.
Crawler Loaders – This heavy machinery is used to move aside debris material. It can also load the material onto a dump truck.
Call us Today for Demolition Services in Gulfport, Mississippi
Our demolition company in Gulfport, Mississippi is the best one in town. We believe in providing professional and affordable services. Signing with our demolition company guarantees a stress-free project, from the accurate estimation, the actual operations, onsite clearance as well as processing required permits. As the top Gulfport deconstruction and demolition company, no job is ever too big or too small for us. Call us today at
(855) 885-3366
and allow us to assist you with your demolition requirements.
Zip Code Areas We Service in Gulfport
39501, 39503, 39507, 39502, 39505, 39506