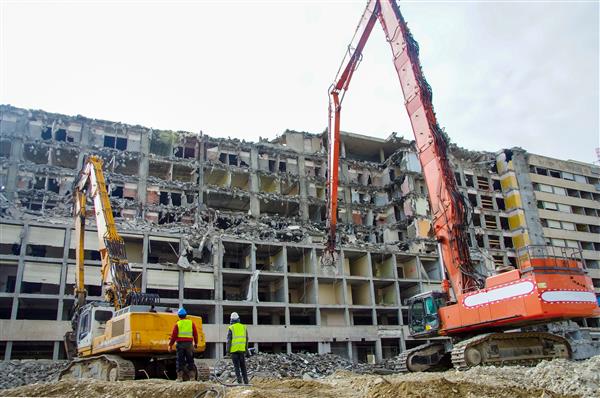 Demolition Contractors in Jackson, MS: Your Trusted Demolition Company
Our mission here at Omni Demolition is to ensure that we offer premium and high-caliber services through our expert demolition contractors. We will make sure that the project is completed within your budget and stipulated timeframe. We have an enduring assurance to safety. Our demolition experts provide top-notch work. We have the resources and expertise to offer you the best solutions in a safe and professional manner.
Dependable Demolition and Deconstruction in Jackson, MS
Demolition is the process of knocking down, levelling, razing, tearing down or pulling down a building or a structure. A demolition expert may order a careful deconstruction prior to a demolition to carefully remove chemically hazardous materials as a safety precaution. Deconstruction, on the other hand, is the disassembling of a building while preserving its re-usable parts. On the other hand, whole-house deconstruction entails tearing down an entire structure and salvaging any reusable or recyclable materials.
We are the Most Competent Specialists for Your Demolition Project in Jackson, MS
We maintain multi-disciplined and highly seasoned demolition experts and demolition contractors in Jackson, MS-fully trained in material handling and equipment operation. An experienced and well-trained demolition contractor will manage your project and ensure that the job gets done. Most sales agents will promise everything just to close a deal but are no longer accountable when their team fails to deliver. You will not find another demolition contractor in all of Jackson, MS who will help you save and spend wisely.
Check Our Broad Range of Demolition Services in Jackson, MS
Industrial Demolition services: We have the expertise, equipment and manpower to take down, mills, plants, manufacturing buildings among others without compromising the integrity of neighbouring structures.
Commercial Demolition services: Our demo company uses superior equipment and expertise in tackling various commercial demolition structures such as strip malls, warehouses, office buildings, hotels, bridges, grocery stores and airplane hangars among others.
Concrete Demolition and Recycling Services: Our demolition experts will help you realize your green-building initiative. We turn construction debris such as crushed concrete into gravel or a dry aggregate for making new concrete.
Scrap Metal Demolition Services: Our demo company will also clear out your property of any undesirable steel erections and salvage any existing metal scraps for recycling.
We Lead, Other Demolition Companies Follow in Jackson, MS
Despite being highly preferred over other demolition contractors, we keep our feet grounded. Our demolition experts and demolition contractors have an established performance record of completing demolition jobs in the right way, on budget and on time. Our demolition company is experienced in implementing both small and large projects. Our demo company appreciates all our clients and we demonstrate this by endeavoring to give you nothing but the very best.
High Standard Methods for Demolition and Deconstruction in Jackson, MS
Explosive Demolition: Our demolition experts carefully consider all factors before flipping the switch that will initialize explosives to go off and promptly annihilate the target building in Jackson, MS.
Non-Explosive Demolition: Although somehow rare, our local demolition contractors use a wrecking ball to tear down a structure. Compared to using explosives, this method costs less; however, there is limited control on the amount of damage each swing can make.
Selective Demolition: This process entails tearing down a part of the structure. Efficiency is maximized by recycling reusable material thus reducing waste and lessening the impact on the environment. As the leading demo contractors, we have set standards that other building demolition companies have a hard time measuring up to.
Important Demolition Equipment in Jackson, MS
Hydraulic breakers – Massive earthmovers used at our demo company to drill and break concrete areas in no time.
Wrecking balls – Used mainly for non-explosive demos, these heavy impacting balls are helpful in progressively weakening a building until all that's left are frameworks that are then easier to tear down.
Hydraulic Shears/ Rock breakers – They are fitted to an excavator and have the ability to cut through concrete, metal, rocks and wood.
Bulldozers – It has a ripper and is used to move large quantities of rubble. It is also used to bring walls down.
Dumpers – If you are in the demolition business, you will definitely need a dumper/ tipper truck for transporting demolition waste.
Cranes – Demolition contractors use a crane to attach a wrecking ball. A demo company can also use a crane for moving materials on the different levels of the structure or building.
Crawler Loaders – This heavy machinery is used to move aside debris material. It can also load the material onto a dump truck.
Call us Today for Demolition Services in Jackson, Mississippi
A proper assessment from a qualified demolition company in Jackson, Mississippi is necessary before you proceed with any major changes in your property. Ensure a spotless pre-construction site when you sign with us. As an established demolition company, we maintain high standards of service and workmanship no matter how big or small a contract is. We are the Jackson deconstruction and demolition company to go to for premium and safe demo services. For all your demolition needs, call us at
(855) 885-3366
.
Zip Code Areas We Service in Jackson
39272, 39206, 39204, 39203, 39202, 39201, 39209, 39269, 39174, 39211, 39212, 39213, 39216, 39217, 39205, 39207, 39210, 39215, 39225, 39236, 39250, 39271, 39282, 39283, 39284, 39286, 39288, 39289, 39296, 39298