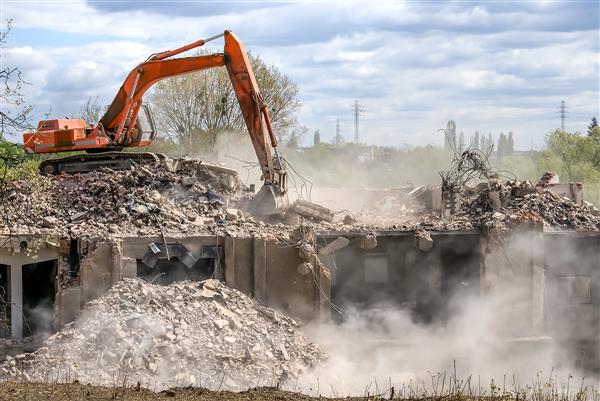 Your Premium Concrete Removal Company in Jacksonville, NC
Concrete removal in Jacksonville, NC is definitely not a job for the faint at heart and that is why many recommend hiring only seasoned expert contractors like those at Omni Demolition to handle your projects. The importance of concrete demolition cannot be overstated. For example, at Omni Demolition, clients need concrete slab removal and concrete hauling services in order to build or rebuild new structures. Our high ratings clearly speak for our loyal clients and how much value they get from hiring us as their contractor. At Omni Demolition, we give you value for your money.
Concrete Removal Tools and Equipment We Use in Jacksonville, NC
Omni Demolition uses advanced equipment to cut or crush concrete. Concrete slab removal in Jacksonville, NC requires the use of special equipment to get the job done perfectly, efficiently and safely. Hydraulic slitters are very efficient in breaking thick and dense concrete. For all your concrete demolition needs like removing concrete driveway, concrete slab demolition and concrete wall demolition, contact our highly trained experts for a comprehensive evaluation of your concrete removal and concrete hauling project. Consulting with a trained expert is important, as there are a number of things that need to be considered before embarking on concrete removal, such as your legal obligations and safety requirements. Book with us for stress-free services and operations that finish on time.
When to Consider Booking a Jacksonville, NC Concrete Demolition Service
When is it necessary for you to get demolition services in Jacksonville, NC? Whether the project requires breaking asphalt or concrete in residential, commercial or industrial spaces, we have the equipment and service crew ready to do the job. We have all the equipment needed to perform quality concrete hauling or demolition. Oftentimes, damages to properties require a complete removal and replacement instead of a concrete resurfacing which only hides the damage. Do not just settle for a renovation job where they will only apply another layer of material on the affected structure, hiding the weakening structure below.
What Documents Do I Need to Secure Before a Concrete Removal Service in Jacksonville, NC?
Planning to undertake a concrete removal and concrete hauling project in Jacksonville, NC? Great. There are several concrete removal companies in the city, so make sure you select one that will help you all throughout the process. Avoid getting penalized by the local authority. You will be required to submit a few documents depending on the type and size of your project. The good news is that at Omni Demolition, we will take care of everything.
Cost Estimates of Concrete Demolition in Jacksonville, NC?
The first step is to determine how much the job will cost you. This estimate is for the removal of unreinforced concrete of a two-car driveway with zero disposal fees. If you live in an urbanized location, expect the permit application fees to go up to a thousand dollars or more. Patio demolition and patio removal are some of the demolition projects we specialize in. Our ever-helpful staff will be happy to give you a competitive estimate for your project. On average, demolishing unreinforced concrete in a two-car driveway will cost you somewhere between $1,500 and $2,500. Bigger projects average between $4,000 and $14,000. Demolition permits on the other hand vary greatly and will cost you an average of $200, but can cost up to $10,000 depending on where you are located. The demolition project itself will usually cost you an estimated $1000 to $15,000+, depending on the size and situation.
Typical Duration of a Jacksonville, NC Concrete Demolition Service
No concrete demolition project is completely the same as each requires varied materials, manpower, equipment and time frame to finish. We understand the importance of honoring our commitments and we deliver our concrete slab removal and concrete hauling services in Jacksonville, NC with no excuses. There are unforeseen factors that we take into consideration before settling on a completion date for your project such as extremities in weather conditions. It entails dividing slabs into sub-sections as well as grids, then removing them piece by piece. Your safety and satisfaction are both assured at our company as we strive to deliver polished services.
Why Recycle Concrete in Jacksonville, NC?
It comes right after a concrete demolition and removal project. Concrete recycling is a more viable option of taking care of demolition waste. Our concrete demolition contractors facilitate the hauling of reusable concrete to ensure an organized clearing of the site. It is also an environmentally friendly approach of dealing with the waste. Concrete lasts long, and you can use it in various ways.
Why Come to Us for All Your Concrete Demolition Needs in Jacksonville, North Carolina
Our concrete demolition contractors know the best possible way to provide concrete demolition services in Jacksonville, NC in a safe way because they have been comprehensively trained on all safety techniques. Omni Demolition has all the skills, tools and equipment needed to perform a concrete slab removal or hauling service. Our history of completed projects speaks for us when it comes to expertise, safety requirement compliance, and outstanding workmanship. Our flexibility allows us to work on your project according to your timeline and schedule. Don't risk your safety; work with demolition professionals in Jacksonville, NC.
Zip Code Areas We Service in Jacksonville
28546, 28547, 28543, 28540, 28541, 28542