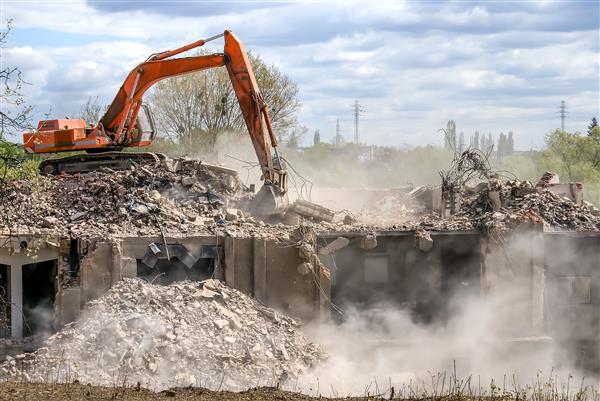 The Leading Company for All Your Concrete Removal Needs in Raleigh, NC
There are a number of reasons why you might need to hire our concrete removal services in Raleigh, NC. For your concrete slab removal and concrete hauling services, you can rest easy knowing that we have got you covered. Our high ratings clearly speak for our loyal clients and how much value they get from hiring us as their contractor. At Omni Demolition, we give you value for your money.
Equipment and Tools We Use to Provide Quality Concrete Removal in Raleigh, NC
From plowing to chipping to drilling and demolishing concrete, we are your go-to company. We can perform services like concrete slab removal that you may need for your Raleigh, NC project as soon as possible. Mounted breakers are used in heavy demolition work in Raleigh, NC. Whether we are hired for removing concrete driveway, concrete slab demolition, or concrete wall demolition, you can guarantee no equipment failure onsite. Consulting with a trained expert is important, as there are a number of things that need to be considered before embarking on concrete removal, such as your legal obligations and safety requirements. Apart from helping you perform hard tasks by using precision tools and equipment, a concrete hauling expert can help you with the legal papers required by the local authority.
Addressing Your Concrete Demolition Needs in Raleigh, NC
There are several reasons why a house needs to be demolished. If your property in Raleigh, NC is showing deep and widespread cracks, sunken or fragmented concrete slabs, or signs of frost heave, it is time to call our phone number and consult with the experts. At Omni Demolition, we will see to it that you receive superior quality concrete hauling and demolition service in Raleigh, NC. The most common reasons why concrete wears out easily include extreme temperature fluctuations, corrosion and overload. Having them torn down can be quite a challenge as opposed to erecting them.
What Documents Do I Need to Secure Before a Concrete Removal Service in Raleigh, NC?
When it comes to conducting a concrete removal or concrete hauling project, existing policies and permit requirements may vary from state to state. There is a limited number of concrete removal companies in the city who take care of processing permits for their client and usually leave it to the owner to apply for the demolition permit themselves. You will definitely need a permit depending on the nature of your project. Usually, you have to obtain a form of approval from the appropriate regulatory body before you can lawfully proceed with the demolition. Before you begin a demolition job, it is advisable to first understand the laws and requirements of your location. All you have to do is let us know what you need done and relax—we are here to do all the legwork for you.
Cost of Concrete Demolition in Raleigh, NC
Applying for a demolition permit can already cost you more than $200. The price can go up, depending on where your project is located. The cost of demolition is impacted by several things like the amount of concrete that needs to removed. The good news is that you are guaranteed to get bigger savings when hiring us as opposed to our competitors. Ask your potential Raleigh, NC patio demolition companies how much they charge before you make your final decision. Feel free to contact us to learn how much we charge for a patio removal or other similar services. We provide detailed and accurate estimates that are easy to understand. The actual demolition cost alone can cost you from between $1000 – $15000+
How Much Time Should a Concrete Demolition Project Take in Raleigh, NC?
Time taken to complete a concrete demolition project varies. To eliminate demolition delays, we plan all our concrete slab removal and concrete hauling in Raleigh, NC effectively with hands-on management principles. Our experts ensure that operations are done continuously and without incident. In instances that an unforeseen situation arises, the client is notified to ensure that they are not kept in the dark and to establish the right expectations. We do not give our clients overly ambitious timelines.
What To Do With Crushed or Used Concrete in Raleigh, NC?
The recycled material from a concrete demolition and removal project can be used as aggregate in making new concrete and in construction work. Recycling has economical and environmental benefits. Our concrete demolition contractors are knowledgeable in inspecting rubbish and identifying which ones are valuable. The crushed materials are often referred to as dry aggregates, and they can last a long time if applied the right way. Additionally, crushed concrete is also cheaper and greener compared to the regular type. Recycled concrete can also be used in a number of landscaping settings such as paving stones, water features, boulder rock walls, retaining walls, erosion structures, and other uses.
Make the Wise Decision by Calling Us for Concrete Demolition in Raleigh, North Carolina
If you have been looking to hire a concrete slab removal expert, chances are you have seen ads from other providers in Raleigh, NC who offer the cheapest concrete demolition services, but are you sure you want to risk spending on a contractor that has no credibility and is seemingly desperate for clients? Hopefully not. Whether you require complete or partial concrete slab removal Raleigh, NC, you can expect prime services at a reasonable price. Aside from demolishing your concrete walls, pavements or ceilings, we can also help you do concrete slab removal, concrete cleanup and other tasks. Rest assured we will provide the best concrete removal service in the area for an affordable price. You can rest assured that we will deliver nothing less than exceptional results. Dial our phone number today and let us know what concrete removal service you require. Call us today at
(855) 885-3366
for a free consultation and ask one of our agents for a free estimate.
Zip Code Areas We Service in Raleigh
27617, 27616, 27615, 27614, 27613, 27612, 27610, 27608, 27609, 27601, 27603, 27604, 27605, 27606, 27607, 27602, 27611, 27619, 27620, 27621, 27622, 27623, 27624, 27625, 27626, 27627, 27628, 27629, 27634, 27635, 27636, 27640, 27650, 27656, 27658, 27661, 27668, 27675, 27676, 27690, 27695, 27697, 27698, 27699