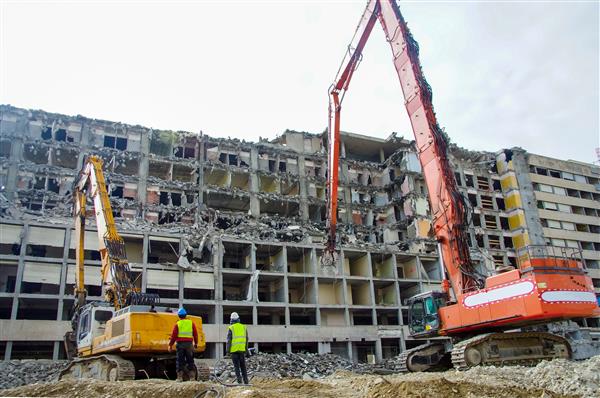 Demolition Contractors in Cary, NC: Your Trusted Demolition Company
For years, Omni Demolition has continuously served and established its reputation as the most trusted demolition contractor in Cary, NC. We are dedicated to working on your project with no distractions whatsoever. We offer unrivalled expertise and deliver tailor-made solutions to both simple and tough demolition projects. Here at Omni Demolition, you can expect nothing less than high-quality customer service and spotless workmanship courtesy of our seasoned demolition experts. Whether it may be a residential, commercial or industrial structure that needs to be taken care of, our crew has got it covered.
Demolition vs. Deconstruction in Cary, NC
Demolition is the process of tearing down or pulling down buildings and structures by a demolition expert. A demolition expert may order a deconstruction if parts of the original structure need to be retained or hazardous materials and reusable items need to be extracted before an actual demolition. A deconstruction entails careful removal of a structure's segments or hazards such as electrical wires, gas pipes and hydro lines prior to a complete knocking down of the building. On the other hand, whole-house deconstruction entails tearing down an entire structure and salvaging any reusable or recyclable materials.
What We Do in Cary, NC
We maintain multi-disciplined and highly seasoned demolition experts and demolition contractors in Cary, NC-fully trained in material handling and equipment operation. Our demolition contractor is at your service to fulfill all your needs. We also take time to really understand your needs and deliver according to your desires with no excuses. Trust only the most preferred demolition contractor in all of Cary, NC.
We Offer Demolition Services in Cary, NC Fit for Your Needs
Industrial Demolition services: Complexity and size do not intimidate us. We have successfully torn down enormous structures such as manufacturing plants, factories, warehouses and even utility installations.
Commercial Demolition services: We isolate the targeted building before performing the actual demolition so as not to cause any damage to its neighboring structures. Our demo company, has handled tearing down malls, airplane hangars, markets, and even bridges.
Concrete Demolition and Recycling Services: We are a safe demolition company. We also listen to what you are saying. Are you trying to cut down on costs and reduce wastage? Once our demolition experts have demolished your concrete structure, we can grind it into gravel or turn it into an aggregate for making new concrete.
Scrap Metal Demolition Services: Our demo company is experienced in salvaging scrap from your demolition project. You can recycle the scrap metal. This will minimize on wastage and cost.
We are the Leading Demolition Company in Cary, NC
We take pride in deploying demolition experts and demolition contractors who are not simply knowledgeable on the job but also skilled and experienced all across the state. We take pride in employing some of the finest calibre of demolition experts throughout the city. As an established demolition company in all of Cary, NC, we see to it that our services, equipment and workmanship are always above customer satisfaction. When it comes to bringing down old, dilapidated or unwanted property, we have vast experience as a demo company and we will ensure that our services do not cause any unintended damage or pollution
The Types of Methods Used in Demolition and Deconstruction in Cary, NC
Explosive Demolition: If you want to demolish a big structure, you have to bring out the big guns. Our demolition experts in Cary, NC use explosive demolition for larger buildings. It is as effective as it is safe.
Non-Explosive Demolition: Certain buildings are not recommended for use of explosives, to which local demolition contractors opt for wrecking balls. Made of steel, a wrecking ball is suspended and swung into the building repeatedly causing it to topple or crumble down.
Selective Demolition: Our demo contractors use this method when their goal is to recover or salvage demolition materials. Building demolition companies reuse or recycle the salvaged materials thus reducing waste.
Well-maintained Equipment Utilized for Demolition in Cary, NC
Hydraulic breakers-Heavy-duty excavators are used at our demo company to aid in breaking or crushing concrete segments of the building. Be wary of contractors who have poorly maintained equipment such as hydraulic breakers because this will surely cause delays in your timeline.
Wrecking balls – Huge metal balls suspended on a metal crane and swung into the building intended to be collapsed either once or as many as needed.
Hydraulic Shears and Rock Breakers – They can be able to quickly and effectively cut through rocks, concrete, steel, wood and metal.
Bulldozers – This powerful machinery has a number of uses in construction. A bulldozer can be used to knock down an old or derelict structure. It can also be used to push away debris and clean up the area.
Dumpers – Dumpers are also known as tipper trucks. They are used for transporting rubble or waste from the demolition site. If you are in the demolition business, safety is paramount and some of the safety hazards are demolition wastes. A dumper is a very important in removing the large amount of debris from the site.
Cranes – In demolition, demolition contractors need a crane. Cranes can be used to lift a small-sized excavator. A wrecking ball can also be attached to a crane for demolition making it an essential piece of machinery in a demo company.
Crawler Loaders – A flexible machine, crawlers are perfect for excavating narrow spaces. Although not very good for excavating, it can be used to haul items easily.
Contact Us for Cost-effective Demolition Services in Cary, North Carolina
Avoid dealing with deconstruction hassles and overpriced bills when you sign with our demolition company in Cary, North Carolina. Our dedication is in ensuring that we maximize your asset potential. Find out why we have remained the #1 demolition company for years as you experience top of the line customer service. Our Cary deconstruction and demolition company is licensed and highly reputable. Call us today at
(855) 885-3366
and get your job done quickly, flawlessly and affordably.
Zip Code Areas We Service in Cary
27518, 27519, 27511, 27513, 27512