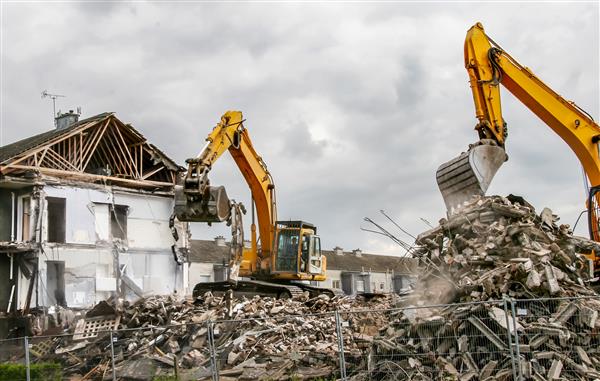 Residential House Demolition by Omni Demolition
Hiring a professional to handle your house demolition in High Point, NC may be the best decision you will ever have to make. We pride ourselves in being one of the best house demolition companies countrywide. If you wish to keep your business local and be assured of expert service, Omni Demolition's residential demolition contractors provide exceptional service. Home demolition is not an easy task. In fact, there are many important considerations to bear in mind. One of which is safety because tearing down a structure will require the right equipment, tools, and skilled operators. Once you see thick cracks on the wall or observe any signs of a weak foundation, you must schedule an appointment with a building expert right away. This way, you can already assess the situation and decide if you will need a renovation or demolition job. We also have a great amount of experience with mobile home demolition projects.
How We Provide Outstanding High Point, NC Home Demolition Services
House demolition methods are used for demolishing massive residential structures. Demolition methods vary according to building location, construction materials, disposal techniques and the overall demolition goal. You can hire our contractors to demolish an entire house or just a portion of it. With the extensive knowledge and experience of our residential demolition contractors, we can provide a reasonable working schedule. When choosing among the residential demolition companies in the area, you need to be very cautious with hiring the right company, as a team with little experience can turn a simple routine job into a large costly mess. Additionally, we also offer emergency mobile home demolition service for urgent situations. You don't have to worry about renting out expensive demolition equipment or tearing down your property one piece at a time.
What You Should Prepare Once You Receive a High Point, NC Home Demolition Cost Estimate
House demolitions in High Point, NC need a proper plan of action. With that said, we make sure that home demolition projects are completed on time and within budget. Variables that affect the cost of a demolition project include asbestos-contaminated materials that are not only more labor intensive to remove, but also cost roughly three times as much to safely get rid of in contrast to other materials like timber or concrete. Make sure that when you check the various home demolition companies in the city, you also look at the whole package completely. You can easily request a free cost estimate from our team of residential demolition contractors. In addition, we provide the best rates even for small projects such as a mobile home demolition. Make sure you only contact licensed companies to do the job for you. Rest assured, at Omni Demolition, we only provide professional and cost-effective services.
Acquiring a Residential Demolition Permit in High Point, NC
If you play by the rules and you have all your ducks in a row with the city you won't have the house demolition inspector in High Point, NC issuing you stop work notices half way through your job. Avoid incurring penalties and delaying your project by acquiring all the necessary permits, even for a simple mobile home demolition. The amount of demolition permits needed varies from state to state and involve nominal fees. Other special inspections and documentation may be asked from you depending on the state you are in. You can ask our experts about the documentations needed.How to Organize for a Residential Demolition in High Point, NCSo you've made up your mind to hire a professional for your High Point, NC home demolition plan. The next logical step is to prepare your house for the demolition job. In addition, we recommend asking our demolition team how long the project will take so you can start planning for the next steps. The project may be put to a halt if the authorities spot any harmful chemicals in the property. Additionally, you will need to double check all the appliances and equipment. Be sure that you remove everything from your tiny home decors to your personal valuables. Before starting the core process, long and tedious planning even for a simple mobile house demolition is required, especially if the chosen method is implosion. When communication does not flow well, you run the risk of serious problems.
Do I Really Need a Residential Demolition Service in High Point, NC?
The strength of various structures fades over time. Sometimes, a building degrades faster when it is exposed to extreme temperature changes, pest infestation, water damage or fire. Timeworn buildings on your estate could be shabby and risky, and they need to be demolished for aesthetic or safety reasons. If you are ready tear down a property that is falling apart, it is a wise decision to ask for the help of a professional residential demolition team. With a residential demolition service in High Point, NC, you won't need to worry about degraded cement or foundation. You can build new and stronger structures once the demolition project is completed.
Residential Demolition Equipment We Use in High Point, NC
For many years, thousands of homeowners have depended on our team of residential demolition contractors to help them with their property. With the extensive industry background of our contractors, you can definitely enjoy outstanding home demolition deals, regardless of how small or big your property is. Taking down walls to achieve your desired open floor plan might not be as easy as it seems. While it might be tempting to give it a go using a sledgehammer, it's not a wise thing to do. Through our high-powered tools and equipment, we can assure the timely completion of our services.
Get in Touch with Us for a Hassle-Free High Point, North Carolina Home Demolition Service
Never worry about paying expensive equipment rental fees or dealing with accidents due to negligence. We are a company that prides itself in being able to provide reliable and efficient services. Upon your request, we can hand you a cost estimate, and schedule your appointment as soon as possible. After the call, we guarantee to send our residentiaAl demolition contractors to work on your High Point, North Carolina properties fast. Rest assured that we follow strict measures when performing our services.
Zip Code Areas We Service in High Point
27282, 27262, 27263, 27265, 27260, 27261, 27264, 27268