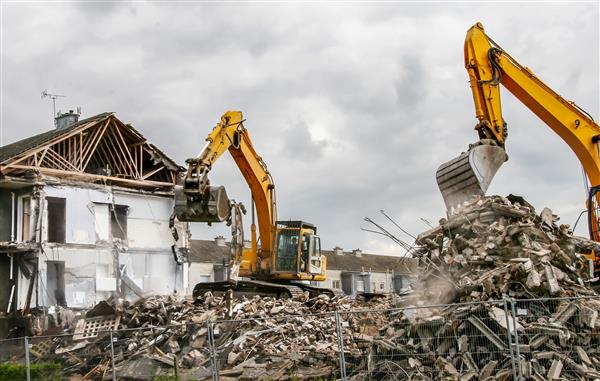 Omni Demolition: A Residential House Demolition Company You Can Trust
When it comes to house demolition, we are the #1 choice in Manchester, NH. We at Omni Demolition strive to provide the most cost-effective services among all the other local house demolition companies. Omni Demolition has many full-time employees; we own our trucks and equipment; and our residential demolition contractors are well trained and capable of handling any demolition job. We coordinate the entire project from start to finish, including but not limited to all the necessary documentation, inspections, and city permitting. You may need to have a section of your house removed because it can cause huge problems in the future. Once we get your signal to go ahead, we will make the process simple for you whether our services are needed for a large demolition project or for something as small as a mobile home demolition project. We use top-notch and state-of-the-art tools and equipment to get the job done.
How We Provide Our Manchester, NH Home Demolition Service
As a company specializing in house demolition in Manchester, NH, we strive to provide each client with exceptional services. Your safety is our top priority. We follow strict safety measures to avoid accidents. You can hire our contractors to demolish an entire house or just a portion of it. Some of the tools we use to demolish a building include cranes, bulldozers, and excavators. Depending on what you're demolishing, the techniques employed and the considerations taken by residential demolition contractors to deal with harmful materials can be different. When hiring residential demolition contractors, you need to be very cautious. We will consult with you even when dealing with a simple mobile home demolition project, so you can have peace of mind knowing that you are in the right hands. Rest assured we will lay out the demolition plan before we start.
Things to Consider When You Get a Home Demolition Price Estimate in Manchester, NH
Now that you know how we handle our Manchester, NH house demolition service, you might be wondering how much we charge. Before you completely say yes to an offer, see to it that you check every factor involved. By examining the rates, you can check which among the different home demolition companies in the area offers the most competitive services. We guarantee to send qualified residential demolition contractors to assist you. Rest assured that our affordable mobile home demolition package includes everything you need to get a flawless finish. Don't put your fate in an inexperienced company. When you're browsing for a team for your home project, make sure you compare their rates.
Required Residential Demolition Preparations in Manchester, NH
You will need to submit the documents to the local Manchester, NH office. You can't start a house demolition or mobile home demolition job without a permit from the local government. Our residential demolition contractors are licensed to do the work that you need done, and they will also help you obtain the proper permits for the project at hand. This will help you avoid unnecessary fines and delays in your project. If you have questions about the documentation requirements in your area, contact our team. You can ask our experts about the documentations needed.Getting ready for a Residential Demolition in Manchester, NHSo you've made up your mind to hire a professional for your Manchester, NH home demolition plan. The next logical step is to prepare your house for the demolition job. The area must be cleared out by removing all the furniture and personal items in it. Once your permit application is granted, the next step is to prep your house for demolition. Make sure you remove any personal items or important home equipment. There shouldn't be anything left inside the house during the demolition job to avoid interruptions. You will also need to have a definite timeline for undertaking a mobile home demolition. This way, you will know how long the procedure will take, and what you should do once it's done. Once a demolition job starts, it would be expensive to stop it.
Instances That Call for Residential Demolition in Manchester, NH
There are other possible reasons for a house demolition. Some possible reasons that could justify demolitions: unstable foundation, widespread infestation in the house, and when there is a need to build a new structure. Timeworn buildings on your estate could be shabby and risky, and they need to be demolished for aesthetic or safety reasons. It is better to call a demolition specialist to lend you a hand instead. Renovation is mostly recommended for aesthetic purposes, while Manchester, NH residential demolition is done to create better and more durable structures. Irrespective of the renovation you are about to make to your house, you need to hire the right company for the job if it involves taking down a portion of your home.
Equipment and Tools Used for Residential Demolition in Manchester, NH
The residential demolition contractors at Omni Demolition have provided safe and reliable home demolition services in Manchester, NH for many years now. There are several types of equipment used in the industry today-loaders, material handlers, trucks, grapples, excavators, and pulverisers to name a few-and we have access to all of them. Even better, we have all the experience and technical know-how needed to carry out the task at hand. Through our high-powered tools and equipment, we can assure the timely completion of our services. Thanks to our high-precision equipment, we can provide a definite project schedule.
Call for a Quick and Seamless Home Demolition in Manchester, New Hampshire
For more many years, we have provided residents of Manchester, New Hampshire with quality demolition services. Fortunately, you can count on our team to help you remove and knock down the defective parts of your house. With all the right equipment, we assure you of minimal time, to complete the task at hand. All our residential demolition contractors in Manchester, New Hampshire are certified, and full background checks have been carried out on all of them. Our company has proudly served many residential, commercial and industrial property owners in Manchester, NH, and we're proud to assist you as well.
Zip Code Areas We Service in Manchester
03109, 03104, 03101, 03103, 03102, 03105, 03108, 03111