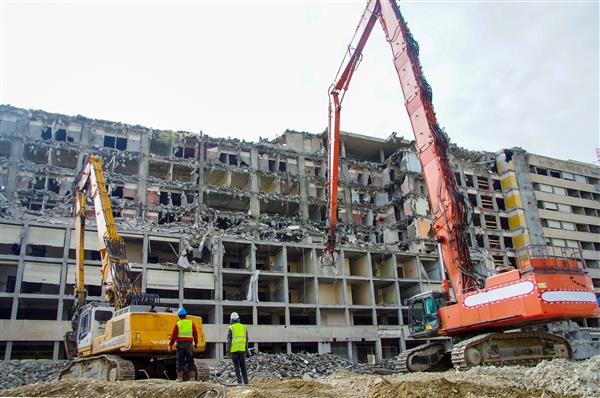 Expert Demolition Contractors Passaic, NJ: Your Partner Demolition Company
Omni Demolition has demolition contractors at your service whose specialty is providing superior-quality, safe and cost-effective services for all our clients. You are guaranteed to get the best value for your money with our expertise partnered with updated equipment and strict adherence to state safety regulations and policies. If you need to hire a professional demolition contractor in Passaic, NJ without spending a ridiculous amount of money, you have come to the right place. Our team of demolition experts provide outstanding demolition services whether complete or selective. For complex demolition jobs, we offer reliable demolition services.
The Objectives of Demolition and Deconstruction in Passaic, NJ
Knowing the difference between a demolition and a deconstruction will save you from further confusion. Our demolition expert tests and removes hazardous material before knocking down the building. Deconstruction, on the other hand, is the disassembling of a building while preserving its re-usable parts. Deconstruction could be a component included in the demolition where our skilled team removes all hazardous and re-usable objects prior to the building being knocked down.
Economical Services for Your Demolition Project in Passaic, NJ
Our demolition experts have a solid record of work experience aside from continually receiving refresher trainings every now and then to ensure that they are well updated with any enhancements or changes in technology and procedural protocol. If you wish to have a an effortless and hassle-free experience when leveling a property in Passaic, NJ, we are the demolition contractor that you can rely on. It is our core mission to exceed all your expectations. You will not find another demolition contractor in all of Passaic, NJ who will help you save and spend wisely.
Our Main Demolition Services in Passaic, NJ
Industrial Demolition services: We have an impeccable history in handling industrial buildings such as warehouses, chemical plants, mills and more. No matter how gigantic the structure is, our team of experts can surely manage.
Commercial Demolition services: If you are looking for a reliable demo company, our reputation and years in the business is your assurance. Our past contracts include leveling bridges, dilapidated malls, airplane hangars, and even grocery stores.
Concrete Demolition and Recycling Services: Our demolition experts will help you realize your green-building initiative. We turn construction debris such as crushed concrete into gravel or a dry aggregate for making new concrete.
Scrap Metal Demolition Services: Our demo company will also clear out your property of any undesirable steel erections and salvage any existing metal scraps for recycling.
We Stay Ahead Other Demolition Companies in Passaic, NJ
Our demolition experts and demolition contractors offer a professional and innovative approach to all your demolition projects. Our demolition experts and demolition contractors have an established performance record of completing demolition jobs in the right way, on budget and on time. An emerging demo company from years back, we are now among the top contractors in the city when it comes to leveling residential, commercial and industrial properties. As an established demo company, we continue to make innovations in the field of construction while also maintaining the highest standards of our services.
The Types of Methods Used in Demolition and Deconstruction in Passaic, NJ
Explosive Demolition: This method should be done only by experienced demolition experts in Passaic, NJ as it involves safety parameters that should be strictly observed. It involves turning a switch to initiate an explosion, which will then collapse the building into a mound of rubble.
Non-Explosive Demolition: Although somehow rare, our local demolition contractors use a wrecking ball to tear down a structure. Compared to using explosives, this method costs less; however, there is limited control on the amount of damage each swing can make.
Selective Demolition: Our demo contractors are the most sought-after for their record in successfully extracting or tearing down selected parts of a structure. We are one of the few building demolition companies who can conduct a customized approach depending on the client requirement.
Important Demolition Equipment in Passaic, NJ
Hydraulic Breakers – Our demo company uses a percussion hammer attached to an excavator. This powerful equipment is used for bringing down concrete structures.
Wrecking balls – A massive ball made of steel, it is suspended on a crane and maneuvered into a swinging motion to tear down a building. It sounds less dangerous than using explosives but the use of wrecking balls gives little control to the depth of damage done, hence it requires careful and professional handling.
Hydraulic Shears and Rock Breakers – They can be able to quickly and effectively cut through rocks, concrete, steel, wood and metal.
Bulldozers – A favorite among contractors, a bulldozer can be an intimidating piece of equipment on wheels although it is fairly easy to maneuver. It can be used to transport copious amounts of waste, as well as to wreck walls.
Dumpers – Not every demolition business have their own dumpers but we use them for taking waste products and debris off the site.
Cranes – Demolition contractors will need to use a crane in long-reach or high-reach demolition projects. A wrecking ball is suspended on a crane, from where it is swung to demolish a structure partly or wholly. A crane is a very important piece of equipment in any demo company.
Crawler Loaders – They can be used to bring down heavy smaller-sized structures. They can also be used to move debris.
For all your Demolition Needs contact us in Passaic, New Jersey
Your number one demolition company in Passaic, New Jersey is always at your service. With us you are guaranteed to have a safe and worry-free operation to be completed by field experts. As an established demolition company, we maintain high standards of service and workmanship no matter how big or small a contract is. We are the Passaic deconstruction and demolition company to go to for premium and safe demo services. For all your demolition needs, call us at
(855) 885-3366
.
Zip Code Areas We Service in Passaic
7055