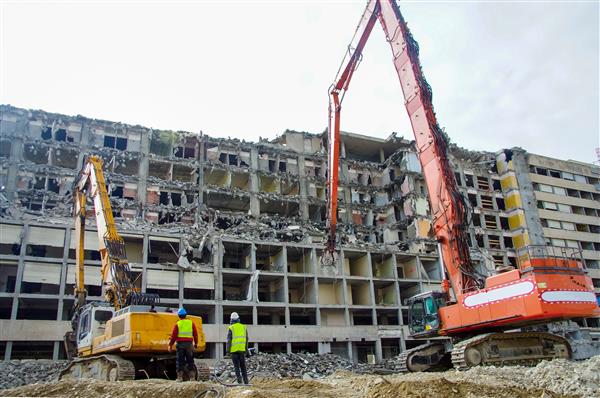 Expert Demolition Contractors Albuquerque, NM: Your Partner Demolition Company
When looking to hire demolition contractors in Albuquerque, NM, Omni Demolition is your best choice. At any given time, our demolition contractor will be at your service to help you with your demolition, excavation and wrecking projects in Albuquerque, NM. Always making sure that our clients are not kept in the dark, our demolition experts will guide you accordingly when it comes to recommended methods, pricing and procedures to be enacted. We have the right equipment for any kind of demolition work.
How is Demolition Different from Deconstruction in Albuquerque, NM?
Demolition is the process of tearing down or pulling down buildings and structures by a demolition expert. Some projects require complete levelling while others simply need specific parts removed to be replaced. For every client call, we have a demolition expert equipped to do the job. Knowing the accurate requirements for your project is important to steering it into the right direction. The rubble from the process is either disposed-off as waste, used as clean fill or re-used as aggregate. In case of metal structures, the scrap metal is recycled.
Economical Services for Your Demolition Project in Albuquerque, NM
Our demolition experts will meticulously execute your demolition project in a timely and safe manner. Compared to other demolition contractors who are highly profit-driven, we are committed to giving back to the community through outstanding workmanship and transparent transactions. We have a proven record of accomplishment in excellence. No other demolition contractor in all of Albuquerque, NM will provide you with top-of-the-line workmanship at cost-effective packages.
Our Demolition Services in Albuquerque, NM
Industrial Demolition services: We are the authority in collapsing massive structures like bridges, factories, industrial buildings and plants.
Commercial Demolition Services: We know all the ins and outs of this delicate procedure. No matter the job, you can be rest assured that our demo company will give you the best results. Our demolition experts have the know-how and experience to bring down buildings and structures even in very tight spaces. Be it tearing down a mall, strip center, warehouse, bridge, hangar or structures in metropolitan areas, we have got you covered.
Concrete demolition and recycling services: Our demolition experts are experienced in salvaging not only metal scraps but concrete structures and slabs as well.
Scrap Metal Demolition Services: Our demo company will expertly demolish your scrap metal projects. Our crew will downsize as well as dismantle the steel structures then process, bundle and recycle the materials.
We Stay Ahead Other Demolition Companies in Albuquerque, NM
Our demolition experts and demolition contractors offer a professional and innovative approach to all your demolition projects. We are a class above the rest. What sets us apart is our unshaken resolve to achieve 100% in customer satisfaction. An emerging demo company from years back, we are now among the top contractors in the city when it comes to leveling residential, commercial and industrial properties. You will never find a more reliable demolition company in Albuquerque, NM than us.
Main Methods Used in Demolition and Deconstruction in Albuquerque, NM
Explosive Demolition: It is also known as the implosion method. Our demolition experts fix a building's or structure's slabs, columns and beams with explosives. Once the explosives detonate, the columns collapse and so does the building or structure.
Non-Explosive Demolition: Although somehow rare, our local demolition contractors use a wrecking ball to tear down a structure. Compared to using explosives, this method costs less; however, there is limited control on the amount of damage each swing can make.
Selective Demolition: This is also known as interior demolition. When your building or property is structurally sound but its interior needs to be remodeled or upgraded, our demo contractors apply selective demolition. We use highly advanced demolition techniques giving us a reputation that other building demolition companies cannot match.
The Main Equipment Used in Demolition in Albuquerque, NM
Hydraulic Breakers – Our demo company uses a hydraulic breaker to demolish rocks and concrete structures. Its powerful hammer causes destruction on the targeted object in a matter of seconds.
Wrecking Balls – Although less common in demolition sites, it is an efficient way of demolishing a concrete structure. This solid steel ball is attached to a crane. It is then swung to the targeted building several times to strike down the structure.
Hydraulic shears and rock breakers – Designed to cut through the toughest materials with very minimal effort, these tools are attached to excavators to do the job. They can slice through rocks, concrete, metal, wood and steel.
Bulldozers – A bulldozer is a heavy piece of equipment that has a robust bucket attachment. This attachment enables the bulldozer to clear trash, rubble and debris from a demolition site. Bulldozers are multi-purpose, they can also be used to push down heavy smaller-sized structures.
Dumpers – Essential in clearing a demolition site, our dumpers make it easier and quicker to take out unwanted debris and materials from the site to be properly disposed of. Our demolition business has invested in quality dumpers to ensure a speedy clean-up of the property and that your project timeline is met.
Cranes – Demolition companies use cranes to move materials from different levels of a structure. A demo company will also use this machinery together with a steel ball. For a wrecking ball to work, it has to be attached to the crane.
Crawler Loaders – Also meant to be used in excavating, crawler loaders have declined in popularity compared to hydraulics that can be used in heavy drilling. This equipment, however, can run on its own power as opposed to hydraulic excavators that more often require towing.
Call us Today for Demolition Services in Albuquerque, New Mexico
If you are in dire need of a reliable demolition company in Albuquerque, New Mexico but are quite not sure what kind of method you will require and how much it will cost you, do not hesitate to call us. You can rest easy knowing that we have a solution for all your demolition projects. As an established demolition company, we maintain high standards of service and workmanship no matter how big or small a contract is. Get in touch with the leading Albuquerque deconstruction and demolition company. Go ahead and give us a call today at
(855) 885-3366
. We are always at your service.
Zip Code Areas We Service in Albuquerque
87121, 87123, 87112, 87113, 87110, 87111, 87116, 87114, 87109, 87108, 87102, 87105, 87104, 87107, 87106, 87120, 87101, 87103, 87115, 87119, 87125, 87131, 87151, 87153, 87154, 87158, 87176, 87181, 87184, 87185, 87187, 87190, 87191, 87192, 87193, 87194, 87195, 87196, 87197, 87198, 87199