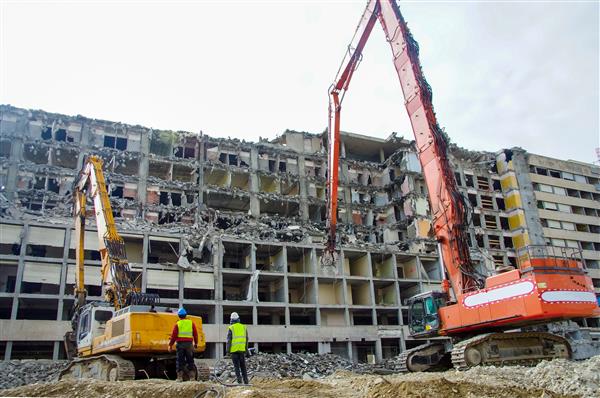 The Demolition Company with Demolition Contractors in Las Cruces, NM You Can Count On
For years, Omni Demolition has continuously served and established its reputation as the most trusted demolition contractor in Las Cruces, NM. We will be able to complete your project in a professional, cost-effective and safe way. If you need to hire a professional demolition contractor in Las Cruces, NM without spending a ridiculous amount of money, you have come to the right place. Our team of demolition experts provide outstanding demolition services whether complete or selective. We are an environmentally friendly company.
The Difference Between Demolition and Deconstruction in Las Cruces, NM
Demolition is taking down or dismantling a building or structure with a strong and overwhelming force whose end result is rubble or waste. Demolition can either be selective or explosive. Explosive demolition uses mostly dynamite to bring down big buildings. Selective demolition involves bringing down a part of a building or tearing a section of a wall by a demolition expert. A deconstruction may be a prerequisite to the actual demolition process where hazardous materials are taken out prior to the tear down of the structure. It is usually done when one wants to remodel or improve a part of the building. Some projects require complete levelling while others simply need specific parts removed to be replaced. For every client call, we have a demolition expert equipped to do the job.
Why Choose Us as Your Company of Choice for Your Demolition Project in Las Cruces, NM
Our demolition experts have a solid record of work experience aside from continually receiving refresher trainings every now and then to ensure that they are well updated with any enhancements or changes in technology and procedural protocol. Some demolition contractors offer their services at rock bottom prices but this may cost you more in the long run. Most sales agents will promise everything just to close a deal but are no longer accountable when their team fails to deliver. Taking down a structure sounds chaotic but unlike other demolition contractors, our services are done with utmost care and with as little disturbance to the community as possible.
Check Our Broad Range of Demolition Services in Las Cruces, NM
Industrial Demolition Services: This requires application of specialized techniques by highly trained professionals. We will safely and effectively bring down industrial structures such as factories, mills and manufacturing plants among others.
Commercial Demolition services: We are the demo company to call when it comes to commercial spaces that require strategic planning, especially narrow and often crowded areas. Our capability in wrecking restaurants, grocery stores, and office buildings shows our mastery in handling business districts.
Concrete demolition and recycling services: We are the only demolition experts who carefully set aside re-usable materials from your site for possible future use such as slabs to be crushed later on into gravel.
Scrap Metal Demolition Services: Our demo company is also experienced in extracting steel and metal from a building.
We are Unparalleled by Other Demolition Companies in Las Cruces, NM
We take pride in deploying demolition experts and demolition contractors who are not simply knowledgeable on the job but also skilled and experienced all across the state. Our demolition experts and demolition contractors are dedicated to meeting all your needs. We are a top-rated demolition company in Las Cruces, NM. Our demo company appreciates all our clients and we demonstrate this by endeavoring to give you nothing but the very best.
Methods Conducted by Experts on Demolition and Deconstruction in Las Cruces, NM
Explosive Demolition: Done by licensed demolition experts in Las Cruces, NM, this method may sound dangerous and it could be when proper procedures are not followed. After explosives are strategically laid out, a switch is all it takes to completely take down a building.
Non-Explosive Demolition: Our local demolition contractors will use a wrecking ball attached to a crane to knock down a building. The heavy wrecking ball is swung several times on the targeted structure before it can collapse.
Selective Demolition: Recommended for buildings that are being rebuilt, selective demolition involves carefully removing some parts of the building to make way for a modified construction. Unlike new and upcoming building demolition companies, our demo contractors are experienced in extracting parts of the building while still maintaining its structural integrity.
Common Equipment Used for Demolition in Las Cruces, NM
Hydraulic Breakers – Our demo company will use this heavy hammer to demolish rocks or concrete structures. Hydraulic breakers are also an important part of recycling operations.
Wrecking Balls – A wrecking ball is made from steel. It is suspended from a steel chain attached to a crane and is used to demolish large buildings. It is swung several times towards the intended structure until the structure crumbles. The working of a wrecking ball relies on the skills of an experienced operator.
Hydraulic Shears and Rock Breakers – They can be able to quickly and effectively cut through rocks, concrete, steel, wood and metal.
Bulldozers – They are used to push demolition debris. They are also used to tear down smaller structures, clear the property of rubble or pile the debris.
Dumpers – In the demolition business, they are used for moving rubble and debris away from the demolition site.
Cranes – Demolition contractors utilize a crane to ease the burden of moving heavy materials or equipment back and forth on a construction site. Our demo company also uses cranes to suspend wrecking balls for non-explosive demos.
Crawler Loaders – Also called caterpillars, crawlers have flexible ground mechanism allowing them to be useful even on uneven terrain. They are primarily used for excavating.
Dial OurNumber for Top Rated Demolition Services in Las Cruces, New Mexico
A proper assessment from a qualified demolition company in Las Cruces, New Mexico is necessary before you proceed with any major changes in your property. We will meet all your demands and give the same meticulous attention to your projects no matter the size. We are your one-stop-shop demolition company and we offer free consultation plus an accurate estimation of the costs. As the top Las Cruces deconstruction and demolition company, no job is ever too big or too small for us. Call us today at
(855) 885-3366
and get your job done quickly, flawlessly and affordably.
Zip Code Areas We Service in Las Cruces
88012, 88011, 88005, 88007, 88001, 88006, 88013