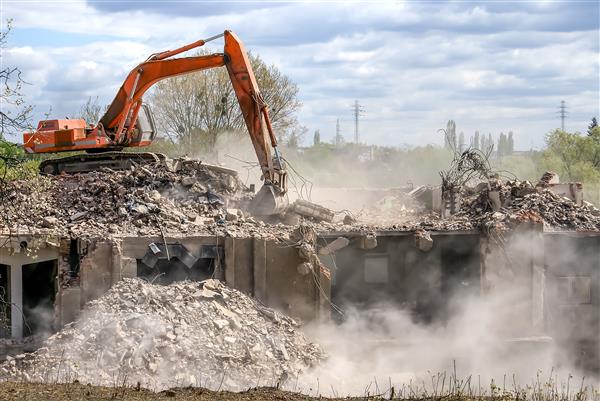 A First-Class Company for all Your Concrete Removal Needs in Schenectady, NY
There are a number of reasons why you might need to hire our concrete removal services in Schenectady, NY. Our highly trained experts undergo rigorous and continuous training to ensure that any concrete slab removal or concrete hauling job is executed safely and correctly. Omni Demolition is the most reliable concrete expert in the city. We have spent years perfecting our services.
Concrete Removal Equipment Used in Schenectady, NY
We use hydraulic hammers, pneumatic hammers, mounted breakers, pallet jackets, hoists, and bobcats among others in Schenectady, NY. Other equipment used in concrete slab removal in Schenectady, NY are jack hammers, hoists, pallet jacks and bobcats. It takes professionals with years of experience to safely remove concrete. We give importance to our client's time which is why we ensure equipment and material readiness to avoid any delays to your projects. Demolition hammers are efficient and quick when it comes to demolition work such as removing concrete driveway, concrete slab demolition or concrete wall demolition. Pavement breakers are used when you need to partially repair a section of a pavement; it is able to demolish a few inches of the concrete pavement without breaking it up completely. Pavement breakers are also used for heavy demolition jobs. In primary demolition, equipment and tools such as the wrecking ball, hammers and crushers demolish concrete into big sized rubble.
When Do You Need Concrete Demolition Services in Schenectady, NY?
Concrete removal is an essential part of making your home, building or structure beautiful. Some of the main reasons include the overall condition of the structure and presence of faulty wirings or leaky water pipes underneath the cement. The concrete demolition and concrete hauling process is necessary in some circumstances such as when your structure has aged significantly, when your building has widespread cracking, when you are planning to improve or upgrade your structure and when frost heave occurs. Great concrete quickly transforms the look of a structure. It also upgrades the quality of a building and comfort of the residents. Our team of experts is capable of doing the job safely.
Which Concrete Removal Permits are Required in Schenectady, NY?
Here at Omni Demolition we want you to save money when hiring us to do a concrete removal or concrete hauling project, so we will take care of filing the permit for you. Some of the concrete structures requiring permits include seawalls and sidewalks, among others. Unlike other concrete removal companies, Omni Demolition will take care of all the permit preparations for you. Often, the permits are necessary to allow governing bodies to check on how the demolition process is being conducted. Start by applying for a permit from the local authority. Other contractors hire a third-party permit service provider to file the necessary permit but this could only mean additional expenses for you. At Omni Demolition, you can trust our team to assist you in securing the required clearances and permits.
How Much You Should Spend on a Schenectady, NY Concrete Demolition
There are a number of factors that contribute to the cost of concrete removal with the biggest contributor being the total area of concrete to be removed. The larger the square footage, the more tools and labor required for the job. In addition, the more concrete demolished, the higher the disposal fee and the heavier the waste, the higher the cost of transportation. Other companies reach a higher price range of $15,000+. There will be tricky companies who will make a simple patio demolition or patio removal as complicated as possible to deceive you into agreeing to unreasonably expensive estimates. We might not have rock-bottom prices but considering the excellent workmanship and first rate customer service we provide, you are guaranteed the best value for your money. We can help you regardless of the type of project you wish to work on. Our quote covers the entire concrete demolition process.
How Long Do Concrete Demolition Projects Take Place in Schenectady, NY?
No concrete demolition project is completely the same as each requires varied materials, manpower, equipment and time frame to finish. We plot reasonable timetables for the complete operation in Schenectady, NY, from preparation, to actual concrete slab removal, up to concrete hauling and site clearing. At our company, we are able to finish a demolition or hauling job within as little as a few days, depending on the size of the property. We have handled countless demo jobs in Schenectady, NY and our loyal clients can testify to our diligence in completing our projects on time. We adhere to all the fundamental and basic principles of effective project management.
Is It Possible to Recycle concrete in Schenectady, NY?
Do you ever wonder where all the waste from a concrete demolition and removal project go? Ever wonder how this type of material can be used again? Our team recycles crushed and cut concrete slabs. Our concrete demolition contractors can also use recycled concrete for landscaping projects. It reduces the need for transportation and disposal fees at the landfill. We can guide you through the process if you choose to have your concrete waste recycled.
Contact Our Schenectady, New York Concrete Demolition Experts
Our concrete demolition services in Schenectady, NY consist of concrete slab removal and concrete removal service. Whether you require complete or partial concrete slab removal Schenectady, NY, you can expect prime services at a reasonable price. Our history of completed projects speaks for us when it comes to expertise, safety requirement compliance, and outstanding workmanship. First rate customer service need not make a dent in your savings. Using state-of-the-art equipment and cutting-edge technology in execution, you can be certain that your project is in great hands. Contact us today for a concrete removal service!
Zip Code Areas We Service in Schenectady
12305, 12304, 12307, 12308, 12301, 12325, 12345