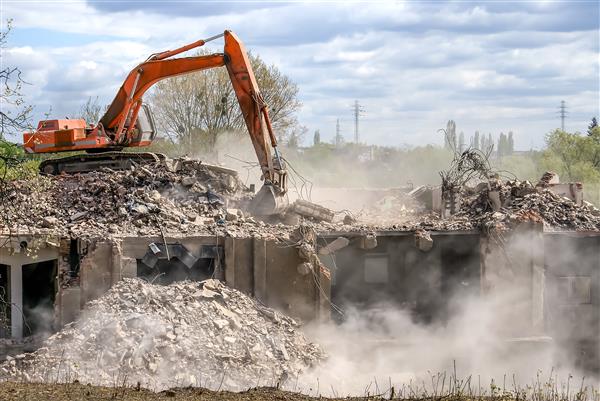 Reliable and Budget-Friendly The Bronx, NY Concrete Removal Service
There are a number of reasons why you might need to hire our concrete removal services in The Bronx, NY. When it comes to concrete slab removal and concrete hauling, we are your number one choice. Whether you wish to remodel a small section of your house or rebuild the entire structure, you can count on us to provide a good service. At Omni Demolition you can benefit from our affordable fees and quick delivery time.
Important Equipment Used for Concrete Removal in The Bronx, NY
Manual concrete demolition is done on small or residential structures. Omni Demolition uses state of the art technology dedicated to do rapid yet effective concrete slab removal and concrete hauling. A few examples of the equipment we use include chipping hammers, demolition hammers and hydraulic concrete crushers. Mechanical concrete demolition is used on bigger sized structures such as a concrete silo. Types of equipment used for getting this kind of job done are bulldozers, excavators, loaders and cranes. We also use jackhammers, pallet jacks, bobcats and hoists for demolition work such as removing concrete driveway, concrete slab demolition and concrete wall demolition. Consulting with a trained expert is important, as there are a number of things that need to be considered before embarking on concrete removal, such as your legal obligations and safety requirements. When everything about your structure screams it is time for demolition, safety should be your priority.
Why Is It Important to Carry Out Concrete Demolition in The Bronx, NY?
There are several reasons why a house needs to be demolished. Temporary resurfacing cracked surfaces or patching up crumbling foundations will only cause repeated spending, more hassles and even threaten the safety of the building occupants. We have an expert team of laborers, managers and engineers who see to it that demolition and concrete hauling standards are met if not exceeded. When buildings become old, their concrete slabs become unstable posing a threat to anyone living in or around such establishments. Safety is a primary concern for any concrete demolition job.
No Need to Stress Over Concrete Removal Permits and Requirements in The Bronx, NY
It is essential that before you start your concrete hauling project, you have already secured a concrete removal permit in The Bronx, NY. Avoid dealing with questionable concrete removal companies that overcharge for permit processing fees. You will definitely need a permit depending on the nature of your project. Usually, you have to obtain a form of approval from the appropriate regulatory body before you can lawfully proceed with the demolition. You must submit your application together with all the required documents. Some of the required paperwork include clearances from your electric, water and gas companies. You may be required to get in touch with the gas, electric and water company for clearances or reports.
How Much Should I Pay for a Concrete Demolition Project in The Bronx, NY?
The cost of a concrete demolition project depends on the size and location of the project. You need to factor in the cost of permits and hauling as well. The larger the square footage, the more tools and labor required for the job. In addition, the more concrete demolished, the higher the disposal fee and the heavier the waste, the higher the cost of transportation. Hauling and disposal costs depend on the amount of debris and the distance from the demolition site to the disposal facility. Patio demolition and patio removal are some of the demolition projects we specialize in. We might not have rock-bottom prices but considering the excellent workmanship and first rate customer service we provide, you are guaranteed the best value for your money. On average, demolishing unreinforced concrete in a two-car driveway will cost you somewhere between $1,500 and $2,500. Bigger projects average between $4,000 and $14,000. Demolition permits on the other hand vary greatly and will cost you an average of $200, but can cost up to $10,000 depending on where you are located.
How Long Can I expect a Concrete Demolition Project to Take in The Bronx, NY?
Firstly, we begin with a site visit. Then we discuss all the aspects of the concrete demolition project with you. Next, we develop the best possible way to tackle the task at hand. We use a complete inventory of tools and equipment for jobs such as a concrete slab removal, concrete demolition and concrete hauling. At our company, we see to it that our clients understand what happens during every step of the process. We have handled countless demo jobs in The Bronx, NY and our loyal clients can testify to our diligence in completing our projects on time. Thorough preparation and planning need to be done in order to execute the project safely and with precision.
Is it Possible to Recycle Concrete in The Bronx, NY?
It comes right after a concrete demolition and removal project. A demolition project can generate tons of waste materials. Fortunately, we can recycle the removed concrete so you can use them as base materials for your asphalt pavement, patios and other parts of the project. Our concrete demolition contractors can also use the recycled concrete for landscaping. You can get paid by companies who reuse concrete in major constructions such as road paving and you also help minimize damage to the environment through responsible recycling – it's a win-win situation! Recycled concrete has been gaining popularity among the community of demolition and construction experts in the city.
Why Choose us for All Your Concrete Demolition Needs in The Bronx, New York?
Our team of experts uses modern concrete slab removal techniques and high end equipment, ensuring outstanding concrete demolition services at all times. At Omni Demolition, we handle all types of concrete demolition project-from scanning work to wall cutting, and from sawing to core drilling, there is no concrete slab removal project that is out of bounds for us. We are self-driven in completing all our tasks with accuracy. We have been in this business for many years. We guarantee to come and fix your concrete-related problems fast. Dial our phone number today and let us know what concrete removal service you require. Call us today at
(855) 885-3366
for a free consultation and ask one of our agents for a free estimate.
Zip Code Areas We Service in The Bronx
10453, 10457, 10460, 10458, 10467, 10468, 10451, 10452, 10456, 10454, 10455, 10459, 10474, 10463, 10471, 10466, 10469, 10470, 10475, 10461, 10462, 10464, 10465, 10472, 10473