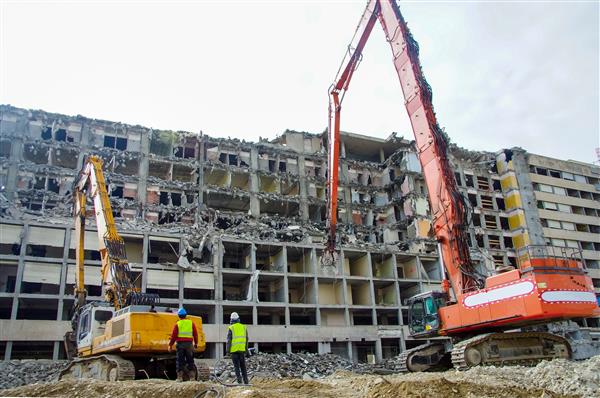 Demolition Contractors in Buffalo, NY: Your Trusted Demolition Company
Omni Demolition has demolition contractors at your service whose specialty is providing superior-quality, safe and cost-effective services for all our clients. Our main goal is to provide affordable services without compromising the quality of our work. No job is ever too big, too small or too demanding for us. We have a team of seasoned demolition experts ready to act on any project. The primary projects we undertake are demolition and deconstruction.
Distinction Between Demolition and Deconstruction in Buffalo, NY
Demolition can be described as dismantling of buildings or a specific room by a demolition expert. A demolition expert may order a deconstruction if parts of the original structure need to be retained or hazardous materials and reusable items need to be extracted before an actual demolition. Deconstruction, on the other hand, is the disassembling of a building while preserving its re-usable parts. In instances where a building will be remodelled or reconstructed, a deconstruction is more appropriate.
What We Do in Buffalo, NY
We know that before you consider hiring us, you will want to understand how the job gets done by our demolition experts. As professional demolition contractors, we religiously adhere to state policies and regulations. Being in the business for years, our experience and continued trainings ensure that you work with only the most able specialists in the industry. You will not find another demolition contractor in all of Buffalo, NY who will help you save and spend wisely. Whether small or large, we strive to always provide you with the highest possible standards of service in completing your projects within your budget and timeframe without complications. Whether small or large, we strive to always provide you with the highest possible standards of service in completing your projects within your budget and timeframe without complications.
Check Our Broad Range of Demolition Services in Buffalo, NY
Industrial Demolition services: We have taken down massive structures such as warehouses, industrial buildings, bridges, power plants, and mills. Our special equipment and expertise allow for the safe demolition of vast properties.
Commercial Demolition services: We are the demo company to call when it comes to commercial spaces that require strategic planning, especially narrow and often crowded areas. Our capability in wrecking restaurants, grocery stores, and office buildings shows our mastery in handling business districts.
Concrete Demolition and Recycling Services: This type of demolition is environmentally friendly and saves on cost. Rubble from concrete demolition is reused by our demolition experts to make gravel or as one of the materials for making new concrete.
Scrap Metal Demolition Services: Allow our demo company to take down your metal structure. Our experts will downsize and process scrap metal for the purpose of recycling or reusing.
We Lead, Other Demolition Companies Follow in Buffalo, NY
We are professional demolition contractors who offer superior quality services. Our demolition experts and demolition contractors have an established performance record of completing demolition jobs in the right way, on budget and on time. As an established demolition company in all of Buffalo, NY, we see to it that our services, equipment and workmanship are always above customer satisfaction. Our demo company delivers effective and safe results on your time and budget.
Main Methods Used in Demolition and Deconstruction in Buffalo, NY
Explosive Demolition: Our demolition experts carefully consider all factors before flipping the switch that will initialize explosives to go off and promptly annihilate the target building in Buffalo, NY.
Non-Explosive Demolition: Our local demolition contractors will use a wrecking ball to demolish a building in situations that do not allow the use of explosives.
Selective Demolition: This type of demolition is done when you want to remodel or renovate a building. It can either be exterior or interior by nature. Exterior demolition involves tearing down a part of the building with a purpose of increasing it in size or making it smaller. Interior demolition focuses mostly on taking apart spaces for remodeling or renovation.
Demolition Equipment in Buffalo, NY
Hydraulic Breakers – This strong hammer is built to withstand heavy and rigorous use. As one of the high-quality demolition tools used by our demo company, it offers greater productivity in regards to speed, efficiency and its overall performance.
Wrecking Balls – Although less common in demolition sites, it is an efficient way of demolishing a concrete structure. This solid steel ball is attached to a crane. It is then swung to the targeted building several times to strike down the structure.
Hydraulic Shears and Rock Breakers – They are usually attached to excavators and then used to make clean cuts through concrete, metal, wood and rocks of large structures.
Bulldozers – They are used to remove huge rubble and dirt piles. They are also used to push down smaller-sized structures and buildings.
Dumpers – Not every demolition business have their own dumpers but we use them for taking waste products and debris off the site.
Cranes – Demolition contractors utilize a crane to ease the burden of moving heavy materials or equipment back and forth on a construction site. Our demo company also uses cranes to suspend wrecking balls for non-explosive demos.
Crawler Loaders – They are efficient in moving heavy rubble and waste from the demolition site. They can also be used to demolish heavy structures as well as clear the ground.
Contact Us for Cost-effective Demolition Services in Buffalo, New York
We are ranked as the leading demolition company in Buffalo, New York. You can rest easy knowing that we have a solution for all your demolition projects. We are your one-stop-shop demolition company and we offer free consultation plus an accurate estimation of the costs. Our Buffalo deconstruction and demolition company has highly skilled personnel with years of experience in the demolition business. Get in touch with us today at
(855) 885-3366
and we will be more than glad to help.
Zip Code Areas We Service in Buffalo
14208, 14209, 14202, 14203, 14201, 14206, 14207, 14204, 14220, 14222, 14218, 14211, 14210, 14213, 14212, 14215, 14214, 14216, 14205, 14231, 14233, 14240, 14241, 14260, 14263, 14264, 14265, 14267, 14269, 14270, 14272, 14273, 14276, 14280