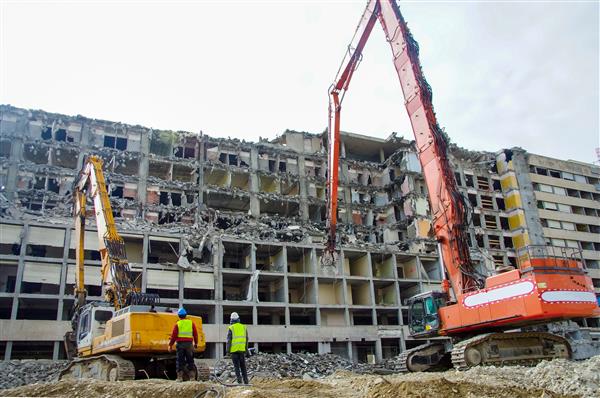 Demolition Contractors Mount Vernon, NY: Your Trusted Demolition Company
Omni Demolition has efficient and expertly trained demolition contractors. Just like any other major construction or remodeling plan, having a property demolished requires the skills of professionals, along with the use of appropriate equipment. We have an enduring assurance to safety. Led by deconstruction experts in the industry in Mount Vernon, NY, our demolition experts offer innovative approaches to all your projects, whether big or small. We have the resources and expertise to offer you the best solutions in a safe and professional manner.
What is the Difference between Demolition and Deconstruction in Mount Vernon, NY
Demolition is taking down or dismantling a building or structure with a strong and overwhelming force whose end result is rubble or waste. Some projects require complete levelling while others simply need specific parts removed to be replaced. For every client call, we have a demolition expert equipped to do the job. There are two categories of deconstruction, namely soft strip or selective deconstruction and whole-house deconstruction. On the other hand, whole-house deconstruction entails tearing down an entire structure and salvaging any reusable or recyclable materials.
Discover Our Amazing Services for All Your Demolition Projects in Mount Vernon, NY
Our demolition experts and demolition contractors in Mount Vernon, NY offer superior services in demolition for all your projects. Compared to other demolition contractors who are highly profit-driven, we are committed to giving back to the community through outstanding workmanship and transparent transactions. Most sales agents will promise everything just to close a deal but are no longer accountable when their team fails to deliver. You will not find another demolition contractor in all of Mount Vernon, NY who will help you save and spend wisely.
What Demolition Services Can You Expect to Find in Mount Vernon, NY?
Industrial Demolition Services: We can handle any challenging industrial demolition project you may have. With our world-class equipment and staff, we are able to demolish plants, mills, manufacturing buildings and so on.
Commercial Demolition Services: This type of demolition requires tact in working around obstacles. Our demo company is highly skilled in demolishing commercial structures such as hotels, retail spaces, office buildings, warehouses, bridges and airplane hangars among others.
Concrete demolition and recycling services: Our demolition experts can break down concrete surfaces and slabs into reusable gravel.
Scrap Metal Demolition Services: Our demo company is also experienced in extracting steel and metal from a building.
The Top Choice Among Demolition Companies in Mount Vernon, NY
Our highly trained demolition contractors are able to offer flexible services to suit your specific needs. Our demolition experts and demolition contractors are dedicated to meeting all your needs. Using cutting edge technology added to our team's expertise, our demolition company is guaranteed to deliver more than promised. You will never find a more reliable demolition company in Mount Vernon, NY than us.
Authorized Methods for Demolition and Deconstruction in Mount Vernon, NY
Explosive Demolition: We have a team of demolition experts in Mount Vernon, NY who thoroughly oversee the process of using explosives to crumble a structure, including the strict adherence to safety regulations and environmental protocols.
Non-Explosive Demolition: When a building structure does not allow the use of bombs, a wrecking ball is often utilized to take it down. Compared to other local demolition contractors, our experts use wrecking balls with careful precision. The heavy steel ball is swung into the targeted building causing it to gradually crumble.
Selective Demolition: This method is used when buildings are being remodeled or rebuilt and the client wishes to retain some parts of the structure. Not all contractors can perform this demolition as it involves meticulous planning and careful effort. Our demo contractors are veterans in conducting selective demolition especially in handling specialized equipment required for the job. You can trust our team of experts in providing calculated and top of the line performance, which other inexperienced building demolition companies cannot guarantee.
Well-maintained Equipment for Demolition in Mount Vernon, NY
Hydraulic breakers – Powerful excavators necessary in every demo company, hydraulic breakers or crushers are used to excavate structures quickly. These are commonly used to grind up concrete or rocks.
Wrecking Balls – Buildings or structures that are more than 6 storeys high are demolished with the help of a wrecking ball suspended on a crane by a steel rope. The wrecking ball is pulled then released towards the structure. With force, the steel ball strikes the structure and demolishes it in bits.
Hydraulic Shears and Rock Breakers – They are able to demolish steel structures. Hydraulic shears are also used for recycling or secondary breaking. Rock Breakers are robust pounding hammers that are usually fitted to excavators. They are used to demolish rocks, as the name suggests or concrete.
Bulldozers – They are used to remove huge rubble and dirt piles. They are also used to push down smaller-sized structures and buildings.
Dumpers – An efficient demolition business uses dumpers to haul wastes off the demo site for its clearing process. Not having dumpers means requiring a third party contractor to get rid of the trash and may cause delays on the project timeline.
Cranes – Demolition contractors utilize a crane to ease the burden of moving heavy materials or equipment back and forth on a construction site. Our demo company also uses cranes to suspend wrecking balls for non-explosive demos.
Crawler Loaders – They can be used to bring down heavy smaller-sized structures. They can also be used to move debris.
Contact Us for Any Demolition Services in Mount Vernon, New York
A proper assessment from a qualified demolition company in Mount Vernon, New York is necessary before you proceed with any major changes in your property. There's a reason why we continue to be highly recommended by building contractors and the rest of our clientele. Our demolition company never offers excuses; we simply provide professional and timely services guaranteed to accommodate your budget. Our Mount Vernon deconstruction and demolition company has highly skilled personnel with years of experience in the demolition business. Give us a call at
(855) 885-3366
and we guarantee a refreshing customer experience that you can only get from us.
Zip Code Areas We Service in Mount Vernon
10552, 10550, 10553, 10551