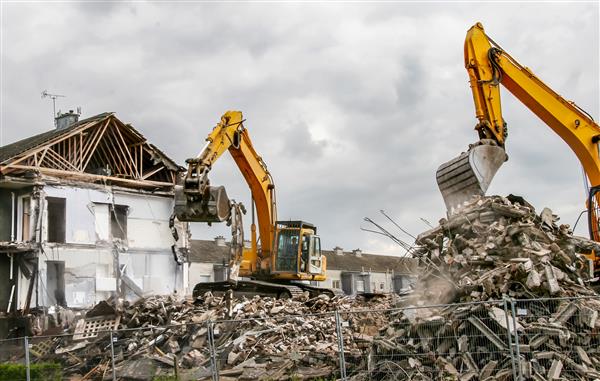 Omni Demolition: A Residential House Demolition Company You Can Trust
It takes a lot of effort and time to do a house demolition in Queens, NY. It is also quite a risky job, most especially if you don't have the right equipment or if you lack technical background and experience. We are among the top house demolition companies you can find in the area. Omni Demolition has many full-time employees; we own our trucks and equipment; and our residential demolition contractors are well trained and capable of handling any demolition job. We coordinate the entire project from start to finish, including but not limited to all the necessary documentation, inspections, and city permitting. You can always count on our team of professionals to work on your project swiftly especially when it comes to small projects such as a mobile home demolition. We at Omni Demolition never fail to provide quality and hassle-free demolition services.
How We Provide Our Queens, NY Home Demolition Service
As a company specializing in house demolition in Queens, NY, we strive to provide each client with exceptional services. Demolition methods vary according to building location, construction materials, disposal techniques and the overall demolition goal. We carefully create a plan to effectively target which parts we need to work on first. Our residential demolition contractors are stringent when it comes to following the EPA guidelines. Compared to other residential demolition companies, we charge very reasonable fees, and we can work on projects of any scale. It is recommended that you hire a professional even for a simple mobile home demolition project.
Things to Consider When You Get a Home Demolition Price Estimate in Queens, NY
A house demolition in Queens, NY can cost a substantial amount of money to properly execute. By knowing the costs, you can set your expectations and budget better. There are a few things home demolition companies use to determine the total cost of a service, and the list includes your project location and the condition of the structure. You can easily request a free cost estimate from our team of residential demolition contractors. In case you have questions, you can easily consult with our mobile home demolition professionals. Don't put your fate in an inexperienced company. When you're browsing for a team for your home project, make sure you compare their rates.
Getting a Residential Demolition Permit in Queens, NY
House demolition in Queens, NY, particularly in densely populated parts, necessitates the filing of permits and other procedures to make sure environmental and physical safety precautions are observed. Some of the usual paperwork required for a house demolition or mobile home demolition job include asbestos inspection repair and dust control clearance. A permit needs to be acquired if there is no existing building permit. The cost of this document varies but it is usually around fifty to sixty dollars. Some of the reports you will need to secure include dust control clearance and asbestos inspection. You can ask our experts about the documentations needed.How to Organize for a Residential Demolition in Queens, NYSo you've made up your mind to hire a professional for your Queens, NY home demolition plan. The next logical step is to prepare your house for the demolition job. Clear your site by getting rid of all the furniture and personal items so that it is ready to be broken apart. The entire area must be vacated, which means that no one will be permitted near it except for allowed personnel. Our trustworthy demolition company is experienced in all phases of the demolition process and we believe that this must be followed even for a simple mobile home demolition. Once a demolition job starts, it would be expensive to stop it.
Reasons for a Residential Demolition in Queens, NY
After some time, the structure of a house weakens due to constant exposure to changing weather, as well as other stressors. Or perhaps the land needs to be prepped for a new construction. Perhaps you bought the land with a property already on it, or it could just be an old structure that needs to go. It won't take long for our team to tear down the weak parts of your home. If you own a home that you want to make major changes to, you need the help of our residential demolition team in Queens, NY. Hiring the right company will ensure that you're happy with the end results.
Gear Used for Residential Demolition in Queens, NY
Omni Demolition residential demolition contractors have always provided safe and reliable home demolition services in Queens, NY. Our residential demolition contractor uses equipment like cranes, wrecking balls, bulldozers, jackhammers, sledgehammers or chainsaws. For simple home demolition assignment, sledgehammers and chainsaws, etc. could be enough, but for larger demolition jobs, cranes, bulldozers, etc. may be needed. Because it is extremely dangerous, it requires the demolition contractors to follow all the safety instructions and rules strictly. We know how to handle our equipment well, so we can readily haul debris, break down walls, excavate building foundation beams and more.
Need a Home Demolition Job Done in Queens, New York? Contact Us Today
We take pride in offering professional residential demolition services. We have the skills, equipment, and background needed to handle any size or type of property. Our crew is always available to help you. After the call, we guarantee to send our residential demolition contractors to work on your Queens, New York properties fast. You can have a look at the reviews on our site and social media profiles to see testimonials from many satisfied customers. Call us at
(855) 885-3366
for a full cost estimate.
Zip Code Areas We Service in Queens
11361, 11362, 11363, 11364, 11354, 11355, 11356, 11357, 11358, 11359, 11360, 11365, 11366, 11367, 11412, 11423, 11432, 11433, 11434, 11435, 11436, 11101, 11102, 11103, 11104, 11105, 11106, 11374, 11375, 11379, 11385, 11691, 11692, 11693, 11694, 11695, 11697, 11004, 11005, 11411, 11413, 11422, 11426, 11427, 11428, 11429, 11414, 11415, 11416, 11417, 11418, 11419, 11420, 11421, 11368, 11369, 11370, 11372, 11373, 11377, 11378