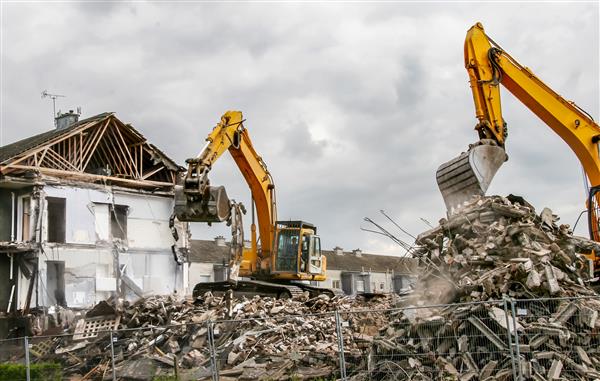 Residential House Demolition by Omni Demolition
It takes a lot of effort and time to do a house demolition in Syracuse, NY. It is also quite a risky job, most especially if you don't have the right equipment or if you lack technical background and experience. You must learn how to choose among the many house demolition companies in the city. Omni Demolition's residential demolition contractors can manage projects of any size. While we recognize the sentimental and even historical value of any building, when signs of danger are spotted, we recommend having it demolished. We know that property owners are also affected by house demolitions. Whether you call us for a full-scale mansion demolition or an easy mobile home demolition, rest assured you will receive our best services. Instead of covering cracks with layers of cement, you must address the structural issue so you can avoid accidents and other expenses.
How Our Syracuse, NY Home Demolition Solutions Differ from the Rest
The process of house demolition in Syracuse, NY can be a risky and messy undertaking. The entire process can be complex and calls for creative solutions to avoid costly problems. The techniques we use also differ if you only need an interior demolition job. Our experienced residential demolition contractors operate heavy equipment to carry out a demolition project. When hiring residential demolition contractors, you need to be very cautious. It is recommended that you hire a pro even for simple mobile home demolition projects.
Getting a Home Demolition Evaluation in Syracuse, NY
The cost of a house demolition service in Syracuse, NY is influenced by factors such as the location of the property, scale of the project and the magnitude of the structure. You may end up hurting yourself while carrying out the task on your own. Some home demolition companies also have high rates because there are instances where they need to do additional tasks other than demolition. Apart from the expenses incurred when hiring home residential demolition contractors, you also need to keep in mind that you need to budget some money to secure your items such as furnishings, appliances and more. We can assign a mobile home demolition specialist to check your property today. Find a reliable company that can work with the budget you have and it will make the job itself go much more smoothly. At Omni Demolition, you are welcome to ask for a free cost estimate.
Residential Demolition Permits Needed in Syracuse, NY
A house demolition project will require you to apply for a permit. Some of the usual paperwork required for a house demolition or mobile home demolition job include asbestos inspection repair and dust control clearance. There are several requirements you will need to secure so the local government can process your application. Other special inspections and documentation may be asked from you depending on the state you are in. Do not hesitate to ask our team about all the necessary documentation before proceeding with the demolition work.Preparing for a Residential Demolition Project in Syracuse, NYSo you've made up your mind to hire a professional for your Syracuse, NY home demolition plan. The next logical step is to prepare your house for the demolition job. Assuming you have your demolition permit ready, what's the next move? Flooding and electrical fires are a dangerous threat at every demolition. Health and safety preparations should be undertaken prior to the start of a demolition job, no matter how small it is; even as a mobile home demolition.
Should I Get a Residential Demolition Service in Syracuse, NY?
Several residential demolition projects arise from improving a newly bought piece of estate or cleaning up a landscape. If you spot cracks, cave-ins or other signs of wear and tear, especially in the home's foundation, contact an expert right away. More often it costs less to rebuild than to repair. If your property has undergone extensive fire damage or water damage, it is important to call a residential demolition company in Syracuse, NY as soon as possible. A house demolition crew would then be needed in these situations.
Equipment Used for Residential Demolition in Syracuse, NY
Our residential demolition contractors only use top-quality equipment. As such, when we perform a home demolition, we can efficiently pull out every bit of damaged material. Even better, we have all the experience and technical know-how needed to carry out the task at hand. So, anybody who wants to hire a demolition contractor needs to make sure that they are trained and qualified.
Need a Home Demolition Job Done in Syracuse, New York? Contact Us Today
Have our experts take care of demolishing your home. Contrary to what most people believe, demolishing a house or any type of building is not an easy task. With all the right equipment, we assure you of minimal time, to complete the task at hand. It is our mission to provide you our best Syracuse, New York residential demolition contractors to help you with the home project you have. We know that we have to earn your business and that is why we uphold high standards when it comes to the quality of services we offer. Call us today at
(855) 885-3366
and we will give you a full cost estimate free of charge.
Zip Code Areas We Service in Syracuse
13210, 13214, 13290, 13224, 13207, 13206, 13205, 13204, 13203, 13202, 13208, 13201, 13217, 13218, 13220, 13221, 13225, 13235, 13244, 13250, 13251, 13252, 13261