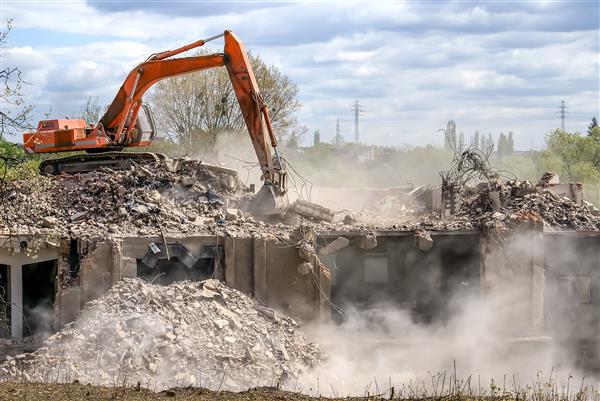 A First-Class Company for all Your Concrete Removal Needs in Hamilton, OH
Concrete removal in Hamilton, OH is definitely not a job for the faint at heart and that is why many recommend hiring only seasoned expert contractors like those at Omni Demolition to handle your projects. Our highly trained experts undergo rigorous and continuous training to ensure that any concrete slab removal or concrete hauling job is executed safely and correctly. Without concrete removal, there wouldn't be space to erect new structures or to rebuild them. We have spent years perfecting our services.
Tools and Equipment We Use to Perform Our Concrete Removal Service in Hamilton, OH
At Omni Demolition, we use quite a number of heavy machinery and equipment for concrete demolition. We can perform services like concrete slab removal that you may need for your Hamilton, OH project as soon as possible. We highly recommend consulting with experts when you plan for your demolition project. We are equipped with all the appropriate expertise, machinery and tools to execute your demolition projects such as removing concrete driveway, concrete slab demolition, or concrete wall demolition. Our team periodically conducts machine inspection and maintenance to guarantee that everything we need for the job is in tip-top condition. After we cut and crush the concrete, we can also provide concrete hauling services to get rid of or recycle the waste materials.
When Do You Need Concrete Demolition Services in Hamilton, OH?
There could be various reasons for a complete or partial concrete demolition, but no matter what the cause is, rest assured that we will carefully assess the situation so we can give you the right solution. Whether the project requires breaking asphalt or concrete in residential, commercial or industrial spaces, we have the equipment and service crew ready to do the job. At Omni Demolition, we will see to it that you receive superior quality concrete hauling and demolition service in Hamilton, OH. Concrete structures are built to withstand great pressure. With just one phone call, you can contact our team in Hamilton, OH and we will handle your requests within the set schedule.
What Reports or Paperwork Do I Need for a Hamilton, OH Concrete Removal Project?
Before you can start a Hamilton, OH concrete removal, concrete hauling project or any other related service, you need to secure a few documents. Start by applying for a permit from the local authority. Unlike other concrete removal companies, we at Omni Demolition will advise you on everything that is required in your concrete removal project-from how to get the necessary permits and the cost of the permits to the cost of the entire project and the time it will take to complete it. For one, you will need a permit. The purpose of a permit is to ensure that the governing body is able to monitor the work being done in its jurisdiction for the safety of all involved. Some property owners and even contractors hire permit services or companies who manage the building permit application process. Height and size of your demolition project are factors considered in determining whether or not you will need to get a permit for the job.
Cost Estimates of Concrete Demolition in Hamilton, OH?
There are a number of factors that contribute to the cost of concrete removal with the biggest contributor being the total area of concrete to be removed. Permits can cost an average of $200 to a few thousand dollars. The more concrete you need removed, the higher the cost. Removal rates also affect costs. Patio demolition and patio removal are some of the demolition projects we specialize in. Additional fees may follow for services like inspections for water, electrical and sewer disconnections. Another cost to factor in is demolition permits. Depending on where you are situated and size of the project, permits and associated costs can cost you around $200 or as high as $10,000 in some cases. The cost of disposing waste that contains rebar is also higher.
How Much Time Should a Concrete Demolition Project Take in Hamilton, OH?
We are confident in our service delivery timelines. One of our primary focuses is on the time taken to complete your concrete demolition project. We have access to high precision tools, which allow us to facilitate our services like concrete slab removal and concrete hauling faster and safer. We will only give you and agree on realistic time frames when all things have been factored in such as the size of the project. Depending on what we mutually agree on, your project can be completed in a few days, a couple of weeks or even months. We adhere to all the fundamental and basic principles of effective project management.
Recycling Concrete in Hamilton, OH?
It is not only an environmentally friendly process of utilizing concrete rubble but it is also a cost cutting measure for your concrete demolition and removal project. Concrete recycling is a more viable option of taking care of demolition waste. The process of recycling done by our concrete demolition contractors includes salvaging rubble from demolition, crushing it, pre-sizing and sorting. In this day and age of strict adherence to environmental laws, recycling concrete is a welcomed option. Contractors also take advantage of recycled concrete as they are not only environmentally-friendly but also cost-effective while still proven durable.
Hire a Premium Concrete Demolition Company in Hamilton, Ohio
Our team is only a call away when our clients need urgent concrete demolition services. Whether you require a simple concrete slab removal or a major interstate pavement, our team of experts is the most knowledgeable for the job. Whether you call for a concrete slab removal, concrete hauling, site cleanup or any other service, you can be sure that you'll be getting the best team to assist you. We are capable of demolishing any type of concrete structure or building with precision. Our professional contractors know the proper way to handle equipment.
Zip Code Areas We Service in Hamilton
45011, 45015, 45013, 45012