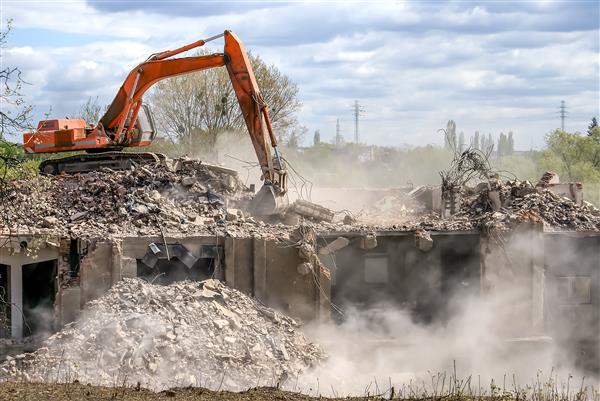 Cost-effective Solutions to Your Concrete Removal Needs in Youngstown, OH
When looking for a concrete removal contractor in Youngstown, OH, relying on ads may not be the best option, so if you are doing your own research, we are here to help you make the right decision. Omni Demolition has the best concrete slab removal experts in the region. We have spent years perfecting our services. Our team of seasoned experts accomplishes everything from concrete hauling to onsite cleaning, with outstanding workmanship and dedication that no specialized training can teach. Whether it is taking down an old building to replace it with a new one or improving the condition of a derelict building, Omni Demolition has the right people for the job. After all the work is done and the dust settles, you'll find that our services are done with excellence and are very affordable.
Equipment and Tools We Use to Provide Quality Concrete Removal in Youngstown, OH
You no longer need to worry about paying high equipment rental fees when you hire our team in Youngstown, OH. One of our major investments include acquiring heavy-duty equipment capable of doing the most challenging concrete slab removal projects in Youngstown, OH. Some examples of other equipment we use are pallet jacks, bobcats, hoists and hammers. Demolition hammers are efficient and quick when it comes to demolition work such as removing concrete driveway, concrete slab demolition or concrete wall demolition. Pavement breakers are used when you need to partially repair a section of a pavement; it is able to demolish a few inches of the concrete pavement without breaking it up completely. This will ensure that the job is done thoroughly to your satisfaction. Hydraulic concrete shears are used in secondary demolition where they help to separate concrete from steel reinforcements and further reduce the size of the rubble.
When Do You Need Concrete Demolition Services in Youngstown, OH?
Concrete is designed to last a very long time if it is installed properly. However, like every other type of material, its structure will also degrade over time. Some of the main reasons include the overall condition of the structure and presence of faulty wirings or leaky water pipes underneath the cement. Rest assured, we will deliver an excellent job well done, regardless of the scale of the project. Furthermore, we promise to charge reasonable rates for the concrete hauling or crushing task you may need after the demolition work is done. Oftentimes, damages to properties require a complete removal and replacement instead of a concrete resurfacing which only hides the damage. Having them torn down can be quite a challenge as opposed to erecting them.
What Documents Should I Prepare for My Concrete Removal Project in Youngstown, OH?
Here at Omni Demolition we want you to save money when hiring us to do a concrete removal or concrete hauling project, so we will take care of filing the permit for you. While other concrete removal companies may include additional fees for processing the required permits, we at Omni Demolition have got you covered. If you have just moved to Youngstown, OH or if this is your first ever attempt in handling a major renovation or structural change, chances are you do not know which requirements you need and how you can get the necessary permits completed. You must submit your application together with all the required documents. Some of the required paperwork include clearances from your electric, water and gas companies. In some locations, the percentage of the structure you are demolishing will determine whether you require a permit or not.
How Much Will a Concrete Demolition Project Cost in Youngstown, OH?
The national average concrete removal cost is between $1500 to $2000. Unfortunately sketchy sales agents ruin it for the rest of the industry and tend to make clients suspicious when dealing with contractors. Apart from the cost of the permit, you will also need to pay around $4,000 to $15,000 for the cost of the demolition service. The good news is that we have a competent team in Youngstown, OH that is able to customize solutions even for small projects such as patio demolition and patio removal for you at an affordable cost. Our ever-helpful staff will be happy to give you a competitive estimate for your project. The actual demolition cost alone can cost you from between $1000 – $15000+ If the structure contains hazardous materials such as asbestos, it may cost you extra to have the hazardous materials removed.
How Long Can I expect a Concrete Demolition Project to Take in Youngstown, OH?
We are confident in our service delivery timelines. One of our primary focuses is on the time taken to complete your concrete demolition project. We have access to high precision tools, which allow us to facilitate our services like concrete slab removal and concrete hauling faster and safer. At our company, we are able to finish a demolition or hauling job within as little as a few days, depending on the size of the property. We devise a plan to safely accomplish your project in a cost-effective way with projected timelines and then submit our proposal to you. We adhere to all the fundamental and basic principles of effective project management.
Why Recycle Concrete in Youngstown, OH?
With rising pressure on local landfills, the diversion of rubble from a concrete demolition and removal project is becoming increasingly important. Because we are an environmentally friendly company, preserving our surroundings is at the forefront of our mission. The crushed concrete rubble is transformed by our concrete demolition contractors into useful aggregate. The aggregate can then be used to make new concrete. This not only lessens the environmental impact but it also minimizes the overall cost on your concrete demolition project.
Contact Our Youngstown, Ohio Concrete Demolition Experts
Our team of experts uses modern concrete slab removal techniques and high end equipment, ensuring outstanding concrete demolition services at all times. Omni Demolition is home to the most well-trained concrete slab removal and demolition specialists. Furthermore, whether you have a strict budget or timeframe, there is no problem we cannot solve. You can rest assured that we will deliver nothing less than exceptional results. With our experts, you won't worry about accidents, hidden costs, and other concerns. Contact us today!
Zip Code Areas We Service in Youngstown
44502, 44503, 44504, 44505, 44506, 44507, 44509, 44511, 44510, 44501, 44513, 44555